It's Fat Tuesday (a.k.a. Mardi Gras), the biggest party of the year in New Orleans (a city known for throwing some of the best parties of the year — year-round). For folks who are preparing to fast during Lent (and others who just simply want to eat and drink hedonistically), Mardi Gras is a day devoted to fat. It's about eating rich, fatty, delicious foods without any care for calories, arteries or sobriety.  If that's wrong, I just don't think we want to be right.
As longtime readers of Wired Magazine and Wired.com, we were obviously stoked when Wired's music editor approached us to do a special Mardi Gras-themed podcast. Our mission: to pair some delicious Fat Tuesday-themed recipes with their appropriate NOLA and Mardi Gras-inspired Musical Pairings. We were up for the challenge!
So today, we're getting all Southern on you. We're featuring our popular shrimp and grits recipe alongside two recipes from awesome fellow food friends: Lottie and Doof and Ezra Pound Cake.  On the podcast, you'll find Matt's pairings which include Louisiana-based indie bands Givers, Generationals and The Twilight Singers, as well as, some 70's Cajun funk courtesy of the Bobby Williams Group, a little New Orleans hip hop featuring a Lil Wayne and Tom Petty mash-up, and Tom Waits performing a cover of an early Mardi Gras chant with New Orleans' Preservation Hall Band.
You can download or stream the entire Podcast here: Turntable Kitchen Podcast for Wired
You'll also be able to download the Wired Playlist Audio Podcast from the iTunes store. In the meantime, here are three dishes to knock your socks off and please your belly.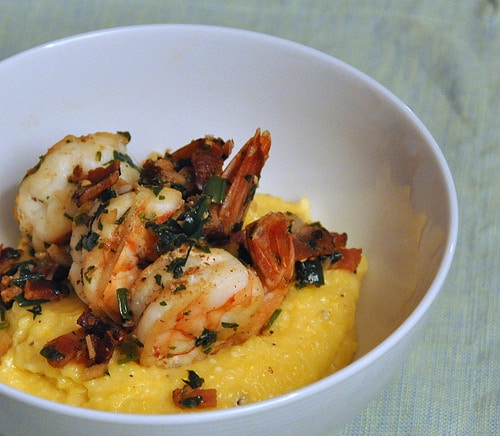 1. Shrimp and Grits (pictured above): ain't no better combination. This one's our take on Bobby Flay's. Yea, we'll take you on a Throwdown, Bobby.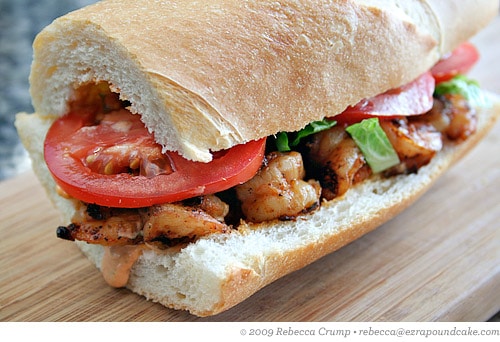 2. Grilled Cajun Shrimp Po' Boy with Spicy Remoulade from Ezra Pound Cake. A Po' Bo is as New Orleans as it gets, but we love what Rebecca created: a healthier take on a classic.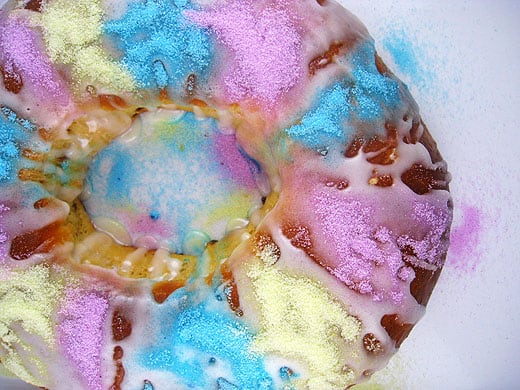 3. King Cake from Lottie & Doof. We've never met a brioche we didn't like, especially when it's decorated with sparkly things and offers up the opportunity to find a trinket hidden inside. It's like being a kid with a cereal box toy all over again.
Enjoy! Moderation optional.
*Images courtesy of Rebecca Crump (Ezra Pound Cake) and Tim Mazurek (Lottie + Doof), respectively.