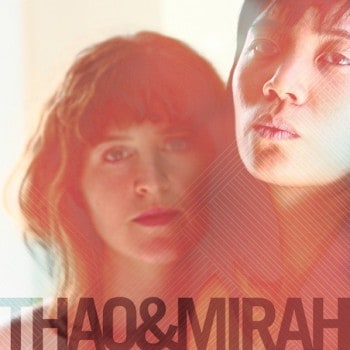 In case you've ever wondered, Kasey and I do not have the exact same tastes in music. We have overlapping tastes in music, but there are some things we don't agree on. For example, Kasey can't stand Radiohead (my favorite band), and although she doesn't "dislike them" she thinks The National are too depressing (my second favorite band). Conversely, when she is commuting to work, at the gym or at any distance over 500 yards away from me, she'll occasionally listen to radio stations that feature DJ remixes of pop songs that would make me uncontrollably shudder and sneer. But more often than not we agree on most music. For example, we both love Sufjan Stevens, Typhoon, Iron & Wine, Cults, M.I.A., Yeasayer, the Decemberists, etc.  We both also love Thao with The Get Down Stay Down and Mirah – so you can imagine how happy we were to discover that they were doing an album together.  And I'm even happier to report that the collaboration is great.
The album opens with the clattering and percussive "Eleven", a track that not only marries Thao and Mirah's distinctive voices and songwriting, but also folds Merrill Garbus (a.k.a. tUnE-yArDs) into the mix.  Of all of the tracks on the album it certainly stands out as the most unlike anything either Mirah and Thao have ever written before – and I'd guess that is a result of Garbus' contributions.  If for any reason this track isn't your cup of tea, don't fret: the better portion of the album doesn't stray quite as far from the prior work of either songwriter. For example, the second track, "Folks," is clearly a Thao track – and not just because of the vocals, but also because of the distinctive songwriting.  Similarly, the track "Little Cup" sounds to me like it is clearly a song penned by Mirah.  And on other tracks, the album bears fruit that sounds exactly like the collaboration fans of both artists are probably hoping for.  "Rubies and Rocks", for example, falls a little less clearly into one songwriter's camp or the other, and is another highlight for me, boasting smooth horns, a slinking bassline, light rattling percussion and Mirah's beautiful vocals.  As does the fantastic "How Dare You" and the warbly and fun "Likable Man."  The track "Teeth" is a catchy Thao number featuring distant, organic percussion (snaps, claps, etc.) and bright harmonies and nimble acoustic guitar.  "Spaced Out Orbit" is a stunning highlight on the album with Mirah lyrically channeling a Ziggy Stardust Bowie-vibe and gorgeous acoustic-guitar anchored space jam: "They say now take all of your dust, all your love and trust, we're sending you upon your final mission, and then I found myself in orbit, and the last thing I observed, the last words that I heard were 'Don't forget to send in your transmission, we expect you to report on your condition.'  Then I saw something that resembled that place where we were together."
I've chosen this album to pair with Kasey's Buttered Sea Bass and Clams in Chickpea Broth recipe.  It was tremendously delicious.  One of my favorite recipes we have recently prepared.  Kasey described the dish as one that "looks beautifully effortless, earthy and warm."  The same could be said for Thao and Mirah's album.  They both make writing beautiful, evocative music sound so easy, and as a result Thao and Mirah sounds like it was probably as much fun to write and record as it sounds to listen to.  The album is scheduled for an April 26 release date.  Until then, if you are anxious for more from the duo, check out the videos and pics we took when they performed together nearly a year ago for Noise Pop 2010 (link).
Thao & Mirah – Eleven (feat. tUnE-yArDs)
Don't forget to "heart" our songs on hypem if you like what you hear!