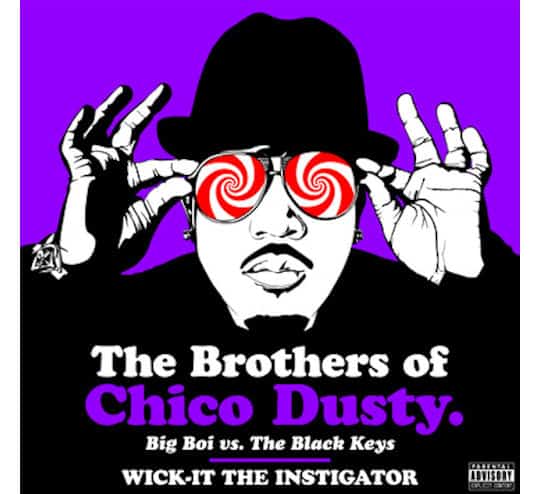 Wow. Just wow. Nashville's Wick-it the Instigator just blew my mind with this album full of tracks pitting The Black Keys' Brothers album against Big Boi's Sir Lucious Left Foot: The Song of Dusty Chico.  The results, which he titled The Brothers of Chico Dusty, is stunning.
"Shudderbug" is paired perfectly alongside the whistling, crunchy-guitar melody from "Tighten Up."  "Next Girl" is carefully blended into "You Ain't No DJ." Every stitch is seamless.  I've been jamming to it since yesterday afternoon with no end in sight with regard to the replay value.   Thanks to Covert Curiosity which is where I discovered it.  Download the album from Wick-It The Instigator's Bandcamp where you can also check out some of his previous mixtapes.  Oh yeah, it is free.
Big Boi vs. The Black Keys – You Ain't The Next DJ
Big Boi vs. The Black Keys – The Only Fat Sax
Big Boi vs. The Black Keys – Black Bug
Don't forget to "heart" our songs on hypem if you like what you hear!