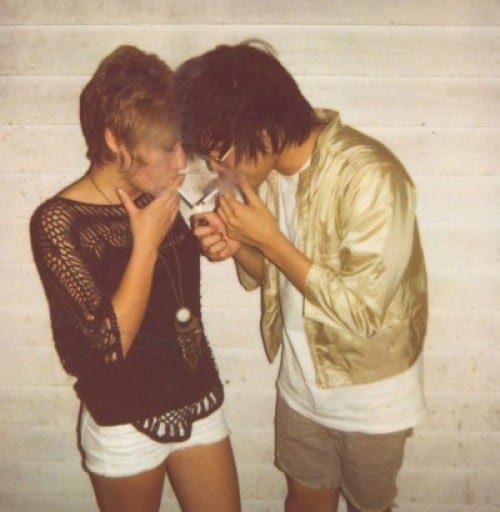 As featured in DailyCandy.
I've not been shy in mentioning that We Are Trees is one of my favorite new music discoveries in 2010.  It is the project of Virginia Beach's James Nee, who meticulously weaves complex tapestries of violin, cello, shimmering guitar, robust percussion and lush harmonies into intelligent, intricately layered pop songs that rise gradually before reaching woozy, spiraling crescendos.  His debut EP, Boyfriend, is a breathtaking album.  Nee's songwriting is thoughtful and his orchestral, folk-inspired melodies are infused with resonant earthiness and woodsy ambiance that lend added weight to Nee's sincere, sweeping vocals.  For those reasons, I have no problem using his EP for a second pairing (don't worry, I don't plan on making a habit out of it).  And because the album is earthy, rustic and subtle, it pairs well with the caramelized canape duo.
The sweet and savory pair, like We Are Trees' debut EP, is rustic, but immensely satisfying.  The sweet, gooey and flavorful apple canape offers a surprisingly complex flavor reminiscent of a mini gourmet apple pie.  The robust taste of the savory canape bursts with blue cheese and caramelized onions.  Indeed, in many ways the canapes as a duo, which offer very different flavors from one another, are like the two sides of Nee's songwriting which fluctuates between hushed subtlety and booming intensity.  Happily, the album also encourages lively conversation and can provide a wonderful soundtrack for your next cocktail party, making it the perfect musical pairing.  Oh, and the best part?  This rising band is still relatively unknown outside of the world of music critics and bloggers, so you'll also impress your guests with your fantastic new musical discovery.
We Are Trees – Dear Chan Marshall
You can buy a limited edition (300 copies) version of the album on vinyl from Collective Crowd Records or download a digital copy from iTunes.  Head to the Kitchen to read Kasey's recipe for the canapes duo!