Matt has been traveling a lot for work recently and I have to admit that it's really started to get me down. Before we met, he traveled a lot for work (and ultimately, the travel delayed our initial first date) but in the years that we have dated and the months that we've been married, the travel has been relatively light. Until now. It seems like every week he's been flying and driving to a delightful selection of cities. These days, I've really been cherishing the weeknights that we're able to cook and eat dinner together.
We're used to doing our grocery shopping together, hitting the farmer's markets, etc. But some days, we want to do less cooking and more relaxing. Cooking is generally my outlet. Getting away from a desk and a computer screen and actually using my hands to create something is the ultimate form of relaxation. But then there are days when I come home from work and just want sustenance. I could easily call a friend and grab dinner out, but wallowing in loneliness every once in a while is sort of cleansing. On these occasions, I like to pull together meals that are individually-packaged, quasi-vegetarian and packed with carbs that stick to my bones and fill my stomach to distract me from pangs of the heart. I know it sounds dramatic but I'm pretty sure absence does make the heart grow fonder.
This is a meal that sticks to your ribs like a hearty beef stew, but features a melange of vegetables and softly baked eggs that can take you through the night, and accompany you through the day. A healthier version of baked eggs in tomato sauce (in 'purgatory' as they are often called), this dish is just as delicious cold as it is warm. It can be single serving, or doubled (for when you get that call that you'll be having company for dinner after all).

Eggs in Purgatory with Artichoke Hearts, Potatoes and Capers
adapted from Bon Appetit, March 2010
serves 2
Extra-virgin olive oil
3/4 cup of chopped onion
1 teaspoon of chopped fresh thyme
few pinches of dried crushed red pepper
salt and pepper, to taste
4 ounces of frozen artichoke hearts (defrosted)
1 garlic clove, minced
1 14 ounce can of fire-roasted, diced tomatoes
4 ounces of small potatoes, cut into 1/2-inch cubes
1 tablespoon of drained capers
4 eggs
1/4 cup of freshly grated Parmesan cheese
1. Heat a few tablespoons of oil in heavy large skillet over medium heat and add the onion, thyme, red pepper and a bit of salt. Saute for about 10 minutes (until the onions are tender and begin to brown).
2. Stir in the artichokes and garlic, cooking for about a minute. Then stir in the tomatoes with juice, bring to a boil, cover and simmer for about 15 minutes. Preheat the oven to 375 degrees F.
3. Boil the potatoes in a small pot of salted water until tender. Drain and add to the skillet along with the capers. Cover and and simmer for a few more minutes.
4. Season with salt and pepper to taste, then evenly divide the mixture between two au gratin dishes (or one glass baking dish).
5. Make two small nests in each of the dishes and crack one egg into each nest.
6. Transfer to the oven and cook until the egg whites and yolks are just set (don't overcook the eggs) for about 10-15 minutes. Watch closely.
7. Remove the dishes or dish from the oven, sprinkle with cheese and eat warm. (Can be also eaten cold–just as delicious!)
Musical Pairings: Horse Feathers – House With No Home + Eggs in Purgatory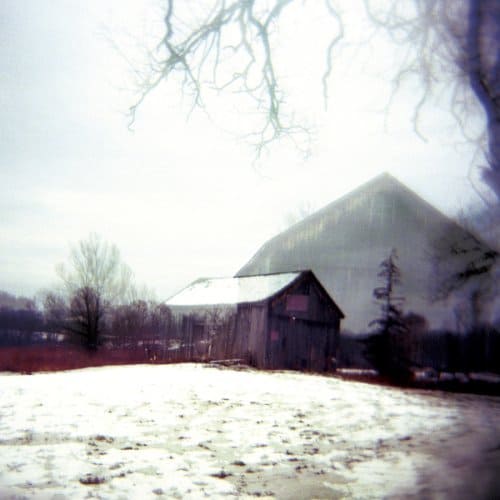 The baked eggs dish (a.k.a. eggs in purgatory) looks somewhat unusual, but actually contains a number of homey, traditional ingredients such as eggs, tomatoes, potatoes, artichokes and capers. It is the comforting, homey qualities of the recipe that make it a perfect pairing for Portland, Oregon's Horse Feather's 2008 sophomore album House With No Home. It is an album of delicate, nuanced and quietly beautiful folk music that call to mind laid-back afternoons idled away in the country-side laying in the grass and staring up as clouds slowly amble across the sky. More at Musical Pairings. –Matthew