As I mentioned earlier last week (before I got horribly sick on a week-long business trip to New York), I'm participating in a week of eating in. Cathy Eway, who is the blogger behind Not Eating Out New York spent a whole TWO YEARS eating in every meal. She wrote a book about it. And now, she's asked five food bloggers around the country (including me) to join her on this quest.
In some ways, eating in is rarely a challenge for me. I pack my lunch, I pre-plan dinners, and I actually enjoy cooking. But for many people, who are faced with challenges including business trips, small kitchens, long hours at work, families, etc., eating in on a regular basis is just simply not feasible. I'm not saying that this challenge means I'm trying to tell everyone to stop eating lunch out, or meeting friends for dinner. But, every once in a while, it's nice to remember what it means to prepare your own food, know exactly what goes into that sandwich and really feel a little closer to your food–where it comes from, why it's important to pay attention to what goes in your body and be more aware of your spending habits.
On eating/sf, I try to vary the kinds of recipes that I post–some are more complex and involve a lot of steps, some are healthier than others, and some are simple throw-togethers that are great leftovers. This week, I'm going to focus on the latter–the kinds of recipes that I think are perfect for busy weeks, families and singles living with roommates and are trying to maximize quality and minimize time (and costs).
I'd like to kick things off with this warm chickpea and butternut squash salad, which I've made nearly a dozen times. It's the kind of thing that feels comforting, healthy and incredibly satisfying, while offering a complex flavor. It's a recipe I first read about on Smitten Kitchen, who adapted it from one of my other favorite food bloggers, Orangette. I've made it for me and Matt, for a potluck, for a party and just for myself, when I'm looking for a lunch that I can spread out over the course of a few days, eat warm or cold, and easily pack in a tupperware. This salad combines sweet notes (from the butternut squash) with the nuttiness of the chickpeas and the tahini, as well as a little citrus zing from the lemon. It's the perfect thing to make for lunch or a light, vegetarian dinner (or as a side to some chicken or sausage).
On that note, I'd like to say that this week has taken on new meaning for me–I was down with a horrible stomach virus all of last week which left me eating nothing but bread and plain pasta. I'm more than thankful for my recovery (on Saturday, I was finally able to eat quasi-normal food). Nothing tastes as good as cozy, homemade food as when you're sick. Despite the stress of the week (almost 10 meetings in New York and an on-the-go working schedule), I was overwhelmingly overjoyed to finally see two of my best friends who brought hugs and support at the end of the week. Friendship, it seems, can sometimes be the magic cure.
Warm Butternut Squash and Chickpea Salad
Adapted from Smitten Kitchen, who adapted it from Orangette
1 whole butternut squash, peeled and diced into bite-sized pieces
1 garlic clove, minced
1/2 teaspoon of cinnamon
pinch of nutmeg
2 tablespoons of olive oil
Salt and pepper, to taste
One 15-ounce can of garbanzo beans, drained
1/4 cup of diced red onion
1/4 cup of finely chopped cilantro
For the dressing:
1 garlic clove, finely minced
1/4 cup of fresh lemon juice
3 tablespoons of tahini
3 tablespoons of water
2 tablespoons of olive oil
1. Preheat the oven to 425 degrees F.
2. Combine the diced squash, garlic, spices, olive oil, salt and pepper in a large bowl, tossing to coat the squash.
3. Spread the squash out on a lined baking sheet and roast for about 25 minutes, until fork-tender and beginning to brown at the edges. Let cool.
4. Make the dressing by whisking together the garlic with the lemon juice. Whisk in the tahini (it will be thick). Next, whisk in the water and olive oil, and add salt and pepper, to taste.
5. In a large bowl, combine the roasted squash, chickpeas, onion, cilantro and dressing, carefully mixing with a large spoon to combine. Serve warm, or reheat briefly.
Musical Pairings: Best Coast – When I'm With You 7″ + Warm Butternut Squash and Chickpea Salad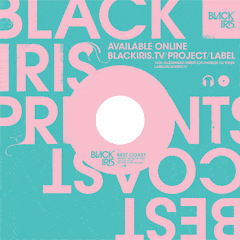 Best Coast is the project of Los Angeles' Bethany Cosentino, (formerly of Pocahaunted). Since April of last year, she's been steadily releasing blissed out 7″ singles/EPs and demo cassettes of warm lo-fi beach pop melodies that call to mind the girl groups of the late 1950s or early 1960s like the Honeys or the Crystals. Its a sound that is fresh but nostalgic and catchy. Its intended by Cosentino to sound like the soundtrack to lazily hanging out on a cool beach wrapped in a blanket and making out with a cute guy/girl. And in many ways, Best Coast is a great pairing for the butternut squash and chickpea salad recipe Kasey has featured on eating/sf today. The recipe is comforting, warm and fresh. And although Best Coast has released a number of fantastic 7″s (all of which are pretty much sold out), my favorite so far is the When I'm With You 7″ which is also today's Musical Pairing. Head on over to Musical Pairings for the rest. –Matthew