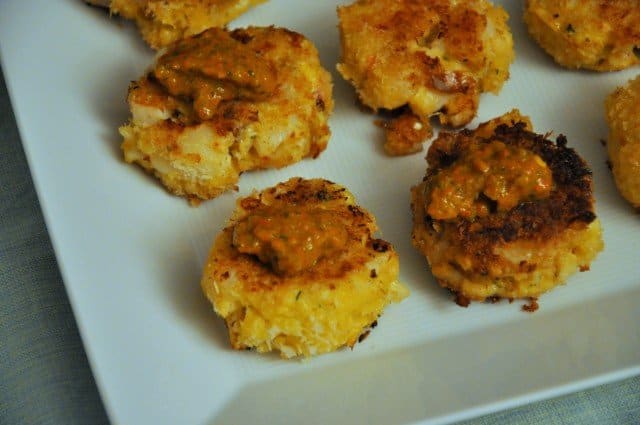 To me, crab cakes are the quintessential go-big food. And Thomas Keller's crab cakes from his Ad Hoc at Home cookbook? Well, they can only be called go-big and bigger. These crab cakes tested my relationship…sort of. Well, only to the extent that I watched in horror as Matt fully used up an entire bottle of olive oil to make homemade aioli–first by hand with a whisk, then with a hand blender, and..after two failed attempts, with a whisk, by hand, until it reached the perfect consistency.
If I can point out one thing (and there are so many) that makes my husband my ideal companion–it's his optimism. I, being the glass-half-empty girl, would have definitely given up on the aioli after try number one. But Matt, well he persisted. And his whisked and whisked, until the aioli was the perfect consistency. And everything seemed right in the world.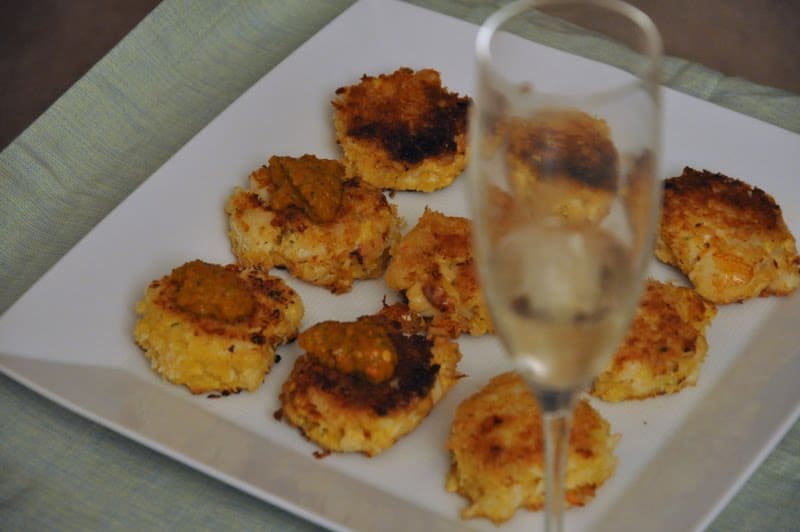 Alas, these crab cakes, which as you may have guessed from my earlier post, were part of our celebratory New Year's Eve dinner. After feeling my heart nearly drop to the ground as I watched the fish monger place what looked like a TINY amount of crab into a TINY plastic bag which cost me an arm and a leg, I thought to myself: these better be BETTER than Thomas Keller makes them at his restaurant. I was disappointed to have so much trouble finding several ingredients called for in the original recipe–piquillo peppers and piment d'espellette–but with a little improv, I realized that the main thing that matters is the crab.
I swapped in smoked paprika in place of the piment d'espellette and it was spot on. And roasted a combination of fresh peppers to make a slightly sweet, slightly spicy sauce, which was the absolute perfect accompaniment to the melt-in-your mouth crab cakes.
These are some serious crab cakes, too–lots of chunky crab, accented with slightly sweet red pepper, a little tang from the aioli and lemon, and a nice after crunch (without being too bready) from the panko. If my New Year's Eve meal was any indication of what's to come in 2010, I wait in anticipation.

Dungeness Crab Cakes
*adapted from Ad Hoc at Home
*serves 2 as a main course, 4 as an appetizer
1/8 ounce of butter
1 teaspoon of finely diced yellow onion
1 tablespoon of finely diced red bell pepper
1 clove of garlic, finely grated
a little over 3/4 of a pound of lump crab meat (we used Dungeness)
1/8 cup of smoked paprika aioli (add a few pinches of Spanish smoked paprika to homemade aioli)
1/2 teaspoon of Worcestershire sauce
1/2 teaspoon of Dijon mustard
1/2 teaspoon of flat leaf parsley, finely chopped
1/2 teaspoon of Old Bay seasoning
1/2 teaspoon of kosher salt
1/2 tablespoon of fresh squeezed lemon juice
1 cup of panko bread crumbs
1 egg, lightly whisked
canola oil, for frying
Pepper sauce, for serving, recipe below
1. Position two oven racks in the upper third of the oven and pre-heat the oven to 350 degrees F.
2. Melt the butter in a small pot over medium heat. Reduce the heat and stir in the onion and red pepper. Stir in the grated garlic. Cook for a few minutes, until the pepper and onion are tender. Remove from heat and set aside.
3. Strain the crab meat of extra moisture using a fine-mesh strainer and set aside.
4. In a large bowl, whisk together the aioli, Worcestershire sauce, mustard, parsley, Old Bay, lemon juice and salt. Stir in 1/4 cup of panko, as well as the reserved pepper-onion mixture.
5. *Gently* fold in the crab, followed by the lightly-whisked egg.
6. Pour the rest of the panko into a shallow bowl.
7. To make the crab cakes, shape the mixture into balls roughly 2 inches in diameter. Roll in the panko to coat, adding more panko if the cakes are falling apart. They're very delicate, so expect that they will not fully stick together. Set the individual crab cakes on a plate.
8. Heat the canola oil in two large oven-proof frying pans over medium heat–you just need a thin layer.
9. Add the crab cakes, patting them down–again, gently so that they don't fall apart–and cook for about 5 minutes on each side (get a nice brown crust on both sides, but be sure to watch them carefully so as to not to burn them!).
10. Once the crab cakes are nicely browned on both sides, move the pans to the oven for only a few minutes, to make sure that they're heated all the way through.
11. Line a plate or baking sheet with paper towels and transfer the crab cakes onto the paper towels to absorb any grease. Transfer to a large serving plate and serve with the pepper sauce (recipe below).
Roasted Pepper Sauce
1 pasilla and 1 red bell pepper (or 1 cup of roasted piquillo peppers)
1/8th cup of olive oil
kosher salt
1 tablespoon of sherry vinegar
*note: Thomas Keller's recipe in Ad Hoc at Home called for piquillo peppers, which are extremely difficult to find in American stores. You can get jars of them at specialty stores, but even living in San Francisco, I was hard-pressed. I ended up using a combination of pasilla and red bell pepper to make the sauce, which I thought ended up having the perfect sweet-spicy flavor. If you do use piquillo peppers, expect a more smoky sauce.
1. Roast 1 small pasilla pepper and 1 small red bell pepper by pre-heating the oven to 400 degrees F. Quarter and seed the peppers and arrange the slices on a foil-lined baking sheet. Drizzle with olive oil and sprinkle with salt and pepper. Roast for about 30-40 minutes, until the skins begin to char and separate from the peppers.
2. As best you can, remove the skins from the roasted peppers–don't worry if you don't get all of the skins.
3. Using a hand blender with an attachment bowl, combine about 1 cup of roasted peppers with 1/8th cup of olive oil, salt to taste, and 1 tablespoon of sherry vinegar.
4. Blend until smooth.
Musical Pairings: Beach House – Beach House + Dungeness Crab Cakes
If you are looking for an amazing recipe that will impress the pants off (perhaps literally) your someone special, you need look no further. The crab cakes recipe that Kasey is sharing with you over at eating/sf is amazing. We prepared it as our New Year's Eve dinner to end the year with something special, and it seriously hit the mark. Every part of the recipe can and should be made from scratch: fresh crab meat, homemade Spanish paprika-accented aioli and roasted pepper vinaigrette. Crab cakes are, of course, most commonly associated with Maryland and especially Baltimore. So it seemed appropriate to select Baltimore, Maryland's Beach House's 2008 album Devotion to pair with this recipe. For the rest of the review, head over to Musical Pairings' digs. –Matthew