We're kind of back to our regularly-scheduled programming. Kind of, because this Friday, you will get a taste of what went down on September 12th at our wedding. I'm really excited about the post because I'll be sharing with you the amazing folks we worked with–including a Florida-based jam producer who made our delicious wedding favors, and the woman behind our handmade invitations.
In the meantime, let's talk about stuffed peppers. Since Matt and I have gotten back from Argentina, we've had some kind of cravings for spicy food. As we quickly found out, Argentines are not big into spicy foods. Oftentimes, I'd bite into something that I entirely expected to be spicy and would be shocked by the lack of kick.
Being lucky enough to have access to some of the best Mexican food outside of Mexico, I've learned to love spicy things–especially hot sauce and jalapenos. I grew up on my mom's stuffed peppers (bell peppers filled with a beef and rice mixture that she called 'hedgehogs' because of their white rice spikes). Naturally, bell peppers have been part of my cooking repertoire for quite some time, but poblano peppers were something new to me. When I spotted them at the farmer's market last weekend–my first shopping trip since my return home–I was drawn their deep green, glistening skins, and the promise of a really spicy meal. Because poblano peppers always make me think of Mexican cuisine, I thought I'd adapt an old, comforting recipe and give it a little kick.
We used a mix of turkey and beef in these stuffed peppers, and kept things easy by using dried spices (though you should certainly use fresh, if you have them). Most importantly, we had plenty of hot sauce on hand at the dinner table, dousing every gloriously hot bite. While most recipes that I found recommended charring and peeling the peppers first, we just stuffed them fresh as is. I've also seen a few recipes that suggest not seeding the peppers in order to infuse more flavor into the meat. Keep in mind that these peppers are pretty mild, so the main kick in this recipe really comes in the form of a bottle of hot sauce–don't eat these without it!
As it turns out, sometimes the things you miss the most about home are other people's traditions–ones that have made their way into our homes, and become ours.
Stuffed Poblano Peppers
*serves 2
very loosely adapted from Saveur
3-4 large poblano peppers, seeded and sliced open (if you're ambitious, try this technique to char and soften your peppers before getting to work)
1/4 pound of ground beef
1/4 pound of ground turkey
1/2 yellow onion, diced
1 tomato, diced
1 teaspoon of dried marjoram
1 teaspoon of dried thyme
1 tablespoon of fresh, chopped parsley or 1 teaspoon of dried
pinch of nutmeg
1 garlic clove, minced
salt and ground pepper, to taste
3 tablespoons of olive oil
hot sauce, to serve
1. Preheat the oven to 400 degrees F.
2. Heat oil in a skillet over medium heat, adding the onions and garlic. Cook the onions and garlic, stirring occasionally until golden in color (approximately 10-15 minutes).
3. Season with salt and pepper and add in the tomatoes and the spices, cooking for another 5 minutes.
4. Mix together the beef and turkey in a bowl. Pour in the onion/tomato mixture, mixing to combine.
5. Transfer the meat mixture back into the skillets, cooking for about 5 minutes, until lightly browned.
6. Remove from heat and use a spoon to distribute meat mixture evenly amongst into the peppers.
7. Place the peppers in a baking dish and bake for approximately 30 minutes–depending on the size of your peppers. Be sure to check on them after the first 15. The meat should be browned and golden at the pepper's seam, but still moist inside the pepper. The pepper should start blistering/wrinkling. Again, the baking time really depends on the size of your peppers and the amount of meat stuffed inside–don't worry about under baking as you've already cooked your meat. Serve the peppers hot, with plenty of hot sauce.
Musical Pairings: Modest Mouse – The Lonesome Crowded West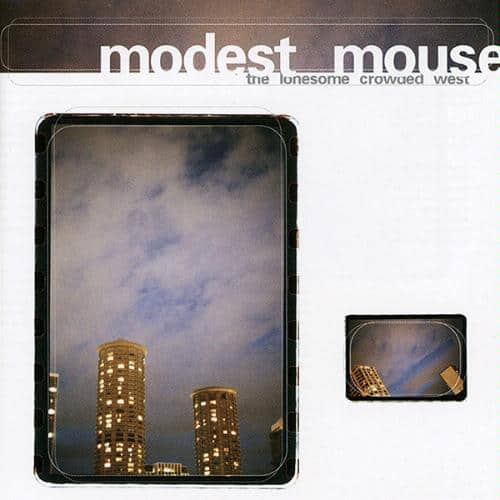 "Which album sounds like a stuffed pepper?" This is the type of question I find myself seriously pondering before writing a pairing. In this case, my answer to that question would appear to be Modest Mouse's The Lonesome Crowded West. Although I'm finding it hard to explain, it just seems like an intuitive pairing. And maybe it is because when you pull the stuffed pepper out of the oven, it at first seems a little underwhelming. But this is why this is such an intriguing dish. At first all that you see is what appears to be dry, well-cooked beef spilling out of a poblano pepper. But once you cut into it, you realize there is a lot going on inside this dish: nutmeg, marjoram, parsley, onion, and both turkey and beef mixed together. The insides are moist, juicy and flavorful. And so really the only place this pairing falls short is that upon first listen you can tell there is nothing simple going on on The Lonesome Crowded West. Instead, you have complex spicy, peppery music that is intriguing and leaves you eager for the next bite. If you are only familiar with Modest Mouse post-Good News For People Who Love Bad News, you really need to check out this album as soon as possible. After all, The Lonesome Crowded West is the best, most innovative album Modest Mouse ever recorded; and is also one of the best, most innovative, and most overlooked (at least at the time it was released) albums from the 1990s. Continue on to Musical Pairings to read the rest. –Matthew