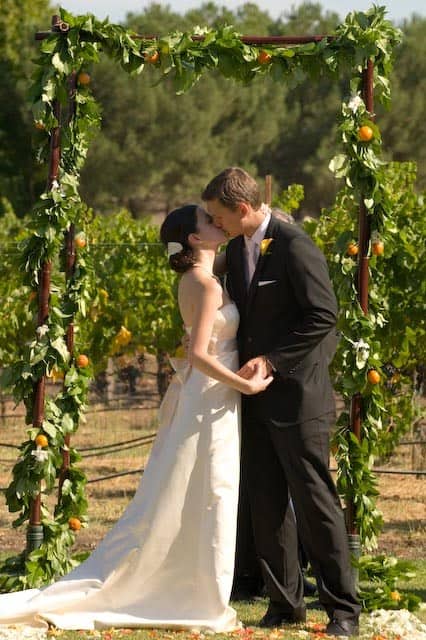 We got married more than a month ago now. It's hard to believe that after nine months of planning every single little detail, September 12th came with a roar (the roar of thunder that is) and left faster than I had hoped. Along the way, people told me to 'enjoy every minute' of 'this special time.' I got four–FOUR–gray hairs this past year. All because of wedding planning, I'm convinced. We did not have a wedding coordinator or a planner of any sorts. We did not go into a packaged deal. We signed ourselves up for it. I am a perfectionist and I should have known that I would end up carefully attending to every detail. So after nine months of indescribable stress, a roller coaster of emotions and seemingly endless weekends packed with 'wedding stuff,' how did I feel? Well, beyond just incredibly thrilled to finally be married to Matt, I was so proud. Of us. Of everything that we were able to accomplish. To put together an event that was so us. I may not have enjoyed every minute leading up to that day, but I enjoyed every minute of that day (well, starting around 11 a.m.).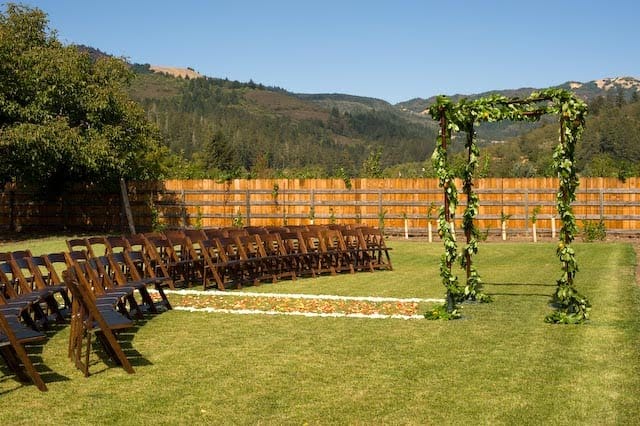 One of the most important things to me when it came to my wedding was to be able to work with great people. My first few experiences with wedding vendors were as dreaded as could be. I was appalled. Appalled with this rob-you-blind wedding industry. The more research I did, the more I realized that I didn't want a Modern Bride sort of wedding. I wanted an us wedding–and I wanted to work with small vendors. We found Casa Vecchia in Sonoma doing an Internet search at Matt's parents' house in Ohio. I called Karen and we scheduled a meeting. From the moment we stepped foot onto the property and met Karen, her son and her dogs, we knew. From the fig tree in the front yard, to the heritage oak in the back, we fell in love. Karen was my fairy godmother throughout the whole process.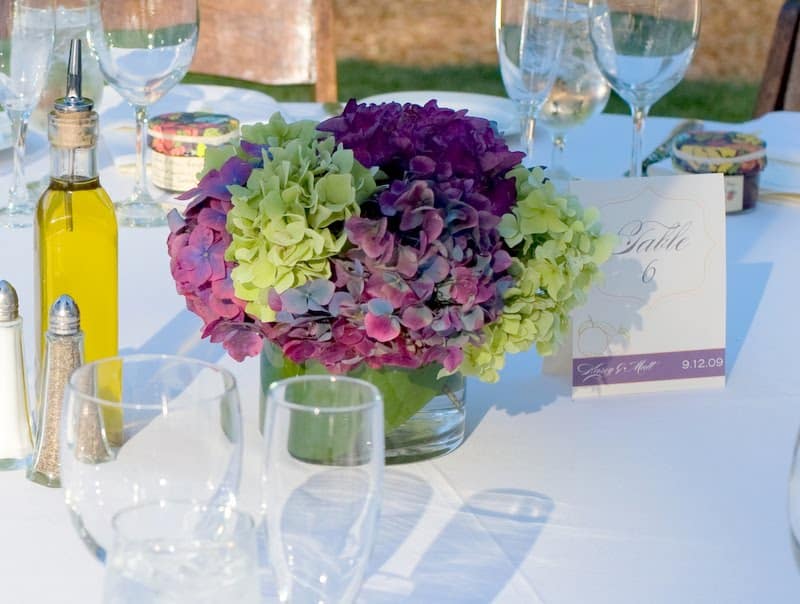 Then I 'met' Jen. Jen of the Green Quince shop on Etsy who designed our entire invitation suite, thank you cards, table settings and place cards. We emailed for what felt like months about my crazy wild ideas (different shades of purple, little tangerines, envelopes, and borders). She sent me sketches at all hours of the day and night, and each one was PERFECT.
After an unfortunate experience with one popular Sonoma-area florist (I will not be naming names), I thought that I was bound to despise all florists. But then I found Bryce of Vanda Floral. Not only did Bryce begin every email to me recounting his latest culinary adventure (from curing his own meats to tackling Thomas Keller recipes at home), but he worked patiently with me to craft the chuppah of my dreams (re-created exactly from this tangerine-adorned one from a lovely wedding blog called Style Me Pretty–eye candy!), and gorgeous bouquets and table settings exactly to my specifications–and believe me, I had specifications.
We haven't gotten to the food yet, I realize. We enlisted Park Avenue Caterers of Cotati to bring in the deliciousness. The focus was, of course, California's fresh produce–the kind of food we love to eat and cook. We had slices of local tomatoes, handmade butternut squash raviolis, saffron risotto cakes, seasonal vegetable saute, baby green beans and figs, corn cakes with duck and mango chutney, grilled mahi mahi, bistro steak fillet, caviar…I mean, I could have eaten and eaten and eaten. Except I didn't (c'est la vie!).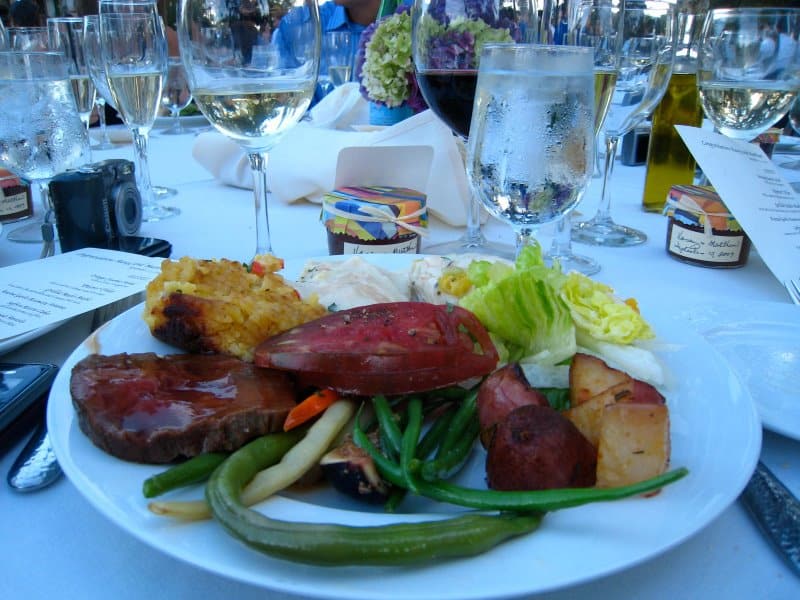 You know I love my sweets and I wasn't about to have any ol' yellow cake from a box. No thanks! A high school friend connected with me Alison McCormick, who bakes at one of my favorite bakeries in the city–Tartine. After hours, Alison bakes some more–for her own business: Alison's Desserts. I have to admit that meeting her at the Coffee Bean in our neighborhood to do a tasting was one of the best parts of wedding planning. Alison made four different cakes for us to try, and in the end, we just couldn't choose. We opted for a three layer cake: hazelnut pound cake with fresh berries and cream, red velvet with cream cheese frosting, and opera. Knowing how much I love figs, Alison sketched my dream cake, a simple beauty adorned with sugared blackberries and figs that came right from that tree in Karen's yard. It was stunning and out of this world delicious.
Last, and certainly not least, the wonderful folks at Foodzie connected me with Wendy, the woman behind Sunchowder's Emporia Jams. Wendy is a small producer based out of Longwood, Florida that started selling her jams at her local farmer's market and expanded the business online when she connected with Foodzie. Naturally, our wedding favors would be edible. Wendy is one of the kindest, most thoughtful people I have ever worked with. Not only did she send us a boxful of jams to sample before making our selection, but she offered to custom label each and every little jar for every one of our guests. We chose all of the different colored paper tops from the huge selection that she provided us with and ended up ordering four kinds of jam, including Black Forrest (chocolate blackberry with Chambord liquor), strawberry-raspberry, chocolate raspberry, and mango passion fruit. They are (and I fully stand behind this statement) some of the best jams I have ever had. We are still savoring the few jars we have left. I stir in the chunky strawberry jam into my oatmeal and we eat the chocolate ones by the spoonful for dessert.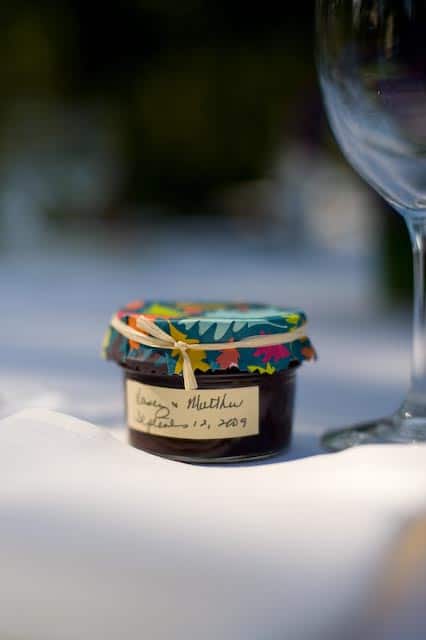 Once I discovered Jen on Etsy, I knew there were more good things to be found. I got the beautiful chiffon flower for my hair from Noelle, from her lovely shop, VieModerne. All of the pictures here (save the one of the food, taken by my friend Sarah, and the one of the invitations) were taken by our wonderful photographer for the day, Ali.
Phew! In the end, you're probably wondering how it all actually came together? Well, let's just say, I have a million and one reasons to feel good about my wedding–and each of these people contrib
uted to that.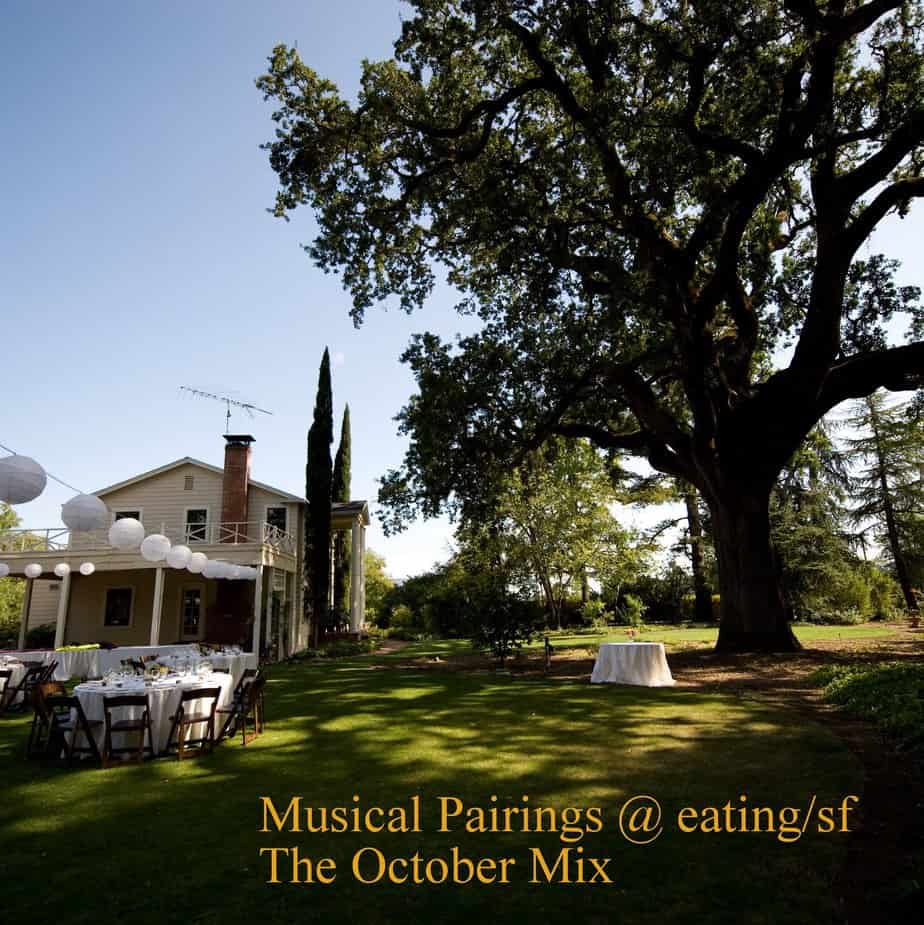 Now that I've told you about the wedding, head over to Musical Pairings and check out the October mixtape that Matt made for you!