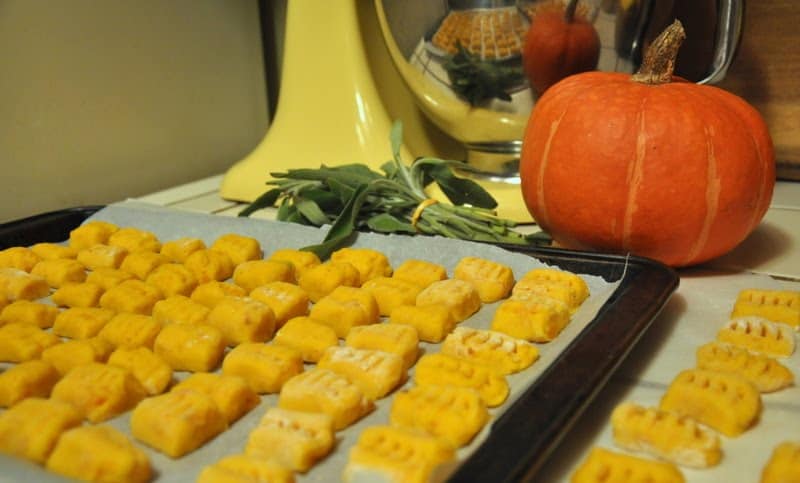 I'll admit it. I'm a little afraid of homemade pasta. But homemade gnocchi? I was ready to take on the challenge. I'd seen many recipes for gnocchi over the past month. Sassy Radish did her take on Gourmet's sweet potato gnocchi. And a Saveur issue that's been sitting on my kitchen table had a recipe for gnocchi with a browned butter sauce. But being October, and the fact that my farmer's market seems to be overflowing with squashes, I wanted to try something different. I found a recipe for pumpkin gnocchi and went off in search of ingredients.
Whilst picking out pumpkins, though, I stumbled across kabocha squash–a Japanese pumpkin. The lady at the farmer's market stand informed me that kabocha has a much more aromatic flavor when roasted, so I thought I'd trust her and give it a try.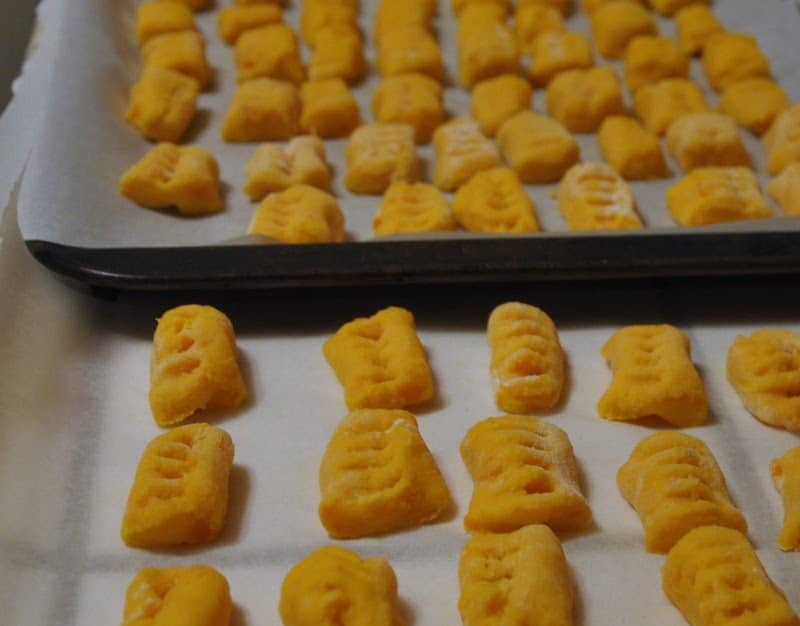 We made these pumpkin gnocchi–Matt, my friend Sarah and I–huddled together in my longish kitchen, which is only optimal for two people. We roasted the kabocha and then sliced off the skins. After eating a few pieces, I was satisfied with the woman's advice–it really was creamy, fragrant and delicious. We didn't push our potato-squash mixture through a strainer as originally recommended. I won't lie–we missed that step. But, we followed the rest of the instructions to a tee, and while I gasped at the amount of butter that went into that sage-butter sauce, I certainly wouldn't have cut it down. The gnocchi came out, as I'd hoped. Little tender pillows accented with pieces of squash, and tenderly enveloped in an aromatic butter sauce.
When rolling the gnocchi, make sure to flour your surface, but don't use a rolling pin–your palms will be just fine. You'll likely find that the gnocchi might stick together after you take them out of the pot, so I would toss them with the butter sauce in a bowl while they're hot. We ate them simply–with just the butter sauce. Though, you'd certainly not be wrong to add a little Parmesan.
Kabocha Squash Gnocchi with Sage Butter
* serves 3-4
recipe adapted from Seasonal Food

9 ounces of roasted kabocha squash, cut into chunks (you can use regular pumpkin)
1 tablespoon of olive oil
2 large russet potatoes, boiled
2 egg yolks
1 cup of flour
pinch of salt
pinch of nutmeg
pinch of cinnamon
salt
1/2 stick of butter
8 fresh sage leaves
1. After you have roasted the pumpkin (cut it into chunks, drizzle with olive oil and roast for about 20 minutes in a 400 degree F oven), mash the potatoes and cooked pumpkin meat together in a large bowl.
2. You can push the mixture through a strainer, unless you don't mind a few pumpkin chunks in your gnocchi, in which case, you could skip this step and just stir in the egg yolks.
3. Combine the flour, salt and spices in another bowl and add about a half cup worth at a time into the pumpkin mixture, using a masher or your hands to combine.
4. Separate the dough into four equal parts, rolling each dough ball into a 1/2 inch log on a lightly floured surface.
5. Cut each log into 1 inch long pieces (they sort of look like marshmallow pillows), pressing gently on them with a fork to create little ridges. Place the individual gnocchi onto sheets of parchment paper.
6. To make the sage butter, heat the butter in a pan over medium heat until it begins to sizzle, then add the sage leaves, allowing them to crisp. Lower the heat and keep warm while you cook the gnocchi.
7. Bring a pot of water to a boil, salt and add the gnocchi gently. They'll cook for about 2-3 minutes and you'll know they're done once they all float to the top. Scoop out the gnocchi with a slotted spoon and place in a bowl.
8. Pour in the sage butter and gently toss to combine.
Musical Pairings: Yo La Tengo – Popular Songs + Kabocha Squash Gnocchi with Sage Butter


The kabocha squash gnocchi with sage butter recipe is perfect for a Fall meal. It is warming, flavorful and filling. To find the perfect pairing for it, I needed to find an autumnal, but upbeat album; something complex, but fun. In other words, I was looking for Yo La Tengo's latest release, Popular Songs. A collection of beautifully crafted indie-pop tunes, Popular Songs is warm and fuzzy like your favorite sweater that you'd stored away throughout the summer at the bottom of your dresser. It's an album to listen to while carving pumpkins, drinking spiced wine, or… preparing kabocha squash (a type of pumpkin) gnocchi with friends. To read more about this great album, and sample some songs, head over to Musical Pairings @eating/sf. –Matthew