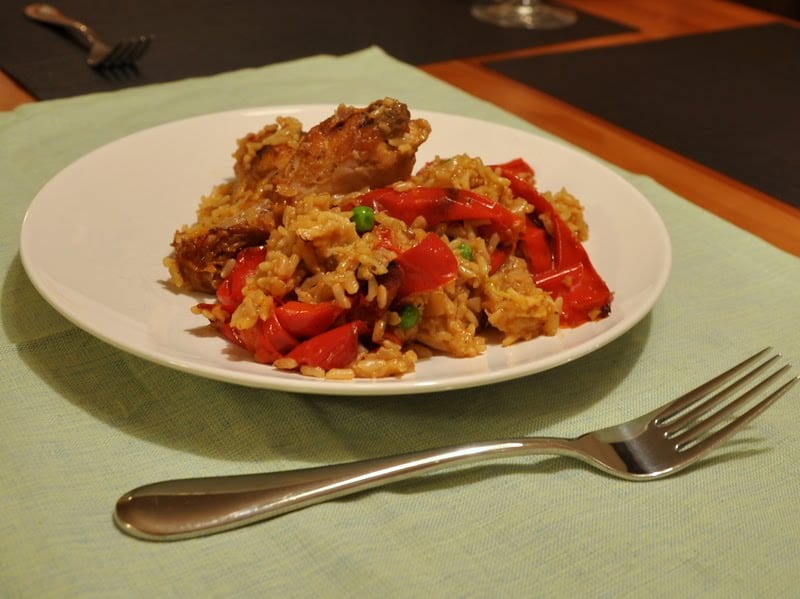 I like a one pot meal. It's no wonder I'm really into soups, stews and 'bowls' of all kinds (brown rice, bulgur, couscous). There is something so homey about creating a meal that blends together a melange of ingredients that create a wonderful whole out of many, many different parts.
Today I'm bringing you another recipe from Saveur magazine–call it Saveur week, shall we? It's perhaps a rebuttal against this month's lamb issue, which inevitably cuts down the possibilities for me. If you haven't noticed, I largely don't eat, or cook lamb. I say largely because on occassion, I will eat anything–including brains, tongue, fish eggs, raw meat.
Having recently become the owner of a shiny red Le Creuset dutch oven (thank you, dear friends, for a much-anticipated wedding gift), I was in search of just that homey recipe. The one that would meld together smoky flavors with warming grains and sweet notes. Boy did I stumble across a gem.
Reminiscent of Cuban-style chicken and rice, with Spanish and Portuguese flavors (why, hello my friend chorizo), this dish was my answer to the question, "am I inspired to cook today?" After roasting some fresh red bell peppers in a 400 degree oven for about 20 minutes, I was ready to go (you could also use jarred roasted red peppers, but I always prefer to make mine fresh).
The end result was spicy, oozy, smoky and…complete. The chicken really seeped up the flavors of the herbs and chorizo, and every piece was tender, juicy and falling off the bone. The chorizo, of course, added a fantastic aroma to the entire dish, and peas added a nice refreshing surprise–and great spots of color along with the sweet roasted red peppers. The original recipe called for thighs, but I decided to use multiple parts of the bird, which I think was the right idea. I cut down the chorizo a bit, and was wholly satisfied with the amount of fat and flavor it produced, without overwhelming the dish entirely.
This recipe leaves plenty of leftovers for dinner the next time, or several lunches. I advise you not to cut down as the flavors only get better the next day.

Chicken and Brown Rice with Chorizo
adapted from this recipe in Saveur
bone-in, skin-on chicken parts: 2 breasts, 2 thighs, 2 drumsticks
kosher salt and pepper, to taste
2 tablespoons of olive oil
1/3 cup of chorizo, cut into 1 inch slices, removed from casings
1-2 bay leaves
1-2 teaspoons of dried oregano (to taste)
1/2 teaspoon of crushed red pepper flakes
4 cloves of garlic, crushed
1 small onion, thinly sliced
1 1⁄2 cups of brown rice
1⁄2 cup of white wine
2 red peppers, cut into strips and roasted
3 cups of chicken broth
3/4 cup of frozen peas
1. Heat the oven to 400 degrees F and season the chicken pieces with salt and pepper.
2. Heat olive oil in a large dutch oven over medium-high heat. Add in the chicken pieces, skin side down without turning until golden brown (approximately 6-8 minutes).
3. Remove the chicken and transfer to a plate. Add the chorizo to the dutch oven, stirring until browned, then remove and place on the plate with the chicken.
4. Add in the onion, garlic and herbs, cooking until the onion is browned (about 8 minutes). Then add in the rice, stirring until it is coated in oil/juices.
5. Pour in the wine, bring to a boil, and let reduce for about 1 minute.
6. Tuck the chicken, chorizo, and roasted peppers into the the rice. Pour in the chicken broth and season with salt and pepper.
7. Cover and bring to a boil before transferring to the oven to bake for about 1 hour to 1 hour and 15 minutes (until the rice is tender and the chicken juices flow clear).
8. Place the dutch oven on a trivet and stir in the peas. Mix in and let sit for about 5-10 minutes before serving.
Musical Pairings: Thao with The Get Down Stay Down + Chicken and Brown Rice with Chorizo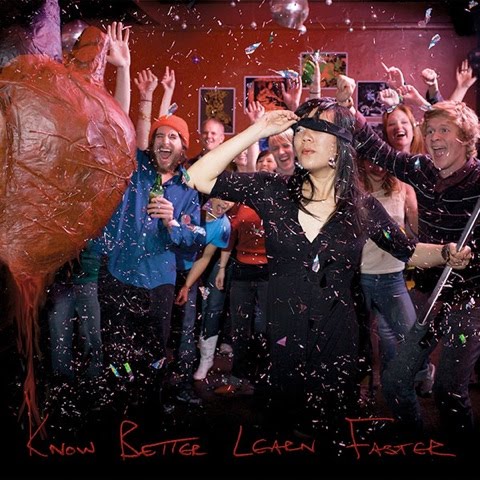 Kasey and I are not really the type of people who let the weather bring us down. We pretty much love all four seasons. So when you have a dark, rainy night in the Fall, we know you just need to make the most of it. So on one of our recent not-so-warm nights cuddled up in our Bay Area apartment, we prepared this one pot chicken and brown rice with chorizo recipe. It is zesty, smoky, warm and filling. And what was our perfect musical accompaniment to this recipe? Thao with The Get Down Down Stay Down's latest album, Know Better Learn Faster. Of course, Know Better Learn Faster is so good it could be the Musical Pairing to your entire Fall. It is just the right type of album to uplift any water-logged, city dweller: it is melodic, warm, catchy and fun. Head over to Musical Pairings' home for more Thao. –Matthew