After watching enough episodes of Top Chef, I have become thoroughly convinced that souffles are the devil. They don't rise. They don't end up having the right consistency without precisely the right oven temperature. They're just overall a big mess.
So why did I decide to try making a chocolate souffle for dessert last weekend? Despite my fear, curiosity got the best of me. The promise of an airy, luxurious treat that called for only the simplest ingredients and minimal baking time called my name. And called it loudly. And so, after being unsatisfied with everything I had found in my cookbook collection, I took to the Web. Nicole of the wonderful Baking Bites site has never done me wrong. Not with her German Chocolate Cake, or gingerbread men with lemon icing. And, so, I put my trust in her hands–and her recipe for dark chocolate souffle. I of course tweaked the recipe ever so slightly to accommodate 2 servings.
And what do you know? It turned out beautifully. Puffed and puckered, light as a feather, ever so slightly gooey in the very center (I was very, very careful not to over bake–maybe a little too careful). It was everything I had hoped that it would be: decadent, chocolaty and slightly boozy. And trust me–these days, I am in need of boozy, overindulgent chocolate desserts–despite the danger they pose to my pre-wedding eating habits. In the future, I might try another liquor in the recipe. I happened to have the brandy on hand from a recent dessert experiment.
As the wedding countdown has gotten to weeks vs. months, you might find me huddled in a corner, eating more and more chocolate as I nervously check off to-dos. I do hope, at the very least, that every chocolate dessert that I have from now until the big day are as good, and as worth every calorie, as this souffle.
Dark Chocolate Souffle
adapted from Baking Bites
*serves 2
2.5 ounces of dark chocolate (I used 70% Lindt)
1/4 cup of white sugar
1 tablespoon of brandy (sub milk or cream if you prefer to skip the liquor)
1 teaspoon of pure vanilla extract
1/2 tablespoon of flour
2 eggs: separate the yolk from the whites and let come to room temperature
1. Preheat oven to 375 degrees F.
2. Butter two small 6 ounce ramekins and dust with sugar all over the inside (and up to the rims).
3. Break the chocolate up into a metal bowl and melt it over a small pot of boiling water.
4. Whisk in the sugar, brandy and vanilla extract into the chocolate–it will resemble a paste.
5. Whisk in the egg yolks–one at a time–and then whisk in the flour.
6. In another bowl, beat the egg whites until they form soft peaks (this should take a few minutes).
7. Whisk in 1/3 of the egg whites into the chocolate mixture and fold in the rest using a rubber spatula (do this in two additions), stirring until all of the white has been incorporated.
8. Bake the ramekins on a baking sheet for about 15 minutes. The edges should be set, and the souffle should look puffed.
9. Serve warm on its own, or with a little bit of whipped cream.
Musical Pairings: Nina Simone – I Put a Spell On You + Dark Chocolate Souffle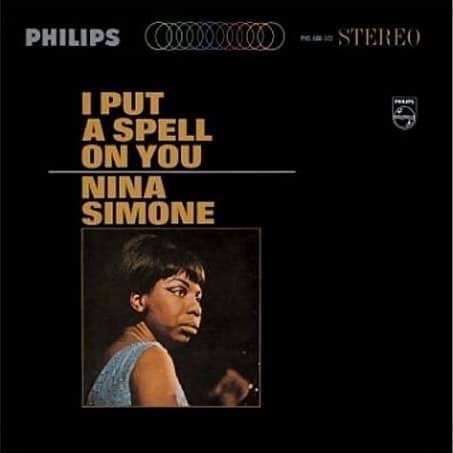 Welcome to part 2 of our French bistro-themed meal. In case you missed it, Kasey served sole roulades with crispy fried potatoes for the main course. I paired her recipe with Nouvelle Vague's eponymous debut. Kasey followed up the main course with a fluffy, rich chocolate souffle. It was melt-on-your-tongue delicious. A dessert that causes your brain to fire off all of its endorphins at once. So it requires a warm, soulful album that just uplifts your entire being. I think Nina Simone's I Put a Spell On You is that album. It creates the perfect ambiance for your bistro-themed meal or for a romantic dinner. And really, what better way to put a spell on your special someone than by cooking them a chocolate souffle? To read more about this album, head over to Musical Pairings' home. –Matthew