We all have our staples: grilled chicken, tomato soup, black flip flops, white tank tops, a specific route home from the beach. Whether in life, or in food, each and every one of us probably has a handful of go-tos: your favorite comfort recipe, your best pair of pants, that movie you watch whenever you know you need a really good laugh.
There's something really great about being human, though: you make discoveries. For example, a wrong turn on your usual path might swing you past a garage sale with a great, cheap selection of records. Adding two tablespoons of paprika as opposed to one to your chili might make it EVEN better.
When it comes to food, I often make these sorts of discoveries out of seeming necessity–extra ingredients I need to use up. In this case, a jar of capers, half a head of cabbage and half a can of chickpeas. What was I to do? I vaguely remembered a green sauce of sorts for scallops in one of my cookbooks, and realized that it gave me the perfect opportunity to use up some capers and add a new twist to an old favorite: brown butter seared scallops.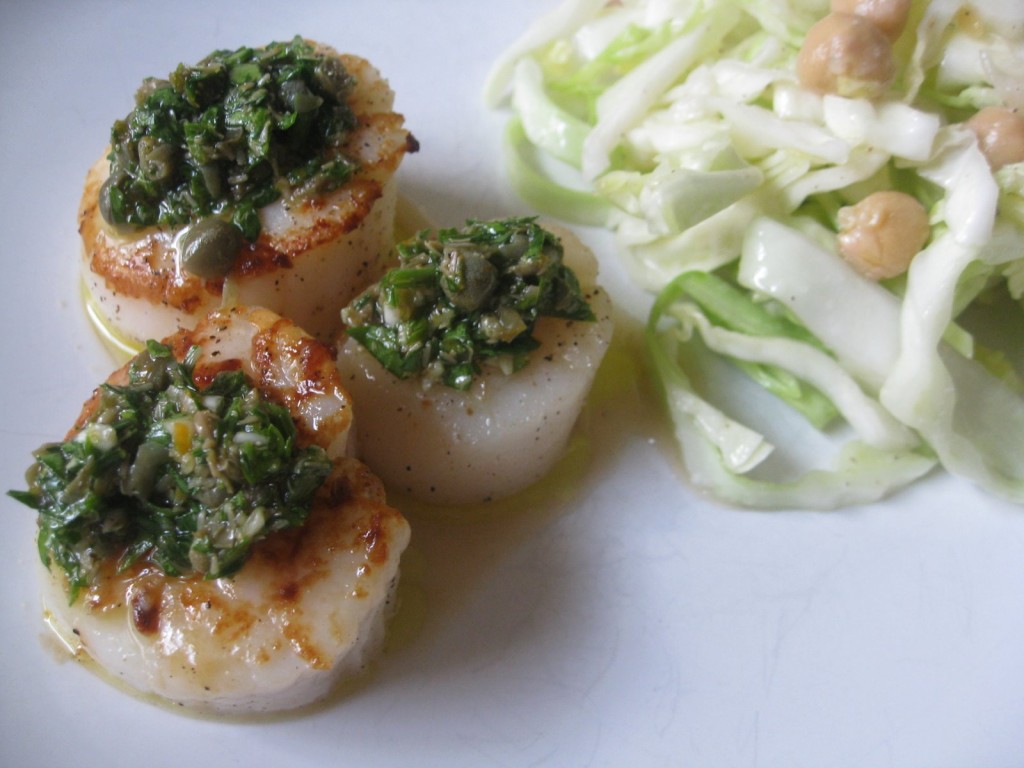 I had all of the ingredients on hand and quickly whipped up the salsa verde, swapping out the lemon zest for orange zest, which worked perfectly. While the salsa sat for a bit, I threw together a simple cabbage salad, taking a cue from Everybody Loves Sandwiches and a recipe that she adapted from one of my favorites, Orangette. This salad is really a slam dunk, and now makes regular appearances at dinner and lunch (accompanied with a nice hunk of bread).
But let's get back to the scallops. You may have guessed from the title that aside from being a big Top Chef fan, I am also now convinced that this is the best way to eat a scallop. Among my discoveries: cast iron skillets are phenomenal for perfectly browning a scallop, capers and scallops are a match made in heaven, and olive oil and butter can be used in one recipe and lead to fantastic results. Beyond devouring my scallops and salsa verde, I found myself finishing the salsa verde by the spoonful. Seems that I've re-discovered capers, too.
On a warm summer night, grab yourself a glass of white wine and whip up this quick and easy dinner. If you don't live near Healdsburg, California, you can still order Quivera Vineyards' Fig Tree Vineyards Sauvingon Blanc–one of my favorite white wines these days.
Before you get cooking, don't forget that you have until 5:00 p.m. PT on Thursday to try your hand at a Musical Pairing: comment on
this post
with your best chocolate tasting party pairing for a chance to win some artisan truffles from
Foodzie
and Neo Cocoa.

Seared Scallops with Salsa Verde
adapted from The Art of Simple Food
* serves 2
For the scallops:
8-10 scallops, fresh or defrosted
2 tablespoons of butter
salt and pepper
For the salsa verde:
1/4 cup of chopped flat leaf parsley
grated zest of 1/2 lemon or 1/4 of an orange
1 garlic clove, chopped finely
1 tablespoon of capers, rinsed and chopped
3-4 tablespoons of olive oil
salt and pepper, to taste
1. Make the salsa verde by combining all of the ingredients in a small bowl or ramekin. Let it sit for about 10-15 minutes so that the flavors will meld. You can squeeze about a 1/2 a teaspoon of lemon juice into the sauce right before serving.
2. Make the scallops: heat the butter in a cast iron skillet until it melts.
2. Gently dry the scallops with a paper towel to absorb excess moisture. Salt and pepper the scallops.
3. Add the scallops to the skillet and cook for about 2-3 minutes on each side, to allow them to develop a nice golden crisp on both sides.
4. Serve the scallops with a scoop of salsa verde on each one. Serve extra salsa verde on the table.
Parmesan Cabbage Salad
adapted from Everybody Likes Sandwiches
* serves 2
1/2 head of cabbage, sliced thinly
1/2 cup of organic chickpeas, drained and rinsed
Shredded Parmesan cheese, to taste (about a quarter cup)
1 tablespoon of fruity olive oil
1 tablespoon of fresh squeezed lemon juice
1 clove of garlic, minced
salt & pepper, to taste
1. In a salad dressing jar, combine the olive oil, lemon juice, garlic, salt and pepper, and shake, or use an electronic attachment to whisk.
2. Toss the cabbage with the chickpeas in a bowl. Pour in the dressing, salt and pepper, toss in Parmesan cheese and mix well.
Musical Pairings: Discovery LP + Top Scallop
Discovery is the electro-funk side project of Wes Miles (from Ra Ra Riot) and Rostam Batmanglij (from Vampire Weekend). The debut album LP began as a side project in 2005, even before their respective bands achieved relative success in the independent music world. The band's bio described LP as "an attempt to realize Wes's concept of a band where everyone plays synthesizers, and of Rostam's concept for an album where handclaps keep the backbeat instead of snare drums." The concept sounds undeniably kitschy, but you'd be wrong to dismiss it on that basis. In fact, LP is a lot of fun, and the concept proves to work surprisingly well throughout the entire length of the album (a somewhat modest 30 minutes). Although you can hear hints of Vampire Weekend and Ra Ra Riot on LP, the album actually owes more to Daft Punk, hip hop and funk that it does to indie rock. Head over to Musical Pairings for the full review. –Matthew