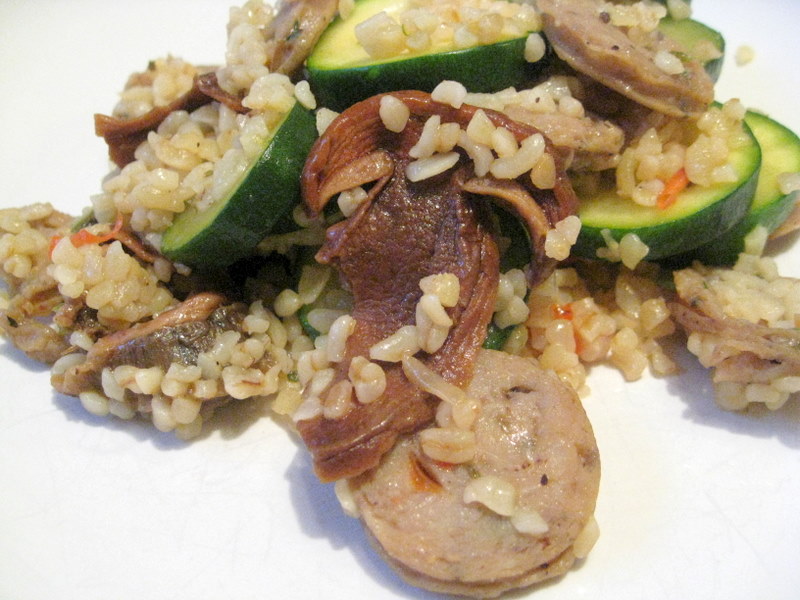 Big grainy bowls are some of my favorite dinners–warm, hearty and satisfying, they are easy to throw together, nutritious and can often be quite experimental. I'm a big fan of a variety of grains–from quinoa to couscous and bulgur. For a quick weeknight meal, this dish really can't be beat.
On hand, I had some red pepper chicken sausages from Trader Joe's (who says you have to always make everything from scratch), half of a package of dried porcini mushrooms, and two zucchini. And that's kind of how this dish came together for me. The dried mushrooms were a last minute addition–and a very welcomed one. They really added that subtle earthiness that balanced the bright flavor of the sausage. The zucchini were tender-flavored and provided a good, light texture against the nuttiness of the bulgur.
The great thing about this meal is that it could easily be changed up and turned into a vegetarian meal (just substitute the sausage for tofu or seitan). I chose this recipe partly because of a recent viewing of Wicked. The colorful, whimsical story of the good and evil witches of Oz conjures up images of the Emerald city and vibrant forests (maybe I'm the only one that thinks of forests filled with mushrooms). Regardless, inspiration can come from all places! This woodsy meal also represents my foray into Spring–it's not quite here yet, but the daffodils you see below are certainly a sign that it's coming.
Bulgur Bowl with Zucchini, Mushrooms and Sausage
*serves two
2 chicken sausages–preferably tomato or pepper (not sweet), sliced
2 zucchini, sliced into 1 inch thin moons
1/2 package of dried porcini mushrooms, soaked in warm water for about 5-10 minutes
1/2 cup of bulgur
salt and pepper, to taste
1 tablespoon of olive oil
1-2 springs of fresh thyme
a pinch or marjoram
1. Get your bulgur started–heat up water and add bulgur according to the instructions on the package (it's approximately a 1-1 ratio of bulgur to water). Bring to a boil and then simmer, for about 15 minutes.
2. Meanwhile, heat the olive oil in a large skillet, at medium heat. Add the zucchini to the skillet and salt and pepper them to your taste. Add the thyme leaves and a pinch of marjoram and saute until they begin to soften–about 6-8 minutes. Add the sausage pieces and saute for another 5 minutes or so, until the sausage begins to slightly brown.
3. Add the porcinis (strain them through your fingers) and continue to saute.
4. Add a bit of the water in which the mushrooms have been soaking to your bulgur and stir. (You can always add more water, and strain the bulgur once the grains are soft). The mushroom water will add a great earthy aroma to the grains.
5. Continue to sautee the vegetables and sausage on low heat until the bulgur is ready. Once the bulgur is ready, strain (if need be), and add to the skillet with the veggies and sausage. Toss to combine. Serve warm.
Musical Pairings: The Decemberists' Hazards of Love and Bulgur Bowl
Kasey and I went to see the excellent musical Wicked this weekend. If you aren't familiar with it, it is the story of the witches from Oz pre-Dorothy. It may sound ridiculous, but it is thoroughly enjoyable due to great music, great performances, and an entertaining storyline. Even if Wicked isn't playing in your city, you can still enjoy an entertaining musical with an over-the-top story in the comforts of your own home. The Decemberists' latest album, The Hazards of Love, is simply epic. It is a rock opera that chronicles the story of a young woman named Margaret who falls in love with (and gets impregnated by) a shape-shifting faun named William. William's foster mother (the forest queen) becomes jealous and aids a murderous kidnapper in abducting Margaret "to abuse and render a-rift and defile." Anyways, you get the idea. This may sound a little too out there, but thankfully the music is fantastic and has the ability to render the context unnecessary if you choose not to follow the story. I recommend picking up the whole album so that you can find out how the story ends. If you need more convincing you can head over to MFR to download the "Queen's Rebuke / the Crossing," which features Shara Warden of the band My Brightest Diamond as the forest queen as well as the standout track "The Rake's Song." -Matthew
The first sign of Spring...