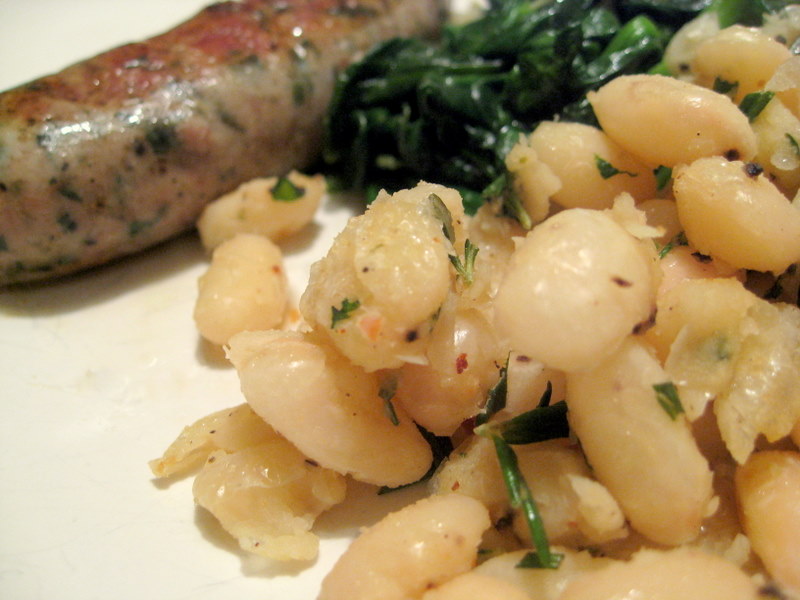 TV Dinners. These words bring up images of Lean Cuisine, take-out pizza and Coke. In college, I rarely ate at a dining room table. Rather, most nights, my roommates (whichever ones happened to be home) and I would often throw together quick meals that we'd eat in front of the TV. In fact, so often did I eat in front of the TV, that I'd have my usual 'prop' pillow that I'd set on my lap so as not to burn my thighs with my plate. There were quite a few occasions when I'd find stains from pasta sauce or grease on this pillow.
I've grown to love my kitchen table nowadays. Small as it may be–and rather unassuming in all of it's $100 wooden Ikea glory–it is inviting and spacious for two or three people. I eat nearly every meal at my dining room table these days–but every once in a while (when I'm eating alone, or there is something particularly compelling on TV), I'll grab a prop pillow for my lap and eat my version of the TV dinner. Normally, my TV dinners involve noodles or rice–something that's easy to eat out of a giant bowl and with few accouterments.
A few nights ago, though, I was really craving beans. I bought a package of dried white beans from Bi-Rite a while ago (largely after I poured over some vegetarian cookbooks at the bookstore) and had been meaning to do something with them since. I love white beans. In soups, salads, and just as a simple side. Most often, I buy them canned–and they're great. Canned beans are maybe one of the best pantry additions you can have. There is something intriguing about dried beans though. Soaking them, boiling them. They are like a blank canvas.
For this particular 'TV dinner' night, I prepared some white beans tossed with olive oil and fresh herbs as a warming side (along with some sauteed spinach) to fresh turkey herb sausages from the meat counter. The sausage and beans combination is a classic and you could certainly chop up the sausage and toss it with the beans. The key to dried beans: be prepared. Soak your beans overnight and they'll take roughly 45 minutes – 1 hour to cook fully. They'll be aromatic and creamy on their own and can be tossed with any number of herbs–whatever you have on hand. This might not be the traditional TV dinner, but let's just say there was very little work involved, and everything was downright delicious.
White Beans with Fresh Herbs
*serves 2, with leftovers
1 cup of dried white beans, soaked in water overnight (or all day, while you're at work)
1/4 cup of miscellaneous fresh herbs, minced–rosemary, thyme, basil, parsley
few tablespoons of olive oil (to taste)
kosher salt and pepper, to taste
few pinches of chili flakes (optional)
1. Once your beans have soaked overnight, place them in a small pot (with the water they've been soaking in and a pinch of salt) and bring to a boil. Add enough water to fully immerse the beans.
2. After your water starts boiling, lower the heat and simmer for about 45 minutes to an hour. Feel free to add a bit of water, if it starts to evaporate quickly. The beans should be soft and easily crushed with a fork once they're done.
3. In a bowl, toss the beans with the olive oil, herbs, salt and pepper, and a pinch or two or red pepper flakes.
Musical Pairings: TV on the Radio and White Beans with Fresh Herbs
This dinner constituted a different take on a traditional TV dinner. We prepared these beans on a Wednesday evening, aiming to be finished in the kitchen with time to settle in for Top Chef (hint: if you're on the West Coast, you can watch new episodes on Bravo HD two hours prior to the usual airing). As a result, we didn't really listen to music during preparation or consumption. However, it seems somewhat fitting to recommend either of these two stunning albums by TV on the Radio: Return to Cookie Mountain or Dear Science. Both albums are as eclectic, genre-defying and sonically intense as Beck's Odelay, but with a little less soul and a little more rhythm. I'm pretty sure both albums would find comfortable places in my top 25 albums of the past decade. -Matthew