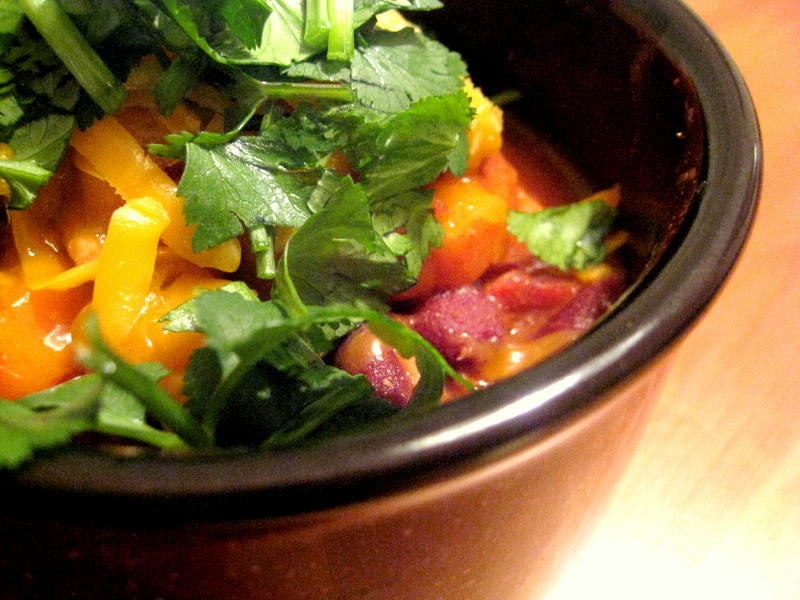 Chili is, by no means, a glamorous food. It is spicy. Messy. Gooey (in some cases, depending on how much cheese you grate over it). And when you eat it, you feel it sitting in your stomach like a nice little heating pad. Depending on how spicy you make it, you may experience the need to chow down on some bread and down a few glasses of water to absorb the heat.
I have been meaning to sit down and write about this chili for a few days now. As I am perusing "The Elements of Style," I am finding myself writing and rewriting sentences and desperately trying to eliminate unnecessary words and forever rid myself of writing 'hopefully.' So, forgive me that I have kept you waiting. You didn't know you've been waiting, but trust me, you have. I've never been to Texas–in fact, my first trip will be this March, to attend the SXSW Interactive Festival. As such, I'm no chili expert. But, I do know a thing or two about spices. This recipe has a lot of them, but don't be scared. They layer and build a complex flavor that works together like a color palette. You'll notice the cocoa powder, too. And you might question my reasoning. Why add cocoa powder? I have no clue. All I know is that a little lunch place around the corner from my office serves a mean chili that boasts cocoa powder as an ingredient. So I added it in, and as far as I could tell–there is no reason not to have it in there.
Let's talk about veggies. You can serve your turkey chili as a big bowl of brown: a mix of ground meat and canned tomatoes. But, why not add a few orange bell peppers? And some carrots? They'll add texture, nutrients, flavor and substance. So go ahead–throw them in! Hot sauce? You'll want it. This ain't no chili for the weak. Two small shakes, at least. Come on people!
Cilantro: you either love it or hate it (but how could you??). I love cilantro (been known to eat it by the handful), so I make sure to give this chili a healthy sprinkle of it. Lastly, cheese. You can't forget the cheese. A sharp, bright orange cheddar is what you'll want here. After grating, make sure to tenderly tuck it into the chili so that it gets all melty and aromatic (are you hungry yet?).
Phew: We're almost there. The great thing about chili, as with any soup or stew, is that it cooks in one pot and pretty much involves throwing in a bunch of stuff, stirring a few times, covering it, and flopping down on the couch for about 30 minutes until it's all done and ready to serve. This recipe was definitely one I wanted to remember, and I hope it will be for you, too.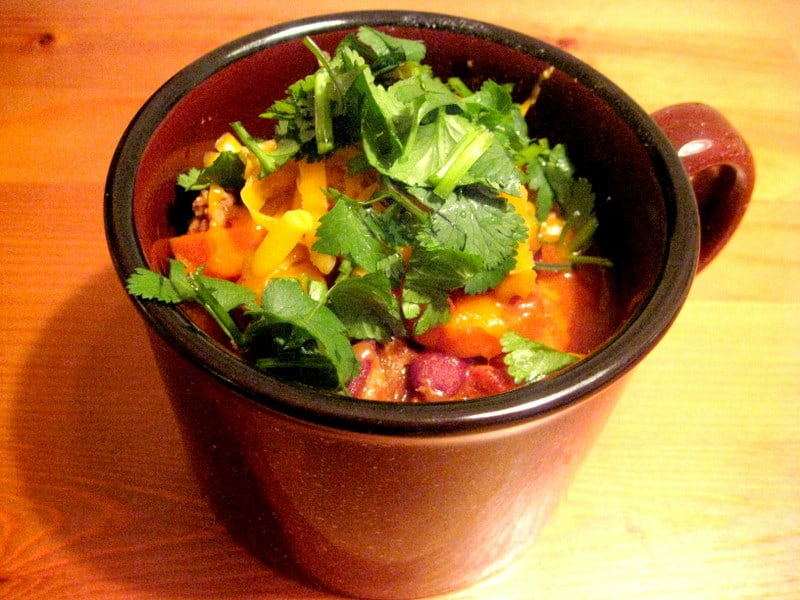 A Turkey Chili to Remember
*serves 3-4, with some leftovers
1 tablespoon of olive oil
about a pound of ground turkey
about 1 cup of water (less or more, depending on how thick you like your chili)
1 onion, chopped
1 28 ounce can of diced tomatoes
1 16 ounce can of kidney beans, drained
2 cloves of garlic, minced
1/2 teaspoon of dried oregano
1/2 teaspoon of cayenne pepper
2 tablespoons of chili powder
1 teaspoon of paprika
1/2 teaspoon of ground cumin
a pinch of red pepper flakes
salt & pepper, to taste
a pinch of cinnamon
2 teaspoons of cocoa powder
2 carrots, peeled and diced
2 bell peppers (any color), chopped
hot sauce
few sprigs of cilantro, chopped finely
grated sharp cheddar cheese, to taste

1.Heat olive oil in a large pot, over medium heat. Add the onions and saute until they get slightly soft (about a minute or two).
2. Add the turkey, and cook it evenly with the onion.
3. Add the diced peppers and carrots and saute for a few minutes.
4. Pour in the water and add in the tomatoes, beans, garlic, as well as all of the spices, salt and pepper. Bring the mixture to a boil and then reduce the heat, cover the pot and simmer for about thirty minutes.
5. Serve topped with chopped cilantro, shaved cheddar cheese and hot sauce.
*I would recommend some bread for dipping and soaking up the sauce. If you feel inclined, I bet cornbread would be phenomenal as a side, too.

Musical Pairings: Aretha Franklin and Turkey Chili
My biggest criticism of most contemporary pop music is that it lacks soul. Today, when a pop star sings about popular, age-old topics like love or heartbreak, they sound way too concerned with staying cool to actually let any feeling leak through their well-guarded exterior. For example, not to disparage Justin Timberlake (FutureSex/LoveSounds is simply brilliant), but when he sings that you are breaking his heart on a track like "What Goes Around" – you'd be well justified in wondering if he really means a word of it. I could go on and on about this topic, but lets suffice to say that I think this lack of soul is widespread in contemporary "popular art." It wasn't always this way. If you are skeptical, listen to any modern pop superstar and then listen to Aretha Franklin's vocals on "I Never Loved a Man." Aretha didn't write the song (it is credited to a gentleman named Ronny Shannon), but the way she sings it – you know she had someone in mind when recording this track. Likewise, when she demands her dues on "Respect" (also from her 1967 album, I Never Loved A Man the Way That I Love You) – you know she means it. Aretha, and others from her era, simply own our modern popstars when it comes to soul. You may be wondering, how does this relate to this recipe? Like a lot of contemporary pop music, a lot of chili recipes I've tried, although good, lack feeling. They've got no love. That isn't to say they aren't spicy or aren't "packing heat." After all, any good hot sauce will add the fire power necessary for a good chili. They just lack soul. But not this recipe: This turkey chili has Aretha Franklin-style soul. -Matthew