Few things lift the spirits and solve problems like carbohydrates (with a little wine on the side, and chocolate after). As a kid, I would eat spaghetti topped with butter and cheese on a semi-regular basis. When my dad would bring home loaves of French bread, I would sneakily scoop out the insides until there was little left aside from an empty shell of crust. Like a mouse, I would bury the crusts into the paper bag and scurry away, only to shrug my shoulders in surprise when someone discovered the remains, so to speak.
To this day, nothing says warmth and love like a big bowl of pasta, tenderly embracing a chunky sauce. While I have big dreams of someday owning a pasta maker and rolling out thin strips of papardelle and tagliatelle, for now, I'm happy to indulge in little ears. Orecchiette, to be more specific. They're appropriately named in Italian as 'little ears,' as these doughy little shapes really do resemble ears! The dough, rolled into rods and sliced into small circles, is pressed around your thumb to make a small indentation that allows for the shapes to better hold sauces and veggies. The shape of pasta isn't just for looks! Different shapes serve very important purposes.
After coming across Smitten Kitchen's orecchiette with cherry tomatoes and arugula, I made a quick stop at the market and was ready to roll! We had semolina flour on hand (the flour that is traditionally used to make orecchiette), but decided to use this Mario Batali recipe, which incorporates regular flour, as our base. To make it a little healthier, I insisted we use white whole wheat flour, which actually worked just fine. We still have a ball of dough frozen in our fridge, so my mind is already racing to come up with new ideas–broccoli and brie, perhaps?
I realize that pasta is a little intimidating, but trust me, give orecchiette a go–you'll be surprised at how easy it is to prepare, and how impressive they look. This pasta is perfect for a hearty Italian red wine–grab that Chianti, Barbera D'Alba, and add a little something to your iPod for the evening–I hope you'll enjoy the first Musical Pairings.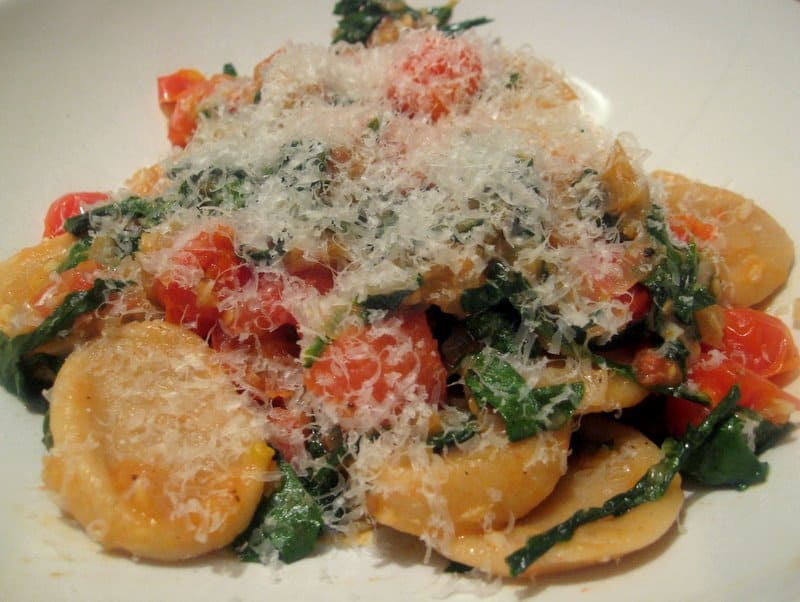 Homemade Orecchiette
c/0 Mario Batali, with a few tweaks by yours truly
*serves 4 (we used half and froze the rest)
1 cup of semolina flour
1 cup of regular or white whole wheat flour
1/2 cup to 3/4ths cup of tepid water
1. Place the flours into a large mixing bowl and stir around to mix together.
2. Make a well in the center and add a little bit of water at a time, simultaneously mixing with your hands until the dough becomes slightly elastic and can be formed into a ball. Be careful not to add too much water–add just enough for the dough to come together, without being sticky.
3. Place the ball of dough on a floured surface and knead it as you would pizza or bread dough until it becomes elastic (about 8 minutes). Cover with plastic wrap and let it sit for about 10 minutes on your counter.
4. Roll out the dough into rods about 3-4 inches in thickness. Then, cut these rods into flat circles, about 1/4 inch thick. Press your thumb into the center of the circles, forming your 'little ears.' Place these on a lightly floured baking sheet.
5. To cook, boil a large pot of water, add a bit of salt. Throw in the orecchiette. Since they are not dry, they will cook relatively quickly. They'll swim to the surface in about 3-5 minutes, at which point, you should give one a try. Cook al dente.
6. Drain, and add to whatever sauce you're cooking up in nearby skillet. We used this recipe from Smitten Kitchen.
Musical Pairings: Orechiette and Dark Was the Night
While preparing our homemade orecchiette, we were fortunate enough to have an opportunity to check out a pre-release of the new Red Hot comp Dark Was The Night, which was curated by Aaron and Bryce Dessner of my favorite band, The National. The compilation features a serious who's who of the indie rock world: the National, Arcade Fire, Beirut, Spoon, My Brightest Diamond, Stuart Murdoch (of Belle & Sebastian), Jose Gonzalez, Iron & Wine, Ben Gibbard, Feist, Bon Iver, David Byrne and more. Not only is the album completely cohesive (a surprising feat for an album featuring so many artists), but nearly every track is served al dente (though Cat Power's cover of Amazing Grace was a little too under cooked for my taste). The album is set for release on February 17, 2009, and the proceeds are going to an international charity dedicated to raising funds and awareness for HIV and AIDS. In other words, this is an album you should actually purchase, instead of pirate. –Matthew