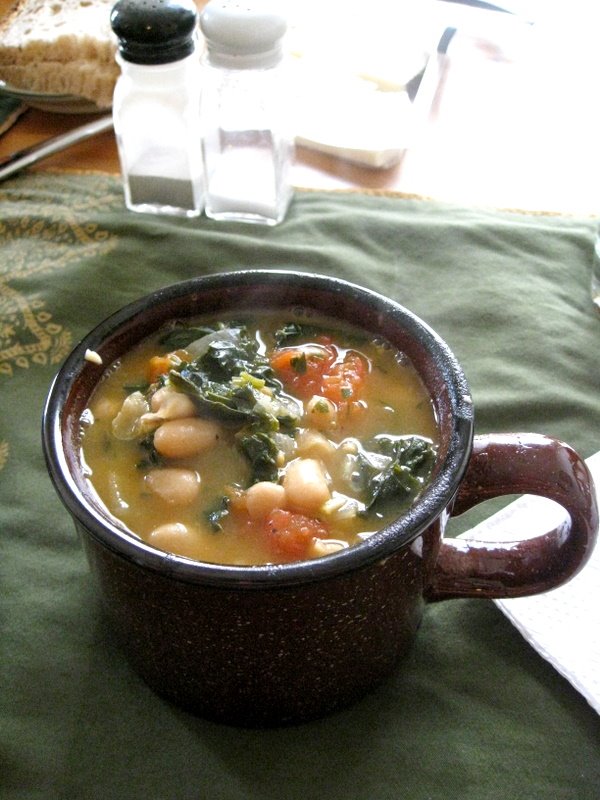 A while ago, I found this great recipe for a hearty veggie soup. While I tend to revisit my favorite recipes often, I have surprisingly only made this soup once–despite its incredibly simple list of ingredients and quick-to-table offer.
Every once in a while, I'll go to the market and see something beautiful. Really vibrant tomatoes. Red pears. Fresh figs. Glorious green kale. This feeling probably translates to what a shoe-a-holic feels at Nordstrom's Semi-Annual Sale. I get my kicks from produce. And unusual jarred preserves from foreign countries. I like spices, too. And fancy dark chocolates. Usually, I throw too much into my basket (which tends to get filled to the brim) and then come home thinking, "Oy, I bought too much." Of course this past weekend was one of those times. I bought a bagful of cluster tomatoes and a bunch of fresh kale with no immediate plans for their use.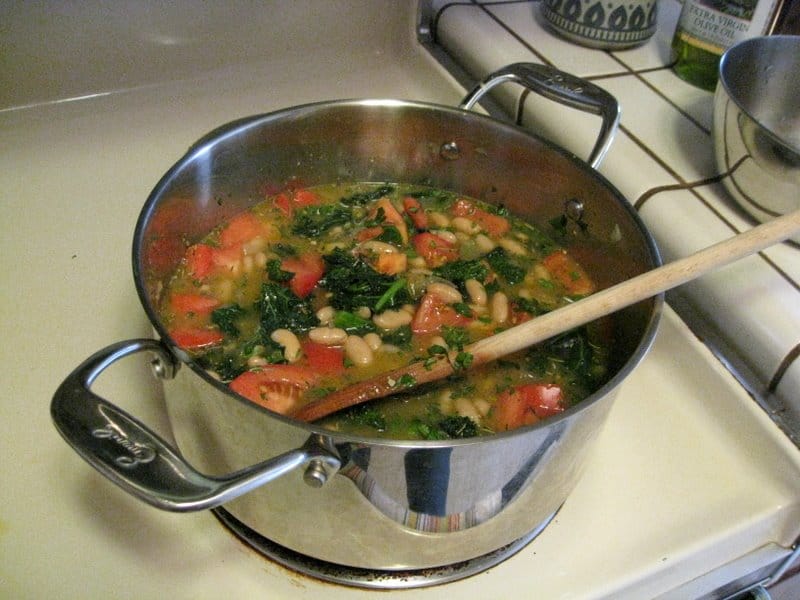 The good thing is, these types of shopping experiences often inspire action. And so, I plotted. After flipping through my little handwritten recipe book, I stumbled again upon this soup and remembered liking it very much the first time I made it. I played around with the recipe a bit and jazzed it up with some fresh herbs and spices. I also didn't blend the soup, as recommended in the original recipe, since I always prefer a chunkier, heartier texture. So, without further ado.
White Bean and Kale Soup
1 tbsp. olive oil
6 garlic cloves, chopped finely
1 onion (any kind), chopped
4 cups chopped raw kale (I used a whole bunch–didn't really measure)
4 cups chicken broth (I used free range)
2 (15 ounce) cans of white beans (also known as cannellini)
4 tomatoes, quartered and then halved
2 teaspoons dried Italian herb seasoning (or a mix of thyme, rosemary and oregano)
Salt and pepper to taste
1 cup chopped parsley & cilantro (mixed)
few dashes of cayenne pepper
1. Heat the olive oil and add garlic and onion; sauteing until soft.
2. Add chopped kale and saute until it just starts to wilt.
3. Add broth, beans (undrained), tomatoes, herbs, seasoning and simmer for 15-20 minutes.
You can serve this soup piping hot, with shaved Parmesan on top. Don't forgot some yummy bread for dipping.