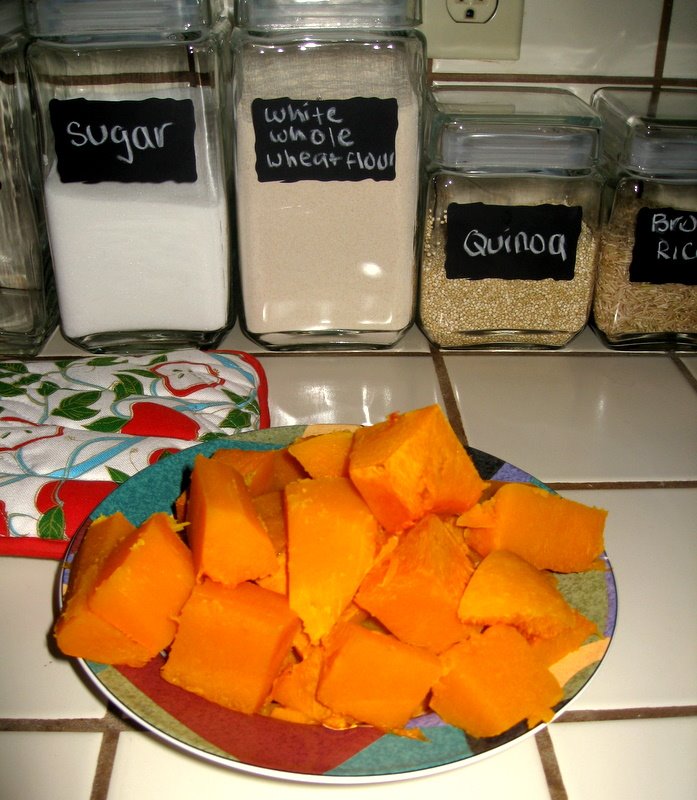 As you may have noticed, I've dressed up my banner a bit and was in turn inspired to make some orange-colored soup. Fall can be a dreary time for produce–the summer bounty stops appearing at the markets and we get into much heartier, heavier fruits and vegetables. While I do tend to prefer the summer and the spring, fall brings with it some wonderful treats. One of my favorite fall and winter bounties is the butternut squash. It's a bright and cheery color, tender in texture once it's cooked and quite sweet. On my trip to New England, I had some maple syrup-roasted squash with thyme. Though it was local Vermont delica squash, I'm inspired to try the same recipe with its cousin, the butternut.
In the meantime, I pulled together one of my favorite soups, roughly basing off of this recipe from Chocolate and Zucchini's Clotilde. I love Clotidle's inventive take here and combined it with my tried-and-true roasted squash base. Here's my version: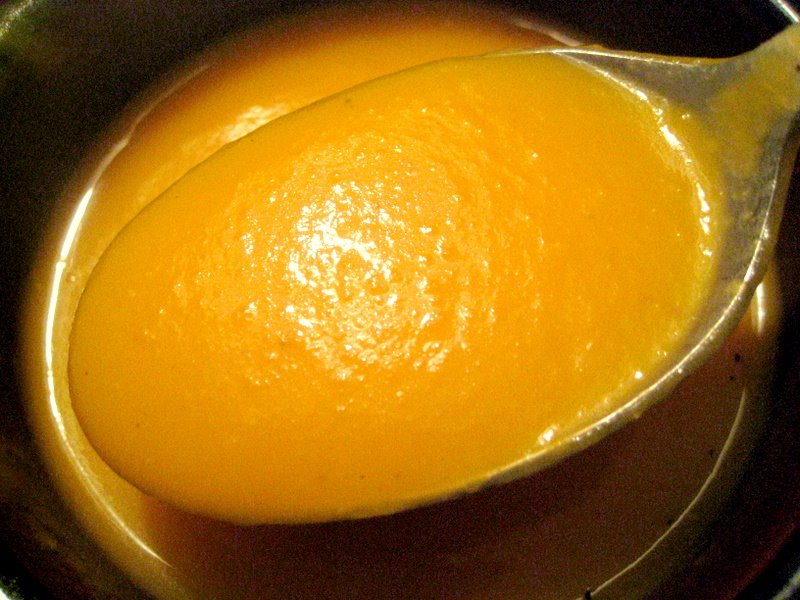 Roasted Butternut Squash and Vanilla Soup
*Serves..many
1 large butternut squash
1 onion
2 teaspoons of vanilla extract
salt & pepper
1 tablespoon olive oil
1. Roast the butternut squash (cut in fourths, roast for about 35 minutes in a 375 degree oven). When you can pierce the flesh with a fork easily, remove and let cool (I rarely let it cool, thus burning my fingers…Really should take my own advice here). Peel the squash–you can cut the skin with a knife easily–and cut into medium-sized squares.
2. Heat up some olive oil in a heavy pot. Add diced onion, a bit of salt and pepper and cook until softened.
3. Add the butternut squash, 2 teaspoons of vanilla, a bit more salt & pepper, and 6 cups of water. Bring to a boil.
4. Cover and simmer for 20 minutes.
5. When done, work in batches to puree in a blender, or use a hand blender. Soup should be creamy, but not too think.
6. Eat alone, or dress with a dollop of yogurt.
You may be wondering what those nifty little containers in the background are. I'm pretty excited about them, like the dork that I am. I just picked them up from Cost Plus World Market. Each glass jar comes with a set of chalk, so you can write your own little labels and easily erase them when the time comes to switch up the contents. I'm thoroughly petrified that I'm going to start buying more and more..until I have no more room on my counters. Also, note my fantastic new apple-motif potholder from Anthropologie. I really do get excited by the littlest things…