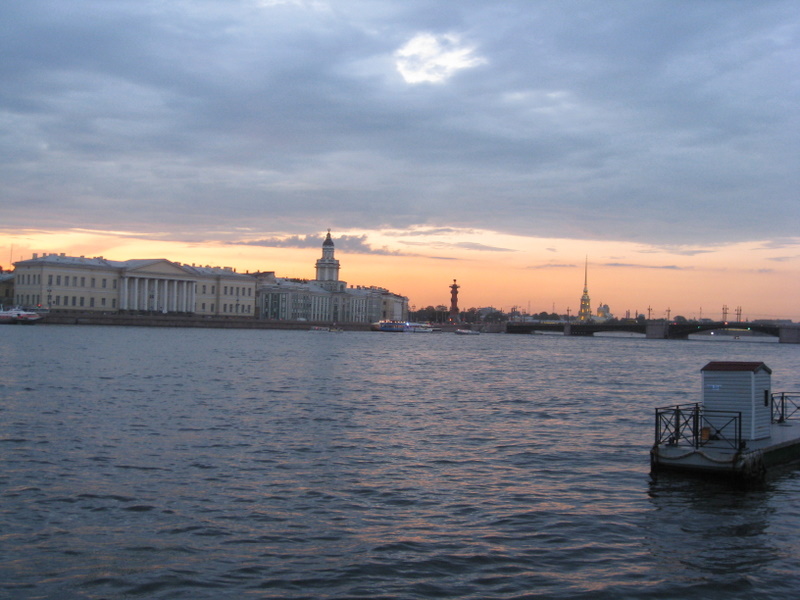 Now that I am properly adjusted to PST (hopefully!), I'm able to more accurately reflect on my much-anticipated trip to Russia. My apprehensions about spending 10 full days with my immediate and extended family were not unfounded–it was definitely a lot of family time. But, despite some minor tensions, it ended up being an amazing trip.
One thing that was definitely different this time around was being able to explore Moscow and St.Petersburg with just Matt. Although the famous White Nights were wrapping up, we had many days to wander both cities until late into the night, drenched in a soft, purple-shaded light. The weather was in some ways better and worse than expected. We were prepared for rain and a decent amount of rain we got, but to our relief, the rain would come and go most days.
I revisited a lot of my old sightseeing destinations as Matt has never been (the Kremlin, Red Square, Peterhof, Church of Christ the Savior…) This time, though, I felt like I got to see Russia through different eyes. I had a chance to see the Hermitage (everything it is cracked up to be!). Go out to romantic meals of Georgian kebabs and Armenian dolmas (slightly different from their more common Greek relatives), wander mystical summer gardens filled with statues with titles like "Allegory of Winter," munch on 'potatoes' (chocolate rum logs from my dad's favorite St.Petersburg bakery) in St.Catherine's park and go out on the town to listen to a Russian jazz singer sing American songs at a club called B2.
In many ways, I am still the same tourist I always am, visiting packed art galleries and popping into souvenir shops. But, I'm proud to say that on two separate occasions, I convincingly persuaded local cashiers to sell me Russian citizen tickets (about 1/8th of the price of tourist tickets for popular attractions). I knew which kinds of almond cookies to order at the Sever bakery (Mendalniyi pechenie). I knew that walnut paste-stuffed eggplants, lobbio, basturma and marinated mushrooms and lavash (either flat sheet or round and puffy bread, depending on the region) were the right things to order at Armenian/Azerbaijani/Georgian restaurants. Despite my delayed reading skills and heavy accent, I still know some things. And that feels good.
Food-wise, I indulged. My grandfather managed to get his hands on black beluga caviar, which I didn't hesitate to slather on bread for breakfast. I feasted on pelmeni and blinchiki like I rarely do in the States. And, I walked off about 1/12th of it all.
For anyone planning trips to either city, leave a comment and I'd be happy to provide you recommendations for restaurants, cafes, bakeries and site-seeing destinations.