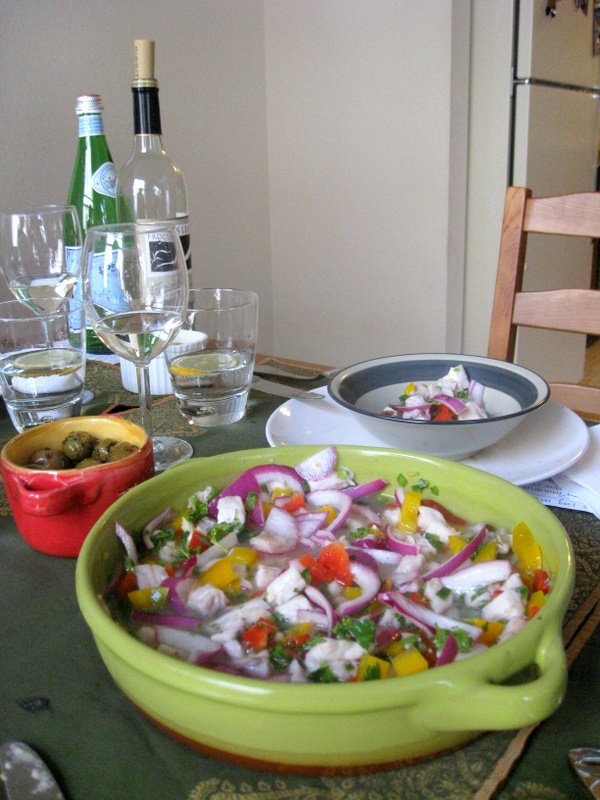 After frantically spending my week searching for recipes, ingredients and then spending the early part of my weekend prepping and executing, I am proud to say that my Father's Day dinner party was a success!
Many thanks go out to Matt, who generously devoted his time to perfecting some of my visions (the giant, wild Mexican prawns were marinated and cooked to perfection thanks to him) as well as dealing with my minor heart attacks (i.e., custard that did not want to thicken as a whisked it by hand).
One aspect of the menu did not make it to the table–after filling up on Margherita Pizza and literally devouring a paella-sized platter of ceviche, it was called off by popular vote.
I must share with you one recipe that was truly the star of the night–the Red Snapper Ceviche that I prepared using this incredible Food & Wine magazine recipe.
Surprisingly, this was not the most expensive part of our meal. Nearly a pound of fresh snapper was purchased from Andronico's for this dish. If I had to do it again (and I will!), I'd cut the red onions into smaller pieces (I made it look like the picture). Enjoy!
*This is an excellent dinner party dish as it can be prepared well in advance and is served chilled.
Red Snapper Ceviche
c/o Food and Wine Magazine (with a few modifications)
* 14 ounes skinless red snapper fillets, cut into 1/4-inch dice
* 3/4 cup fresh lime juice
* 1/4 cup fresh lemon juice
* 1 jalapeño or serrano chile, seeded and minced
* 1/2 cup finely diced red bell peppers
* 1/2 cup finely diced yellow bell peppers
* 1/2 small red onion, diced
* 1 minced garlic clove
* Pinch of ground cumin
* Pinch of crushed red pepper
* Salt
* 1 tablespoon minced cilantro
* 1 tablespoon extra-virgin olive oil
Directions (only 1 step–amazing!)
1. In a large bowl, toss the diced fish with the lime juice, lemon juice, jalapeño, red and yellow bell peppers, red onion, garlic, cumin, crushed red pepper and season with salt. Refrigerate the snapper ceviche for 30 minutes, stir to make sure all of the fish has been adequately coated. Return to refridgerator for at least another hour to let the flavors meld together. Stir in the cilantro and extra-virgin olive oil and serve.