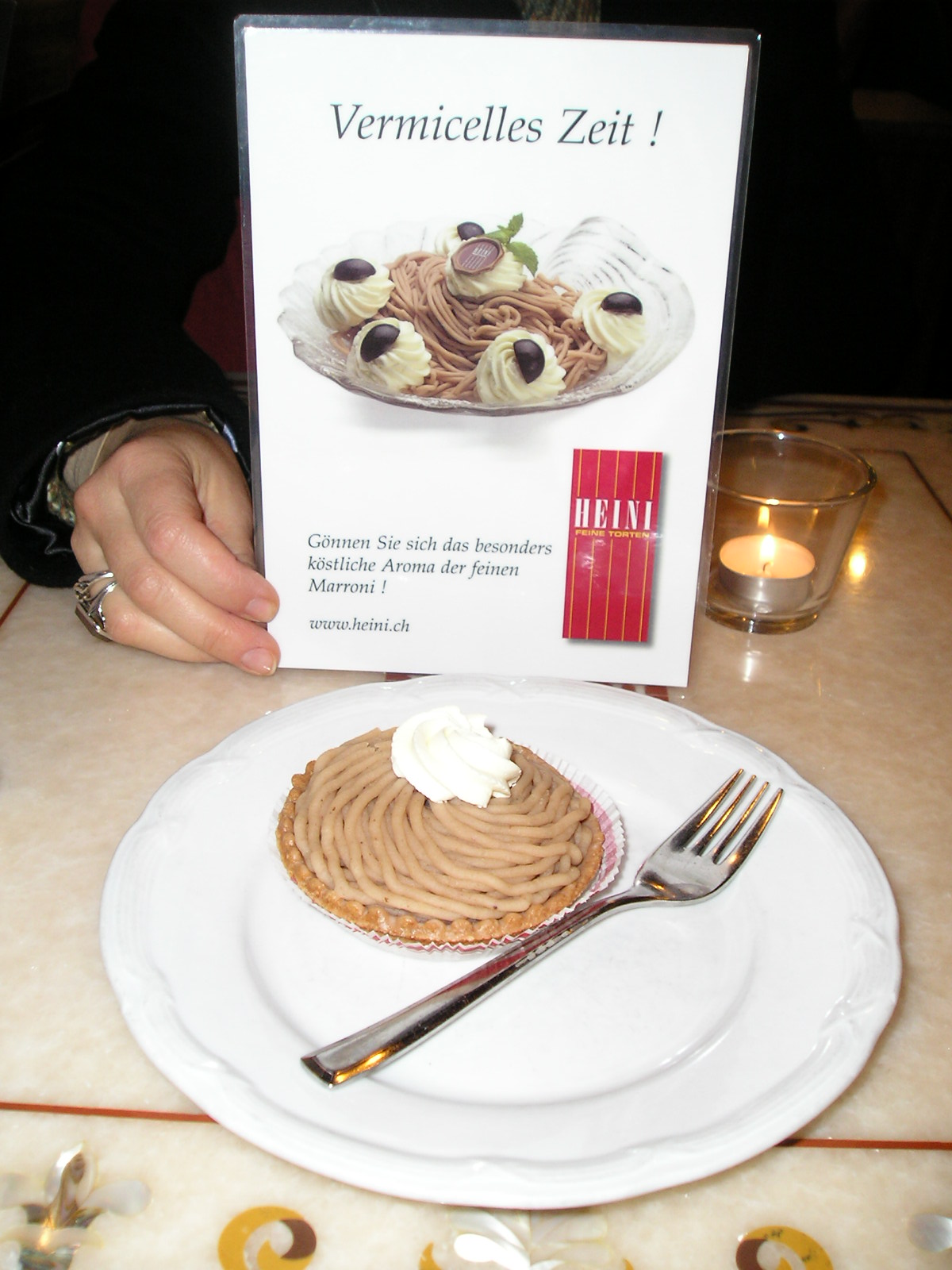 My first memorable experience with chestnuts was in Lucerne, Switzerland a few years ago. Walking off the train from Zurich with my mom, I immediately noticed a captivating aroma flowing along the waterway. We followed the scent to a fragile old woman roasting huge, plump chestnuts on an open fire and then pouring them into folded paper envelopes. Aside from the amazing feeling of warm little nuts spreading heat through my gloves as I shivered, the best part of the experience was biting into the smoky, velvety meat. We huddled together peeling and chewing and when we had gotten to the bottom of the little paper envelopes, re-engaged in conversation and felt like we had fueled ourselves for a day of wandering and exploring the city more. The Swiss must like their chestnuts because later that the day, I encountered a peculiar dessert–a creme filled pastry made almost entirely of chestnut creme (see image above). Something about the slightly sweet, deep mahogany nut made a distinct impression on me.
A few weekends ago, my parents and I decided to take a trip to a chestnut farm high above the hills of Palo Alto and partially out of excitement for the satisfaction of picking near perfect specimens and partially out of competition with each other, picked ourselves TEN pounds of the little suckers. After an initial roasting test (success!), I embarked upon finding every possible recipe for chestnuts and, of course, first turned to my favorite food blogger, Clotilde Dusoulier. As usual, she had exactly what I was looking for: a chestnut and mushroom soup that turned out to be quite a bit of work, but every bit worth it. After roasting a cookie sheet's worth of chestnuts and carefully peeling each one (admittedly, without some pain!), I combined the toasty meat with crimini mushrooms, onion, olive oil, vegetable stock, and salt and pepper (I modified her recipe a bit and did not use leeks). Following a quick trip to the blender and a swirl of balsamic vinegar, I had on my hands, a unique blend of velvety suede creme with a hint of sweetness and a definite taste explosion.
Part of what I love about cooking is buying some unique ingredient and, as Tim Gunn would say, making it work! It's like a little craft project that keeps on giving. I do still have an entire bag of chestnuts sitting in my fridge–next on the culinary board: chestnut cake!