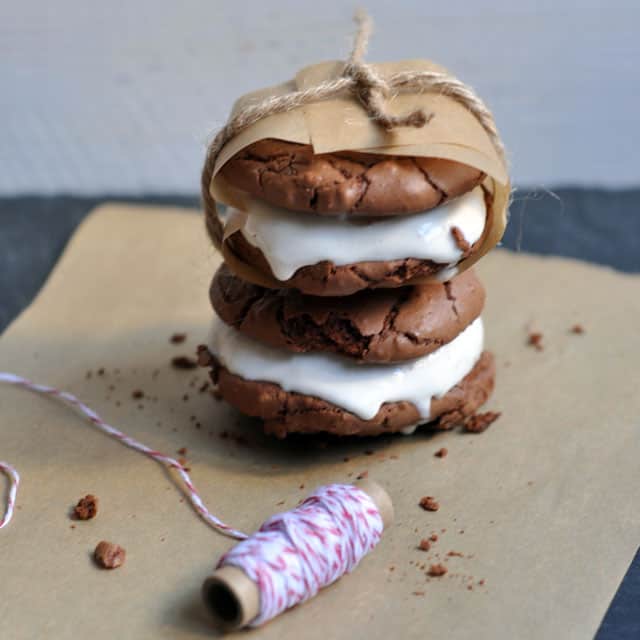 On our first date, Matt tried to convince me to read his favorite book, Infinite Jest (I had no intention, he would soon find out just how stubborn I am). On our second date, we ate sushi and then had a lengthy discussion about religion and the neighborhood homeless people (two separate discussions, two topics I wouldn't normally recommend chatting with your date about on your second date unless you're already pretty sure you're a good match). We had a 'moment' which was supposed to be our first kiss, but ended up being an awkward hug. A friend of mine suggested it was partially a result of the 'tall man syndrome,' when a split second decision must be made or abandoned entirely. I don't remember our third date, specifically, but I do remember our first Valentine's Day together, when Matt came over to my apartment to make sushi and tempura (this was before he knew I don't like tempura). He melted my roommate's spatula. I wore stripes. He snapped a photo of me. We've been on a lot of dates since.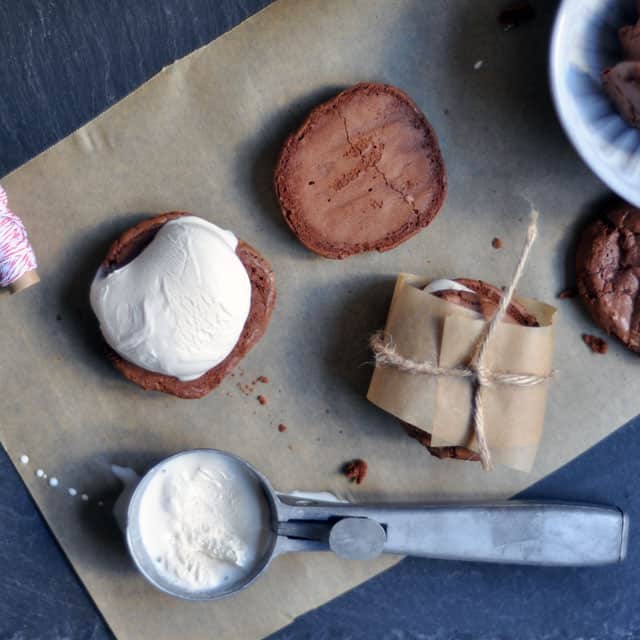 I really loved all of those 'getting to know you' dates, when I'd get butterflies in my stomach every time I saw him, or the phone would ring and his full name would pop up on the screen. For a long time, I called him 'Matthew' and only Matthew, as that is how he introduces himself to new people. I can't explain it, but something in me knew Matt was 'the one' on our second date. Of course I never would have said such a crazy thing so early on, or even a few months into our relationship. But in retrospect, I knew. That's why I never hesitated when we decided to move in together, or when Matt proposed. I know that my last post was sort of a love letter and I apologize to those of you rolling your eyes at me over the interwebs, but today is the 3 year anniversary of our wedding day and I just couldn't let it pass without reflecting. Thing is, you can get totally distracted by pictures of delicious ice cream sandwiches and glaze over the sentiment, so we're all good.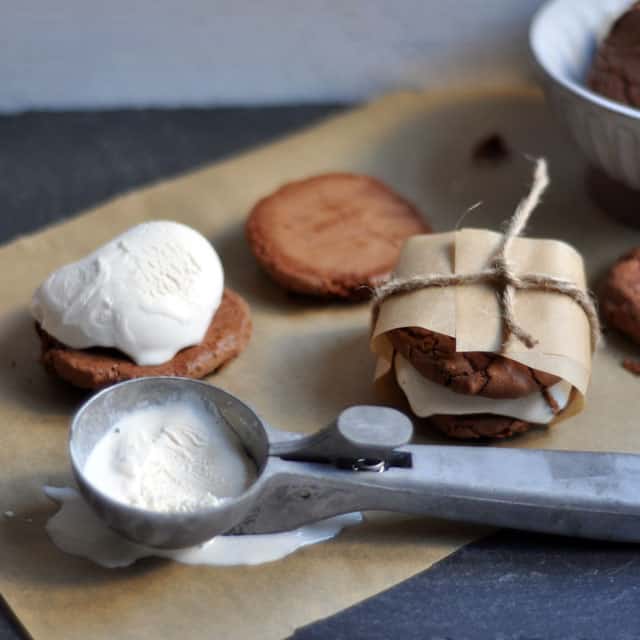 I'm not a particularly sentimental person, or even that romantic, for that matter, but I will say that everything's been better since I met Matt. Today is an extra special anniversary, because it is the last one we'll enjoy as a family of two. We're going out on a nice dinner date tonight, and this weekend we're celebrating the wedding of one of my best friends. Silly as it may sound, but this site and the Pairings Box have played a significant role in our relationship. After all, we spend most nights and many weekends 'working.' But when you're cooking and listening to music with your best friend, it hardly ever feels like work. In fact, in meeting Matt, I didn't just meet the love of my life, but I discovered my life's passion. He's helped me channel my creative drive, my desire to tell stories, my love of cooking, and my stubborn spirit into something that I am so proud of. If it wasn't for Matt, I wouldn't be here, talking with you, sharing photos of ice cream sandwiches. I probably wouldn't be writing for a living. And I would be thinking 'what if?' more often than "I can't believe this is actually happening.' I could write him a million love letters.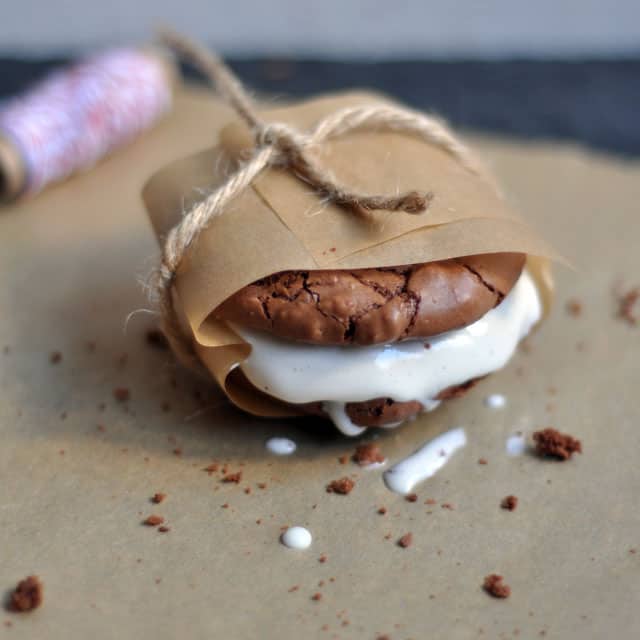 Chocolate, Cardamom, and Vanilla Bean Ice Cream Sandwiches
adapted from Mr. and Mrs. Miscellaneous, via Bon Appetit
*makes about 8 sandwiches
Note: don't make more ice cream sandwiches than you are going to serve/eat in one sitting. They taste best freshly-made. However, you can store the cookies in an airtight container and make ice cream sandwiches to order over the course of a few days. The cookies vaguely resemble macarons, especially when they are baked; they are delightfully chewy, chocolate-y and definitely benefit from that magical, exotic spice — cardamom. We opted for whole pods, grinding the seeds ourselves, though you can certainly use ground cardamom (it won't be as potent). The original recipe calls for coffee ice cream, but I thought a good quality vanilla bean was perfect here. We halved the original recipe and also used slivered, as opposed to sliced, almonds. I prefer to bake one sheet at a time in my oven; I find my cookies bake more evenly. But, you can choose to bake yours at once. Lastly, I should be honest here: my friend Lindsey took the lead in making these cookies; there were plenty left for Matt to sample 😉
4 ounces of bittersweet chocolate, roughly chopped (we used Valrhona)
1 1/2 tablespoons of unsalted butter
1/2 cup of sliced or slivered almonds
1/4 cup of all-purpose flour
1/4 teaspoon of baking powder
1/4 teaspoon of salt
1/4 teaspoon of freshly-ground cardamom (from about 2 green cardamom pods)
1 large egg
1/2 cup of sugar
1/2 teaspoon of pure vanilla extract
Ice cream: good quality vanilla bean or coffee (we used Talenti Gelato in Tahitian Vanilla Bean)
1. Preheat your oven to 325 degrees F and line two baking sheets with parchment paper.
2. Add the chopped chocolate and butter to a medium heatproof bowl. Add about two cups of water to a medium pot, bring to a simmer and place the bowl over the pot. Stir the chocolate and butter together until melted and combined.
3. Add the almonds, flour, baking powder, salt and ground cardamom to a food processor and pulse until the almonds are finely ground.
4. Add the egg, sugar and vanilla extract to the bowl of a stand mixer fitted with a paddle attachment. Beat until light and fluffy (3-4 minutes). Add 1/3 of the melted chocolate mixture, beating to combine. Add another third, beat, then add the rest and beat to combine. Gradually add the dry mix and beat to incorporate.
5. Scoop rounded tablespoons of dough onto each of the lined baking sheets, leaving about an inch between each round. Place one of the baking sheets in the oven and place the other in the refrigerator.
6. Bake, rotating the sheet halfway through, until the tops of the cookies develop light cracks and the cookies are set (approximately 12-14 minutes).
7. When the cookies are done, remove them from the oven and transfer to a wire rack to let cool and bake the second sheet.
8. To assemble the ice cream sandwiches: place a cookie flat-side up. Top with a scoop of ice cream and a second cookie, lightly pressing down to make a sandwich. Repeat with the rest of the cookies (depending on how many ice cream sandwiches you're making). Place prepared ice cream sandwiches in the freezer while you assemble the rest. Cookies can be stored in an airtight container for up to three days.
Musical Pairings: The Fresh & Onlys – Long Slow Dance + Chocolate, Cardamom, and Vanilla Bean Ice Cream Sandwiches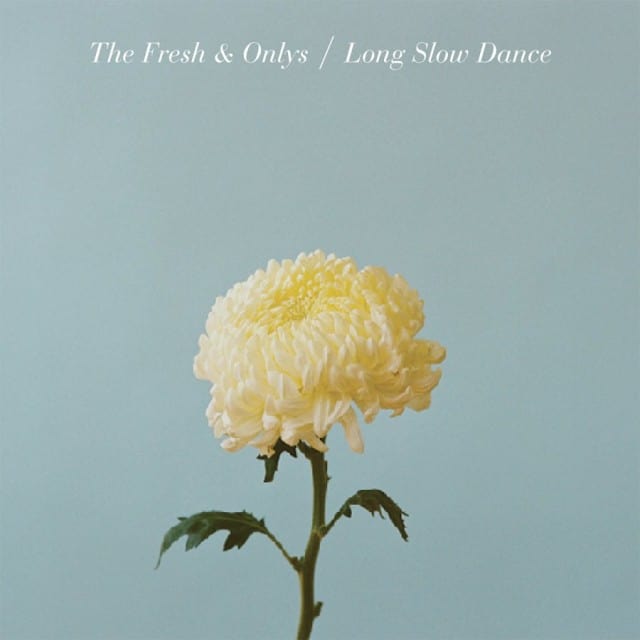 More on the Turntable side of things.