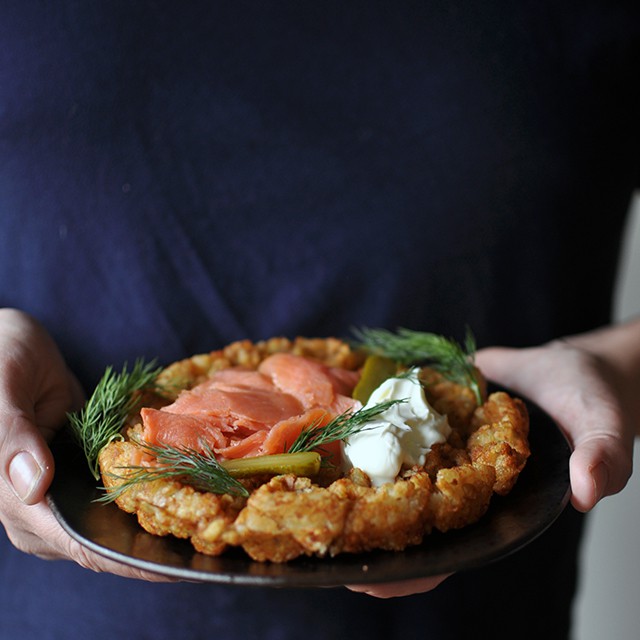 I was recently lamenting to Matt that I feel like every time I have an opportunity to cook or photograph food, I basically have to approach it like you do a grocery store shopping spree.
When I casually browse food bloggers' Instagram accounts I'm immediately overwhelmed by the IDEA of trying to style something. I'm lucky if I have an opportunity to add a dusting of Parmesan cheese to pasta, no less, perfectly scattering herbs around a plate to make it look like it's natural.
Needless to say, the mantra of my life these days is living with constraint. I'd been feeling kind of down about it for a while until Matt brought to my attention the work of artist Matthew Barney (Bjork's ex husband). He took a rather unusual approach to his art: focusing on creativity within constraint. He would literally hang from the walls of his studio to restrain his body while drawing. Weird, for sure, but fascinating.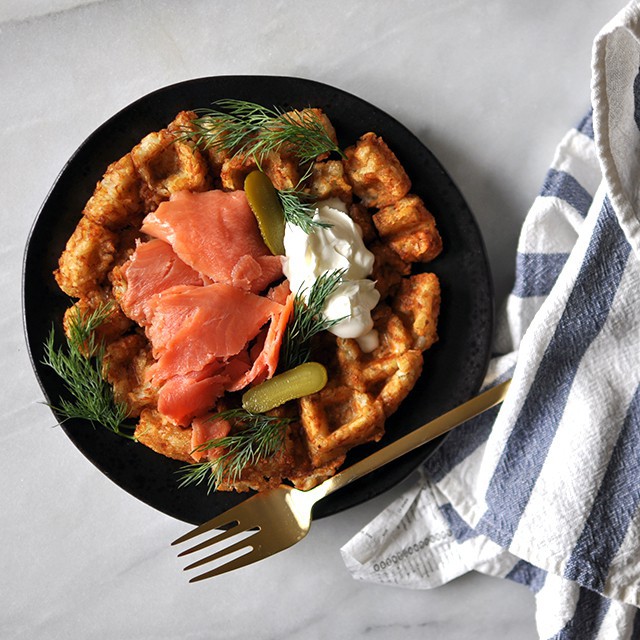 Could our creative pursuits actually be enhanced if they are somehow limited — both mentally and physically? Surely, my mental capacity has been diminished by the addition of two new humans and an insane amount of routine and tediousness. But within this new world, this constrained world, I've found creativity — or rather, creativity finds me on occasion. I find some of my favorite cooks take a similar approach to cooking with ingredients they've foraged or simply received in the week's CSA box. It's a puzzle that needs to be put together and our brains seem to adapt well to the idea that our pursuits have limitations.
While I do look forward to the day when I'm a bit less constrained in my creativity, I'm trying to find the joy and curiosity in this season of restraint.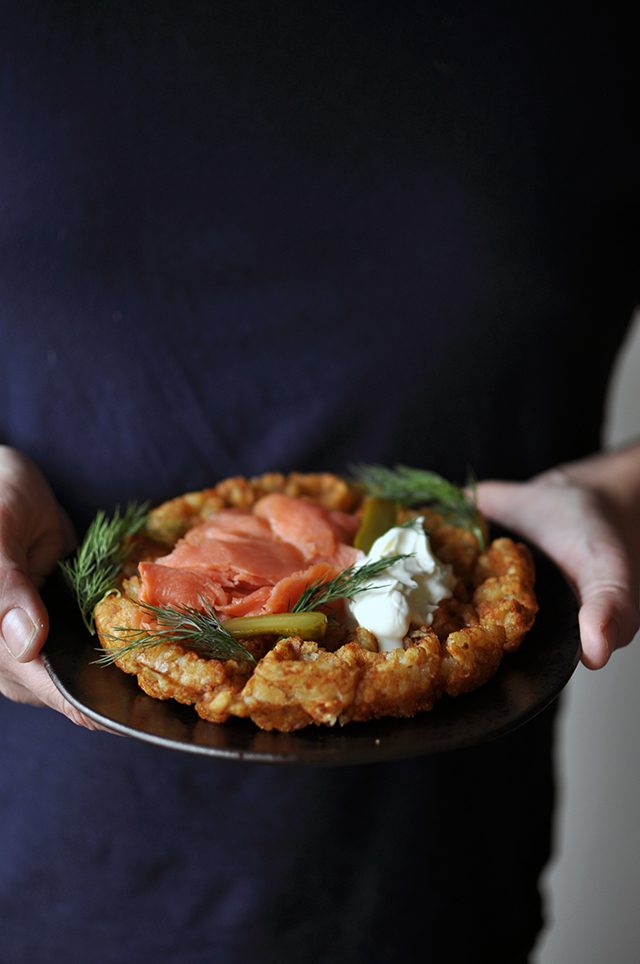 Tater Tot Waffles
adapted from The Riddler c/o Food & Wine
makes 2 waffles
Note: In the original recipe, the tots are defrosted but not cooked. I actually made this using pre-cooked tots. Also, if you have caviar, by all means dress these tater tots up! I *wish* I had some black caviar when I made this. 
Nonstick cooking spray
about 4 cups of Tater Tots
Sea salt and freshly ground pepper
2 tablespoons of crème fraîche
sliced smoked salmon, dill sprigs, and sliced cornichons, drizzle of lemon juice, for serving
1. Cook the tater tots according to package instructions. Meanwhile, preheat an 8-inch waffle iron. Grease it with nonstick spray.
2. Closely arrange about 2 cups of tater tots on the iron, sprinkle with some salt, and close. Cook for a 3-4 minutes, then lift the iron and fill any "holes" in the waffle with more tater tots. Close the iron and cook for another 2-3 minutes, or until the waffle is crispy, golden, and can easily be lifted out.
3. Transfer the waffle to a plate and keep warm while you make the second waffle.
4. Top each waffle with a heaping tablespoon of crème fraîche. Arrange the salmon slices alongside and garnish with dill and sliced cornichons. Sprinkle with more salt and pepper, as needed. Give it a light drizzle of fresh lemon juice. Eat immediately.