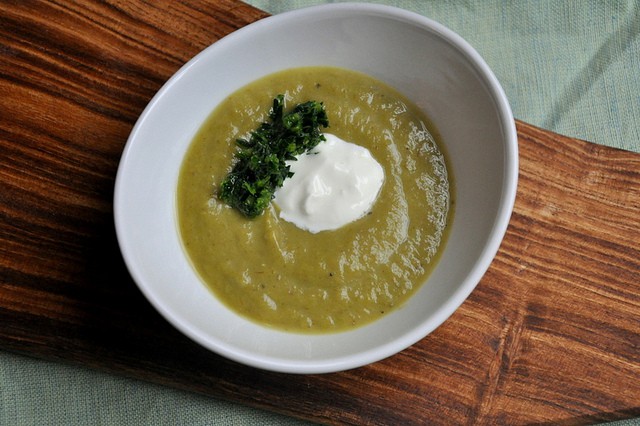 If you haven't figured it out yet, I like soup. I like it a lot. My grandfather would argue that vegetarian soup is not really a meal, but I beg to differ. Perhaps I could convince him with a little sour cream. After all, it is the condiment of my people.
Spring has been naughty this year in San Francisco. It comes and goes like a child with a temper tantrum. One day we get sunshine and warmth and the next, gray clouds and rain. I don't get it. I really, really want to retire my winter coat. And so I rebel with soup. I'm a big fan of asparagus, but to my dismay, Matt doesn't love it. And so I try to trick him into eating it. Aren't I a good wife? I try to buy the thinnest, most tender stalks, wrap them in assorted salted meats, dip them in sugar. Ok, I'm kidding. But it's true that when you get married, you've got to compromise. When I found this recipe for a roasted asparagus soup with an herb gremolata, I thought it might even be something Matt might try. After all, the texture of asparagus would not be present, and the gremolata would add a different flavor into the mix.
This soup was, in a world: lovely. Like a fresh spring day. It reminded me in many ways of pea soup–it had a similar lightness and sweetness and a grassy feel to it that whispers: spring. Unfortunately, the night I made this soup, I didn't strain it, so while the flavors were there, we did find some stringy bits that really took away from it. The next morning, I strained the soup and took it for lunch. I stirred in some sour cream and a hearty scoop of gremolata. And I knew I did something right. Roasting the asparagus really elevates its flavor and I found that focusing on asparagus (and cutting down the amount of leeks) put one of my favorite vegetables front and center. You could certainly try stirring in some plain yogurt or cream into the soup, but I love the tanginess the sour cream adds.
While spring might still be undecided, one thing is for sure: asparagus has made a glorious entrance.
Roasted Asparagus Soup with Spring Herb Gremolata
adapted from Bon Appétit
1 bundle of asparagus stalks, trimmed and cut into 3 inch pieces
2 medium leeks or one large
about 1/4 cup of olive oil
about 2-3 cups of chicken broth
2 tablespoons of flat leaf parsley, mined
2 teaspoons of fresh lemon zest
1 tablespoon of fresh tarragon, minced
1 small garlic clove, minced
sour cream, for serving
1. Trim the leeks. Rinse carefully to get rid of dirt and grime, then roughly chop the white and light green parts only.
2. Preheat the oven to 425 degrees F.
3. Toss the asparagus and leeks with 2-3 tablespoons of olive oil. Line a large, rimmed baking sheet with foil and evenly spread the vegetables on top. Season with salt and pepper and roast the vegetables, tossing occasionally, until they are soft and leeks are golden (30-45 minutes). Be careful not to burn and check the vegetables often.
4. Transfer the vegetables to a blender and add broth, one cup at a time until it is smooth and has the consistency that you desire (use less broth for a thicker soup).
5. Strain the soup in a colander to get rid of any stringy bits from the asparagus, then transfer to a pot to heat. Adjust seasonings to taste.
6. Make the gremolata by combining the minced herbs, garlic and lemon zest in a mini blender. Add about 2 tablespoons of olive oil and pulse until it's still somewhat textured, but well mixed.
7. To serve soup, ladle into bowls, top with a dollop of sour cream and half a teaspoon to one teaspoon of gremolata.

Musical Pairings: The Cure – Wish + Roasted Asparagus Soup with Spring Herb Gremolata
I'm going to start this pairing with a confession. I dislike asparagus. In fact, it is one of two common food stuffs that I actively dislike (the other is olives). In other words, asparagus is tied for first place on my two item list of things I dislike. So, as you can imagine, I approached this roasted asparagus soup with spring herb gremolata with more than a hint of suspicion. But, I'm glad I tried it nonetheless, as I've discovered time after time with both music and food, if I remain open-minded, I allow myself to be happily surprised by something I expected to dislike. Similarly, when I was in high school, I actively disliked the Cure. At the time, I had a friend who was obsessively into the Cure: shirts, posters, books, towers of CDs, etc., and I think I found my friend's extreme fandom slightly annoying (the way some people have probably find us hardcore Radiohead fans somewhat off-putting). And I heard the Cure's singles on the radio maybe a little too often (tunes like the appallingly upbeat "Friday I'm In Love"). It was probably a combination of those two factors that led me to dislike the band. Well, that, and just having bad taste in music when I was in high school. Having since given their music a fair listen, the Cure's Wish has become one of my favorite albums. More at Musical Pairings. –Matthew