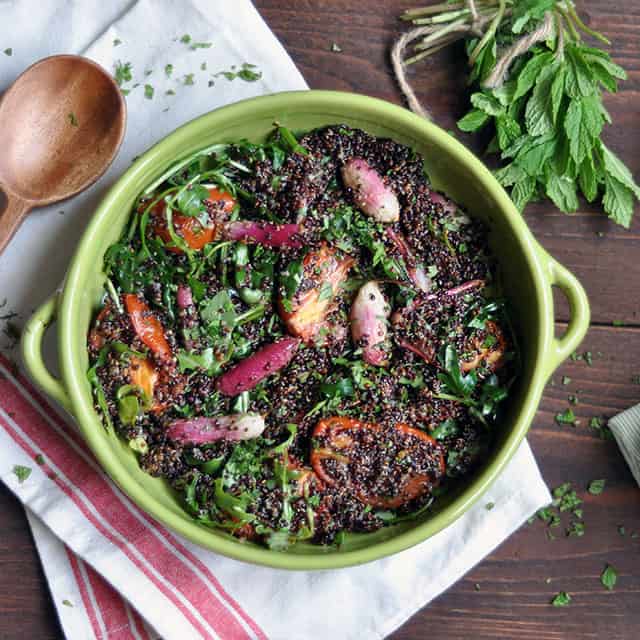 *serves four
1/2 cup of black quinoa*
1 pound of tomatoes
handful of radishes
1 tablespoon of finely chopped mint
1 sprig of rosemary
olive oil
feta cheese
For the dressing:
3 tablespoons of olive oil
3/4 tablespoon of honey
1 tablespoon of fresh lemon juice
salt and freshly-ground pepper, to taste
*This month's Premium ingredient
1. To cook the quinoa, bring 1 1/2 cups of water to a boil in a saucepan. Stir in the quinoa, lower to a simmer and cook for about 20 minutes (or until the water is absorbed and the quinoa is soft and a visible ring can be seen on individual granules). Stir in a little more water and cook for longer if the quinoa needs more
time.
2. Preheat the oven to 300 degrees Fahrenheit. Slice the tomatoes in half. Lightly oil a baking sheet and place the tomatoes on it cut side-up. Drizzle with more oil, season with salt, and toss a few pieces of fresh rosemary over them. Roast for approximately 1 1/2 -3 hours (the longer you roast them, the drier and sweeter
they will be).
3. When the tomatoes are done, raise the temperature to 400 degrees Fahrenheit. Line
another baking sheet with a sheet of foil. Slice the radishes in half, season with salt and drizzle with a bit of oil. Roast for about 15-20 minutes (until soft and slightly shriveled).
4. Whisk together the dressing ingredients.
5. Combine the quinoa, tomatoes, cheese, radishes and mint in a bowl. Season with a
bit of salt and freshly-ground pepper. Add dressing, to taste, or transfer it into a to-go container and let others drizzle the dressing over their salad, to taste. You can also choose to add salad greens to the salad (we recommend arugula).