I used to write a lot of poetry. I have notebooks filled with raw, young angst. In college, I went up on a stage, terrified, and read one of my poems at a poetry slam. I felt like I was flying. I wrote a lot of poems back then. So much poetry, it flowed through my veins. Together with my freshman year roommate, I started a poetry club on campus. We put fliers up in our dorms and eventually brought together –to this day–the strangest selection of people I've ever seen gather together in one room after-hours. We had nothing in common but the poetry. I threw myself into words. And then, one day, I stopped.
I didn't write a poem for four years. I seemed to still accumulate journals. Friends didn't know I stopped writing poetry, so they continued to gift me with notebooks for unwritten ones. For a while, I stopped writing anything at all.
One day I wondered: what happened? Did I start to feel that my worries were too trivial for poetry? Was love too cliche for me to write poems about? Looking over my poetry, it's certainly clear that I wasn't writing when I was particularly happy. I wrote about broken hearts, friendships on the fallout, politics, war, immigration, growing up and moving. It's hard for me to pinpoint why I stopped writing poetry, but at some point, I started blogging instead. Albeit it was mostly about food, but writing was still my outlet. I'm thankful for those years of poetry–and what they taught me about writing. Poetry was something that I did for myself and aside from that one poetry slam, I shared my poems with only select groups of people. In high school, as a writer for my school's literary magazine, I wrote for publication, but I shared only a fraction of my most personal poems. Poetry taught me to understand myself, to listen closely to lyrics and words, and to be able to put my feelings in writing–especially for the people that I love.
These days, I bake when I'm sad. And I bake when I'm happy. I don't force the poetry but lately, it's been calling to me a little bit. Earlier this year, I was sitting on a plane and I did something I hadn't done in four years: I wrote a poem. And it was about food. Figures! So what am I thankful for this year, besides my incredible family, the most amazing husband I could ever ask for–my partner in everything in life, and my amazing friends? I'm thankful for what will hopefully be a new era of poetry. So I thought I'd share my little poem–it's a little rusty, but it is!
old notebooks filled with
ingredient lists
in no particular order
parsley and salmon
cilantro and short-grain rice
my life in torn-out
grocery lists
family dinners
girls nights
romantic celebrations
food is my new poetry
When you and I are done stuffing ourselves this weekend, it's possible we'll want to eat salad and yogurt for a little while. But it's also possible we'll want to sit down with our families and dig into some pumpkin pancakes before all things pumpkin become passe. I, for one, predict the latter for myself.
I hope that you all have a wonderful Thanksgiving with the people that you love. If you want to do something nice for a few of them, make a batch of these tender, spiced pancakes. Listen to some tunes and be happy!
Pumpkin Pancakes
via Martha Stewart Food
1 1/4 cup of whole wheat flour (or 1 cup of whole wheat and 1/4 cup of oat flour)
2 tablespoons of sugar
2 teaspoons of baking powder
1/2 teaspoon of ground cinnamon
1/2 teaspoon of ground ginger
1/2 teaspoon of salt
1/8 teaspoon of ground nutmeg
pinch of cloves
1 cup of milk
6 tablespoons of canned pumpkin puree
2 tablespoons of butter, melted
1 egg
1. In a large bowl, whisk together all of the dry ingredients.
2. In a medium bowl, whisk together the pumpkin puree, butter, milk and egg until well-combined.
3. Pour the wet batter into the dry mix and stir with a large spoon until incorporated (but don't overmix). Add more milk if the batter is too thick.
4. Heat a cast iron skillet over medium-high heat and add some butter to the skillet. Drop 1/4 cup-fuls of batter into the skillet, cooking the pancakes for about 3 minutes per side. Adjust the heat so as not to burn the pancakes. Serve the pancakes warm, with butter and maple syrup.
Musical Pairings: She & Him – Volume One + Pumpkin Pancakes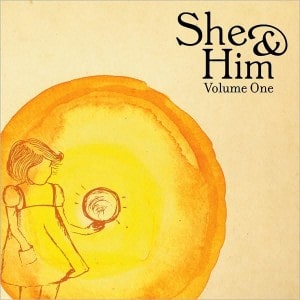 Head to the Turntable to read more (and listen) to today's Musical Pairing: She & Him – Volume One.