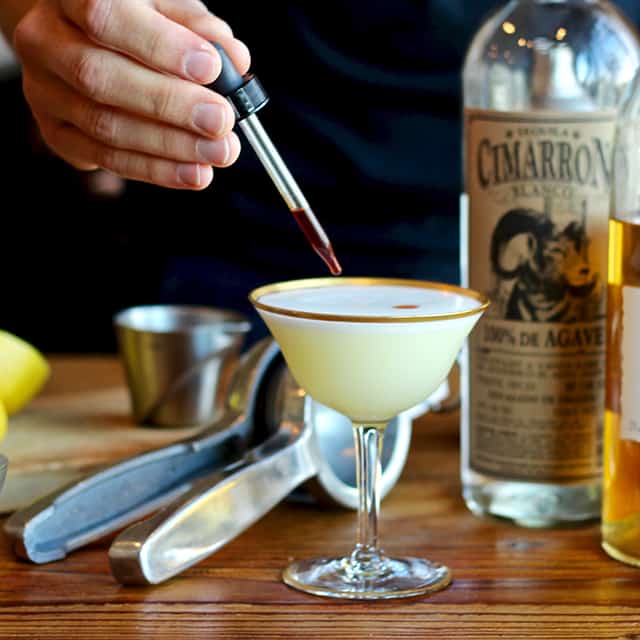 Some recipes are hard to approach when you want to make them at home. Whether it's expensive equipment, obscure ingredients, or time-consuming steps, there are plenty of drinks that I wouldn't try on my own.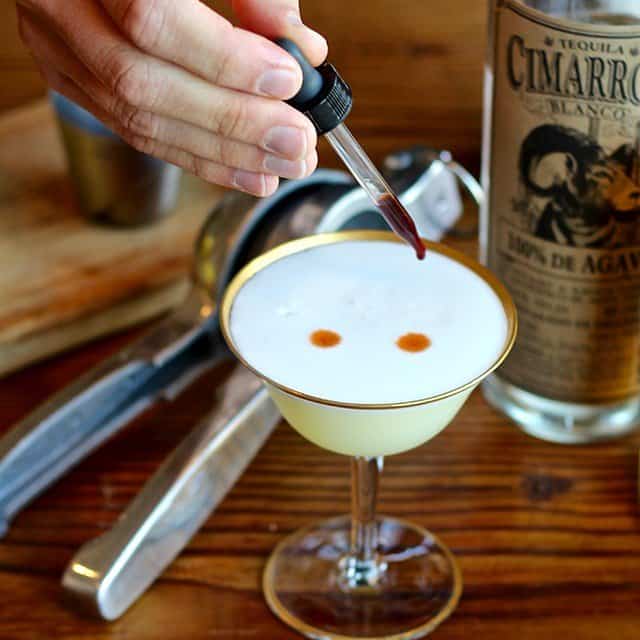 One of the categories that I've avoided over the years has been the use of raw eggs. I've enjoyed plenty of Pisco Sours and other egg white (or whole egg) cocktails over the years, but had not gathered the confidence to make one on my own until recently. I think that my hesitation here was understanding how the egg white would modify the drink in flavor—I've had a few experiences on the streets of Peru and friends' homemade versions not turn out so well taste-wise.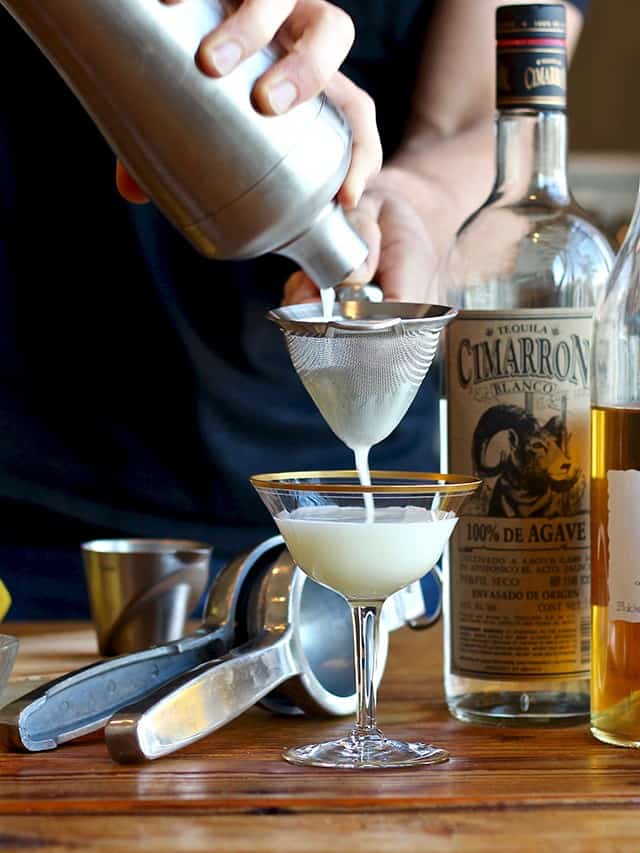 It's clear at first sight that egg white adds a gorgeous layer of foam and creamy texture, but there are a few best practices I've found over time that will help you approach recipes with raw egg: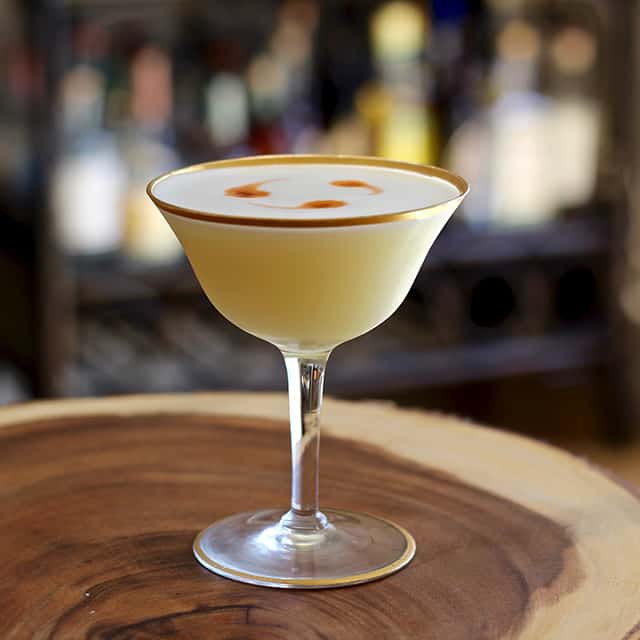 Stick to tried and tested recipes such as the Pisco Sour, Clover Club, Ramos Gin Fizz… or perhaps the one we're featuring today, below!
Use fresh eggs.
Crack the eggs on a flat surface to avoid contaminating the egg white and yolk.
Add the egg white after all other ingredients to avoid unsavory threads forming from the acid or alcohol.
Shake ingredients without ice first to get a headstart on developing thick foam. This is called a dry shake. Shake for 45-60 seconds and you'll have a really thick texture!
Be aware of and consider the small risk. Recent studies have suggested that only 1 in every 30,000 eggs are at risk for contamination with Salmonella.
This recipe is a take the Clover Club cocktail made famous by the bar of the same name in New York. And while the cocktail definitely doesn't need to be changed, I was keen to make use of my newly acquired banana liqueur from Giffard, which has successfully forced me to reconsider a wide variety of liqueurs. It's the perfect mid-day drink to enjoy under the sun.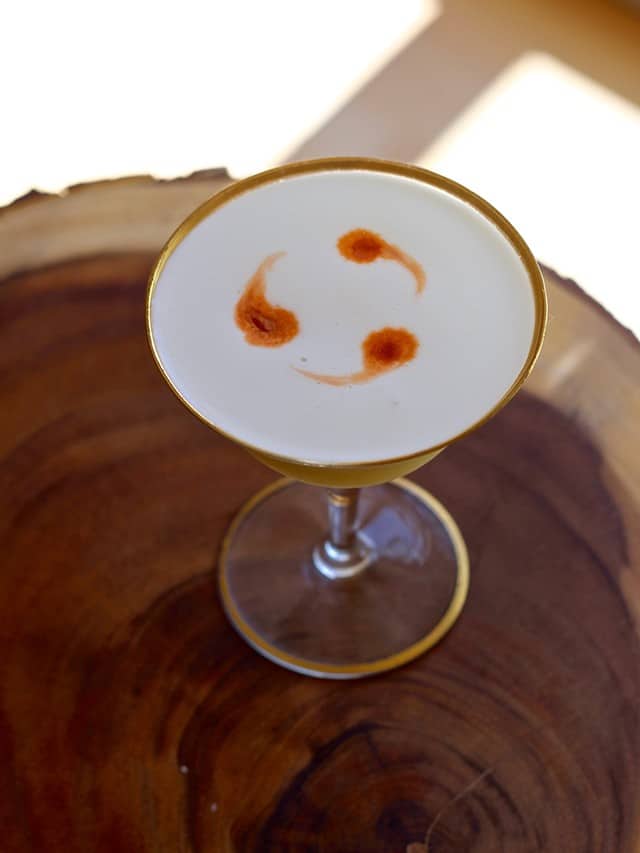 GLASS
RECIPE
2 oz tequila (I recommend Cimarron)
.5 oz banana liqueur (I HIGHLY recommend Giffard Banane Du Bresil)
.5 oz lemon juice
.25 oz agave syrup (1 part agave diluted by 1 part water)
Egg white of one egg, approximately .25 oz (*see note)
3 drops of Angostura bitters (optional – mostly for design)
Add all ingredients, except the bitters, into a cocktail shaker. Shake for about 10 seconds to give a head start to the egg whites before diluting with ice to form a bit of thickness. Be careful when removing the top of the shaker as it may spray some of the ingredients, so do it slowly. Now fill the shaker with ice and shake until chilled (frost will develop on the tin of the shaker when it's ready). Double strain through a fine mesh strainer (like this one from OXO) into the glass to keep out any undesired pulp and watch as the the thick egg whites form at the top. Add drops of bitters to the top of the drink and use a toothpick to create your design like this using a dropper. Some people suggest that the bitters floated on top distract from a potentially off-putting smell of the egg whites.
* Consuming raw eggs may increase your risk of food-borne illness, especially if you have certain medical conditions.
Photography and styling by Hannah Levy.