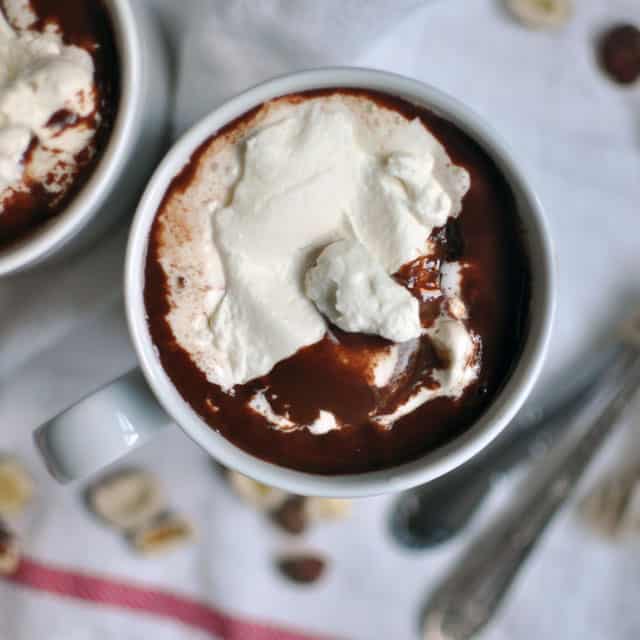 Listen, right now is really not the time to start your diet, so let's talk about hot chocolate and get on with it. Now that Thanksgiving is over, I think it's officially Christmas — at least that's how it feels. Already, Christmas trees adorn many of our neighborhood windows, store displays have been dressed up with twinkling lights, and I don't have to feel weird about listening to the Christmas mix that Sarah mailed me. Even though I didn't grow up celebrating Christmas, I associate it with so many great things — bumming around the 'burbs with high school friends over holiday break, red Starbucks cups, the smell of pine needles, cheesy romantic comedies, jazz and lots of it, ski trips, gingerbread, cocktail parties, sparkly tights, cashmere scarves, hot alcoholic beverages, boots with thick socks.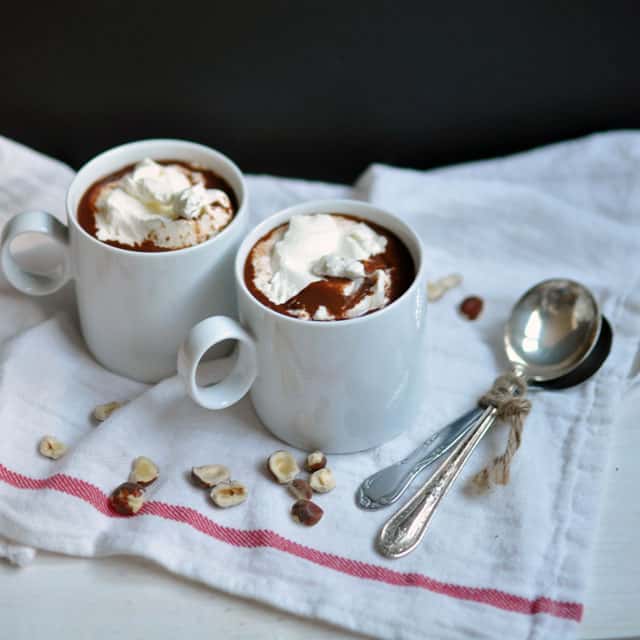 Now that I'm married to Matt, I feel like I'm finally realizing my lifelong dream: celebrating both Christmas AND Hannukah (not to mention, a much more important holiday in my family: Russian New Year). You remember those kids in elementary school who got to celebrate both? They got to light candles and eat latkes and also take pictures with Santa and wake up to presents under the Christmas tree. Those little brats had it good, and the rest of us were understandably jealous. Thing is, now that I'm a bona fide adult, my favorite thing about all of these holidays isn't the presents. It's that other stuff that makes me feel warm and fuzzy inside: baking cookies, cuddling up to my love under a mountain of blankets watching above-mentioned romantic comedies, listening to old, crackly records accompanied by candlelight. And hot chocolate, plenty of hot chocolate. Being an adult means allowing yourself to eat as many sweets as you wanted when you were a kid, without anyone giving you crap about it. And I still have a few more weeks left of not being a role model to anyone. There is something magical about this time of year; we all seem to let ourselves be children, briefly.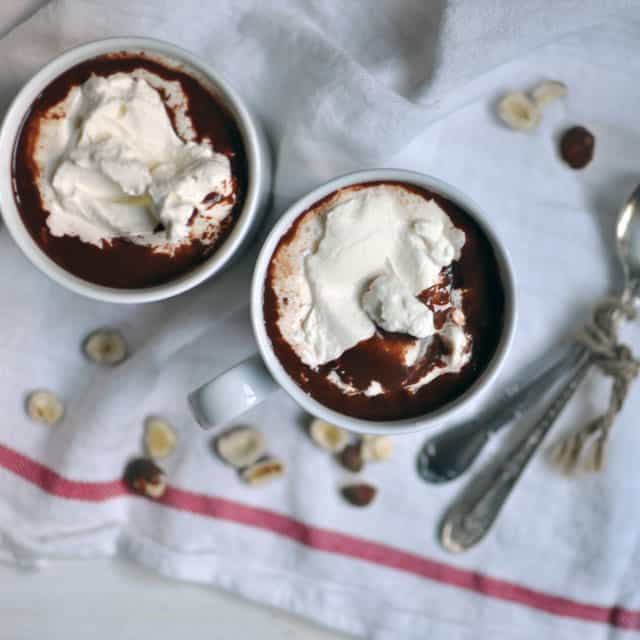 Before we get any further, I'm not talking about the powdery stuff with dehydrated marshmallows. No. That is not hot chocolate. It's a sad excuse for a beverage. I'm talking about hot chocolate that's so rich, so deep, so thick, you have to sip it veeeery slowly. Accented by a cloud of freshly-made whipped cream, it tastes positively criminal. I can promise you this: once you get a taste of it, you'll never look back.
A few weeks ago, I was browsing my favorite grocery store in San Francisco — Rainbow Grocery — when I stumbled across an aisle of nut milks. I'd tried almond milk before (even tried making my own) but had never sampled hazelnut milk, so I picked up a package. Wisdom told me that a truly rich and flavorful hot chocolate could only be created with real milk, ideally full fat, but I was wrong. Oh, how wrong I was. Turns out, you can make FANTASTIC hot chocolate with nut milk. I used two types of chocolate in my recipe: unsweetened cocoa powder and dark chocolate disks from a wonderful local chocolate company. Because nothing says Christmas like a little peppermint extract, I whisked up a quick batch of peppermint whipped cream to add even more richness and flavor. People: homemade whipped cream is the easiest thing, possibly ever. It is so worth taking an extra minute to make your own and forsaking the can once and for all. For those of you who are lactose intolerant, you can omit the whipped cream to make this recipe entirely dairy-free.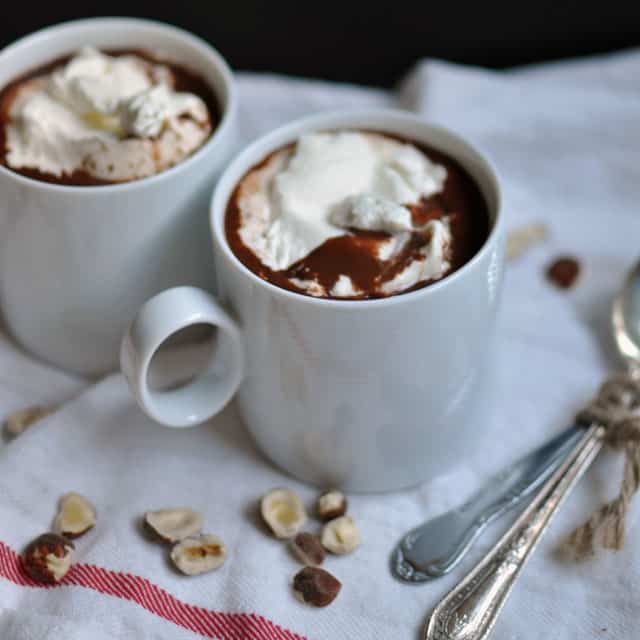 Does anyone else want to dive headfirst into that cloud of cream?
Hazelnut Hot Chocolate with Minted Whipped Cream
*makes 2 cups
For the hot chocolate:
2 cups of hazelnut milk (you can substitute almond milk, soy milk, or regular milk)
2 tablespoons of unsweetened cocoa powder
2 ounces of dark chocolate (60-70%), finely chopped (I used TCHO Chocolate discs, which I did not need to chop)
2 tablespoons of sugar
1/4 teaspoon of coarse salt
Bring the hazelnut milk to a boil over medium heat. Whisk in the cocoa powder, chopped chocolate, sugar, and salt until completely smooth.
For the minted whipped cream:
1/2 cup of heavy whipping cream
1 tablespoon of sugar
1/2 teaspoon of real peppermint extract
Combine whipping cream, sugar and peppermint extract in a medium bowl. Whisk until light and fluffy. I recommend using a hand blender with a whisk attachment (you'll get beautifully whipped cream in a minute or under, and you won't kill your arm). Be sure all of your ingredients are very cold, as is your bowl and whisk.
To serve, divide hot chocolate among cups and top each with a heavy-handed dollop of whipped cream.
Musical Pairings: Otis Redding – The Best of Otis Redding + Hazelnut Hot Chocolate with Minted Whipped Cream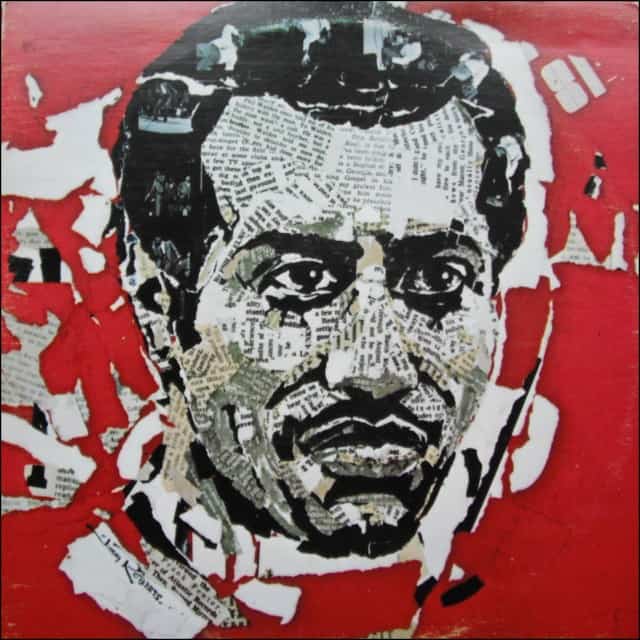 More on the Turntable!