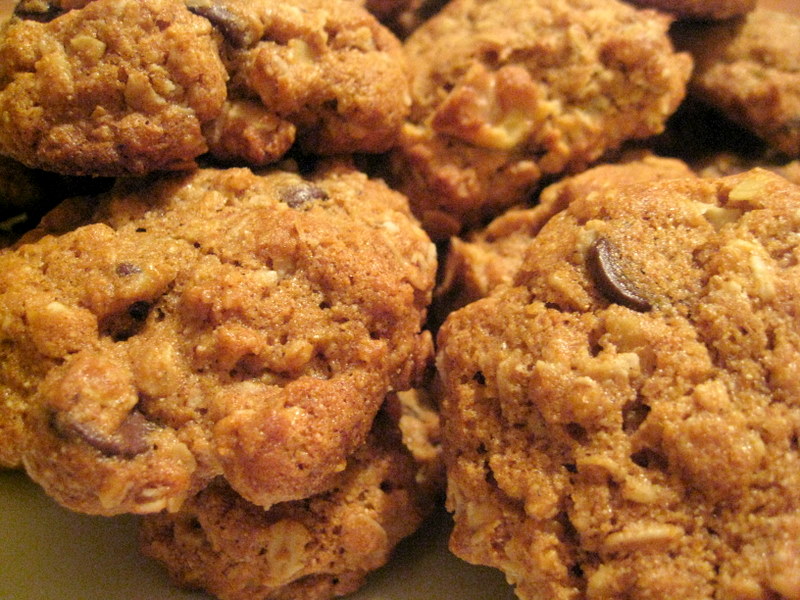 I might be talking these cookies up too much, but considering I ate five in one day, I think it's fair to say they are really, really, that good.
I first read about them on Adam Roberts' blog, The Amateur Gourmet. I'd heard about the Baked cookbook from a couple of other food bloggers, and must admit I was intrigued. The Brooklyn food movement has certainly been getting enough attention to warrant a lot of folks to start wondering if they should pack their bags and move there. Baked's founders opened shop in Brooklyn, and clearly never looked back. Flipping through their book at a Borders recently, I thought to myself: I think if I ever make anything out of this cookbook, I will fall down the rabbit hole and never come back.
Maybe it's true? Eating these, straight out of the oven, in all of their chewy goodness, accompanied by a pot of Red Rooibos Chai, I couldn't think of anything better. They brought me back to summer camp, and Halloween in 3rd grade when I dressed up as a princess (the first of many, many inventive outfits), and my first year living in an apartment all on my own (with two of my very good friends). Granted, I'd never made these cookies before, nor had I ever eaten them, but they just were so nostalgic. The best thing about them? They stay chewy! A day later. Two days later. Even THREE DAYS LATER! Still. Chewy!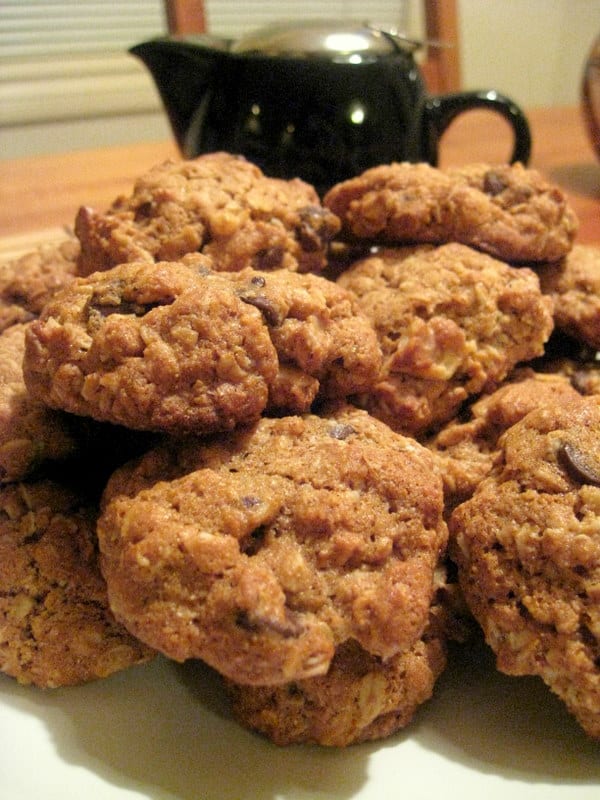 Adam suggested halving the recipe–so glad he did! I made a batch entirely too large to eat all by myself (glad Matt was there to help). I also made a few adjustments–made these with whole wheat flour and added chocolate chips. Because, let's face it, chocolate chips make everything better. The nutty/spiciness of the cardamom, nutmeg and cinnamon were the perfect companions to the richly melted chocolate. Lastly, I omitted the dried cherries. No need. One word of advice: toast the walnuts–it'll really bring out the aroma.
So, let's break out those stretch pants. It's not warm enough for spring yet, so make these now. And gym later!
Cardamom Oatmeal Cookies with Chocolate Chips and Walnuts
*c/o Baked cookbook, adapted by Adam Roberts, further adapted by me.
3/4 cups of whole wheat flour
1/2 teaspoon of baking soda
1/2 teaspoon of salt
1 teaspoon of cinnamon
1/2 teaspoon of ground nutmeg
1/4 teaspoon of ground cardamom
1 stick of butter, at room temperature
3/4 cups of brown sugar (use a little less than 3/4ths–I'm halving–math is difficult)
1/8 cup of white sugar
1 egg
1/2 teaspoon of vanilla extract
1 1/2 cups of rolled oats (again, use a little less than this as I'm halving)
1/4 cup of toasted walnuts, chopped into smaller piece.
1.Whisk together the flour, baking soda, salt and spices.
2. In a separate bowl, beat the butter and sugars together either with a hand mixer or stand mixer until they are smooth in consistency. Beat in the egg and then then vanilla until all are worked in.
3. Add the flour mixture into the butter/sugar mixture in stages, until fully mixed. Add in the oats and mix until they're just incorporated. Fold in the nuts and chocolate chips and stir until everything is mixed together.
4. Throw the dough into the fridge for about 30 minutes to an hour.
5. Preheat your oven to 375 degrees F and line a baking sheet or two with parchment paper.
6. Depending on how big you like your cookies, use a tablespoon or two for each cookie. Press down slightly on each cookie ball (but don't make it flat!). Bake for about 14 minutes (check them at 12), or until the edges are slightly browned. Take out of the oven and transfer them to a cooling rack or plate.
Musical Pairings: Architecture in Helsinki and Cardamom Oatmeal Cookies
Architecture in Helsinki's debut album, Fingers Crossed, is a perfect pairing for Kasey's oatmeal cookies. Around the holidays every year, my dad makes oatmeal raisin cookies from an old family recipe. He has been doing it as long as I can remember, and it is probably for this reason that I associate oatmeal raisin cookies with childhood. Kasey's oatmeal cookies, although quite different from those my dad makes, make me feel happy, whimsical and carefree – kinda like being a kid again. Likewise, Fingers Crossed is an excellent collection of playful, charming, whimsical and carefree songs that call to mind feelings from childhood (and it isn't solely due to the children on the track "The Owls Go"). But this is no children's album– "Kindling" is the album standout and features gorgeous lyrics like: "On my mattress / I've been drawing a line / where I'll shut my eyes / and where you should lie / if you should lie."
Follow this link to Unpiano to download copies of the tracks "Fumble" & "The Heart it Races."
-Matthew