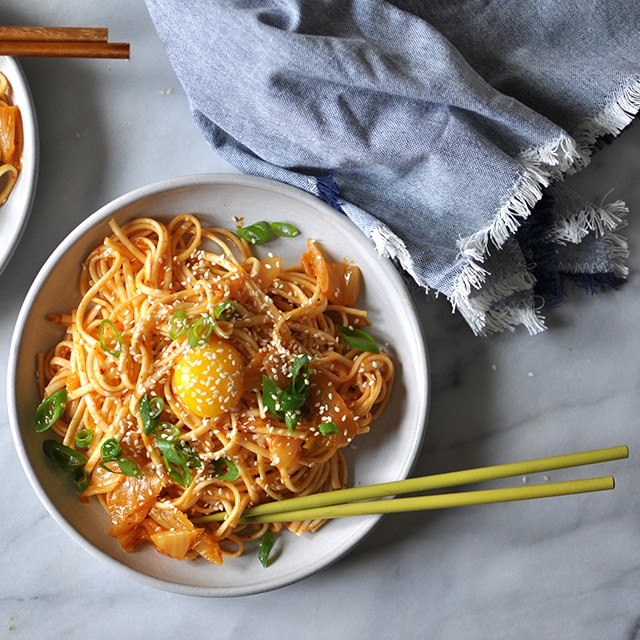 This weekend, I realized that I've been missing the sun. This is what Seattleites talk about when they talk about winter, right? On Sunday, the temperatures hit the 50s and while the twins took a glorious three hour nap, Matt, Neko, and I raked the leaves in our front yard and I felt good. Like REAL good. Like I was 22 years old, driving with the windows down and playing Sublime kind of good.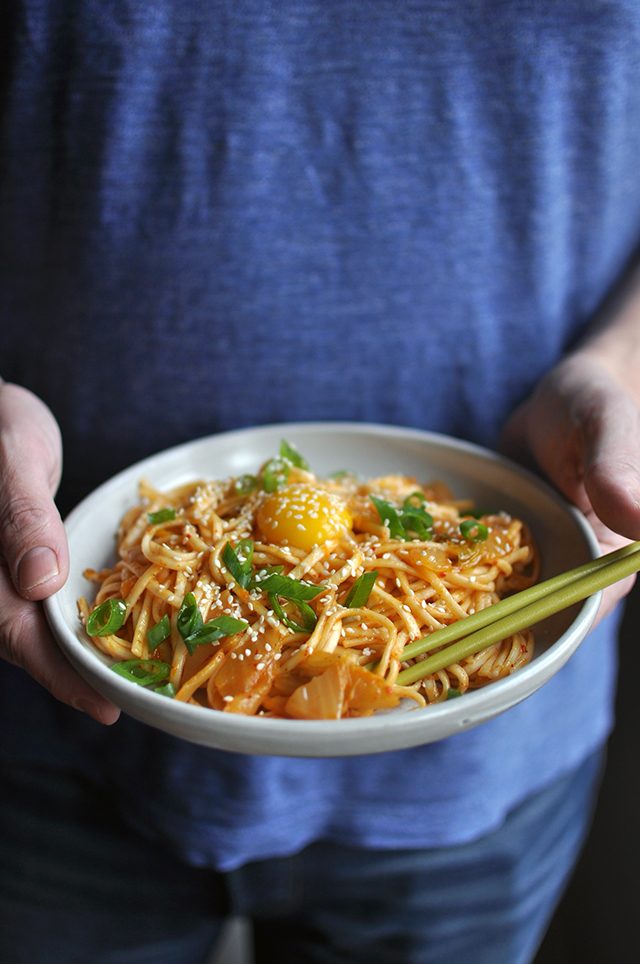 This, despite the fact that half of my head felt like a suspended water balloon as a result of yet another ear infection. But the sun was out and I knew the antibiotics would be kicking in soon and I felt happy. I missed being outside. I missed my front porch!
I know it's February and it's a cruel time of year: Spring peeks through and hides again. But I needed it. Thank you, Seattle. It was also the first weekend in many weekends that we somehow managed to not go grocery shopping: a miracle. Now, to the noodles. They're a sort of metaphor for where I've been and where I'm going.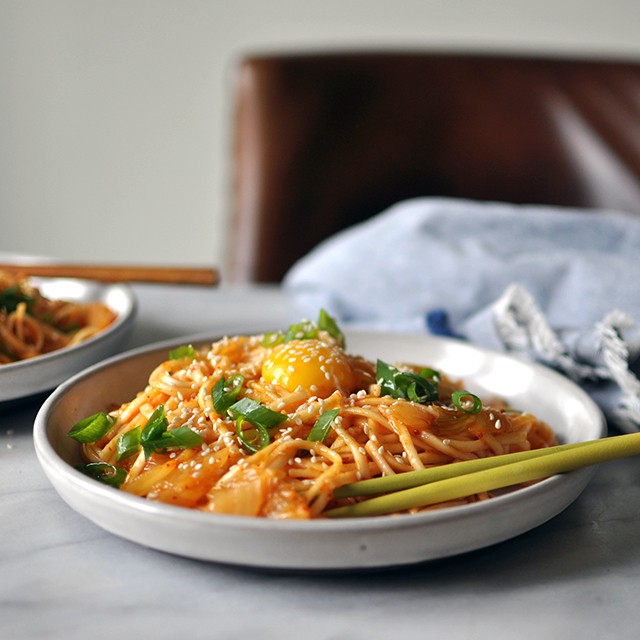 A long, long time ago, I remember seeing this recipe in Bon Appetit. Kimchi, noodles, butter, scallions, and a raw egg. I was intrigued. So few ingredients! So much color! I was trying to imagine the taste of that much butter on noodles. It was a taste (save the kimchi) that I have long associated with comfort and self-care.
My love of noodles started with butter. What is it with children and butter? Nowadays, getting a chunk of butter on my toast is off-putting but as a little girl, I'd happily eat it by spoonful. My go-to noodle dish wasn't doused in tomato sauce: it was dressed in butter, and little else. Over the years, I developed a taste for more "international" flavors: saucy and smoky, salty and fishy, spicy and zesty.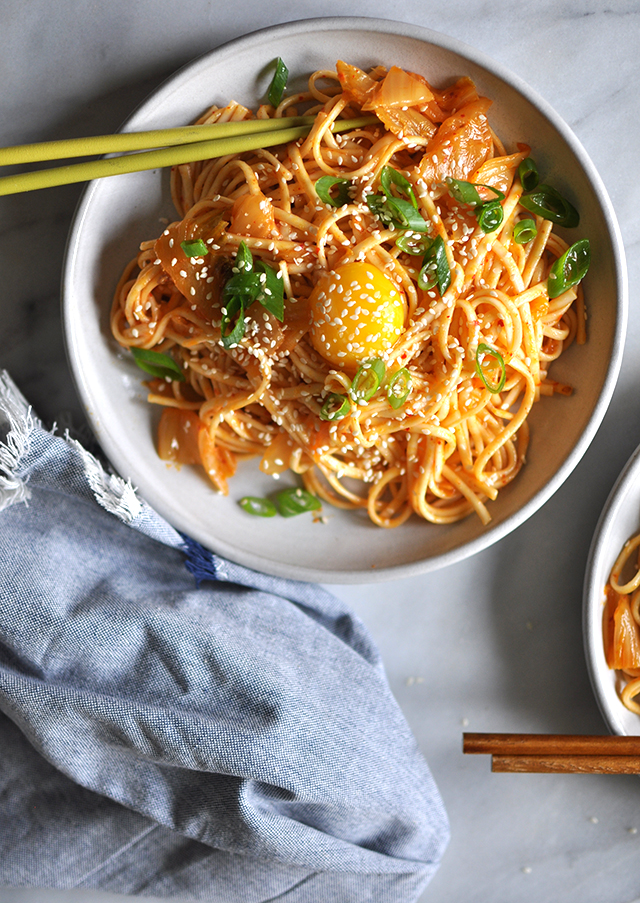 I had forgotten about the butter. And the joy of it dousing a bowl full of noodles.
Back to the udon: although you'll find them in the "international" section of your grocery store, udon noodles are nothing to be intimidated by. They're thick and gummy, cook quickly, and can be eaten dressed up or swimming in broth. They're comforting is what they are.
The butter is the secret of this recipe — the way it mingles with the kimchi to create a luxurious, spicy sauce. But the addition of the raw egg (use the freshest, best eggs you can afford) makes this dish even creamier (if that's even possible!).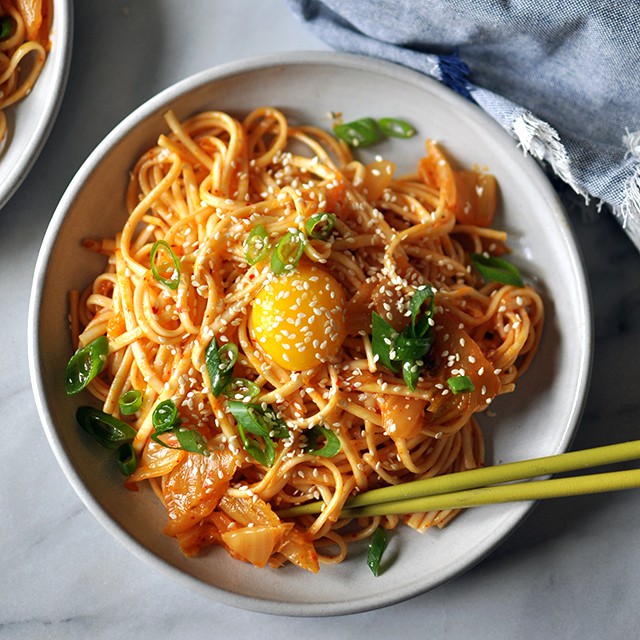 I won't lie, cooking for myself and general self-care haven't been my strong points this last year. But if this noodle dish is any indication, the fog's about to clear, the buds about to bloom. Spring is coming.
Buttery Kimchi Udon
adapted, barely, from Bon Appetit
5 tablespoons of unsalted butter
1 cup of kimchi (roughly chopped)
1/4- 1/3 cup of kimchi juice (a few tablespoons is really all you need)
2 tablespoons of gochujang
1/2 cup of chicken broth
1 pound of udon noodles
Kosher salt, to taste
4 large egg yolks, at room temperature (be sure to use the freshest eggs you can find, preferably cage-free and organic)
3 scallions (white and pale-green parts only), thinly sliced
1 tablespoon of toasted sesame seeds (for garnish)
1. Heat two tablespoons of butter in a large non-stick skillet over medium-high heat. While you're doing that, bring a medium pot of salted water to a boil.
2. Stir in the kimchi and gochujang and cook, continuing to stir occasionally, for about four minutes (or until the kimchi is softened).
3. Pour in the kimchi juice and broth. Bring the mixture to a simmer and cook for about three minutes.
4. Add the udon noodles to the boiling water and cook according to the package instructions.
5. Use a pair of tongs to transfer the noodles directly to the kimchi butter. Add the remaining butter and use your tongs to toss the noodles in the sauce. Do this for about two minutes, taste, and season with kosher salt (to taste).
6. Divide the udon noodles among four bowls. Top with the egg yolks, sprinkle sliced scallions and sesame seeds all around and serve warm. To eat, stir the egg yolk into the sauce. Enjoy!