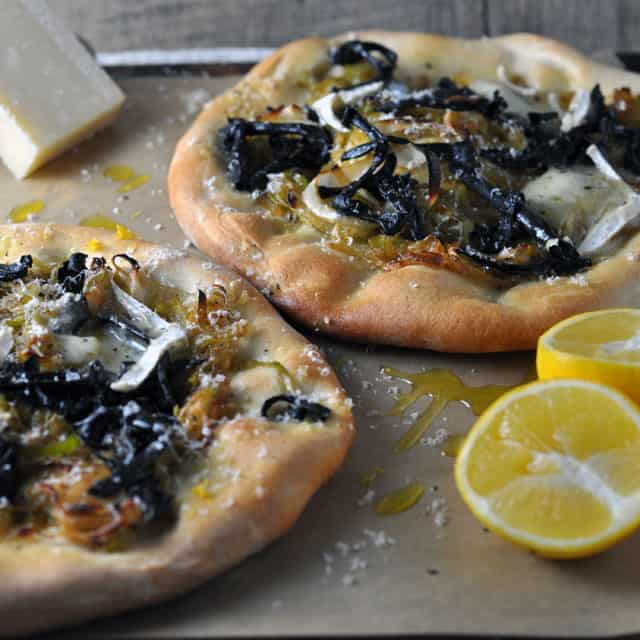 The things we think we need aren't always the ones we really want. Did you ever hear the story of a young couple in love, each of whom was trying to save up the funds to buy the other a beautiful gift? She had long beautiful hair, so he bought her an expensive hairbrush. Unbeknownst to him, she had chopped off all of her hair so she could afford to purchase a nice gift for him. In the end, they both ended up with things they didn't need. That was the moral of the story, at least.
A few months ago, I was drinking tea with grandpa and he told me about his first trip outside of Russia. It was to visit my family after we had recently moved to Israel. Knowing I had an insatiable sweet tooth, my grandpa purchased some of my favorite chocolates to bring with him on the trip. And he bought my mom an exorbitantly expensive bottle of French perfume. The chocolates, he told me, were taken from him at customs without so much as an explanation. In the garbage they went. The perfume, he told me, was stashed in his suitcase. After a long journey, he finally arrived in a land most unfamiliar to him and discovered that the glass bottle broke in transit, spilling French oils mixed in alcohol all over his clothes. Naturally, having spent so much time and money to find and purchase these gifts, my grandpa was crushed.
I've thought of this story often in the weeks following. I get stuck on stories that way. I kept thinking about my grandpa, running all around the city by himself, trying to find a nice gift for my mom (his daughter-in-law). And how upset he probably was to see those chocolates, procured for his only granddaughter, being tossed aside by an empowered feeling individual who had no good reason to pick a fight. Thing is, my mom's dresser is now filled with several French perfumes. And I have eaten more chocolate in my lifetime than I care to admit. But in that moment, that perfume and those chocolates. They seemed so important. As if they were my last chance to taste sweets and my mom's only opportunity to enjoy such an extravagance.
That's the thing about life. We don't often know what we want when we want it. And we don't know that something better can come along. And we don't always know there's a better day ahead. The things that we fight for, well, they might not be worth fighting for at all. But in our time, we have to be resolute.
The black trumpet mushroom looks like a chanterelle dipped in black ink. It's rather striking, but perhaps fear-inducing in some. Yet, this little mushroom is quite tasty, and when you spot it (at a reputable grocer, please! unless you are an experience forager) I urge you to try it. You won't find many recipes for it on the web, but I was inspired to make this pizza after having a similar flatbread at one of my favorite San Francisco restaurants, Contigo. Paired with buttery, sweet leeks, and my favorite pizza dough, ever, it's worth every last bite.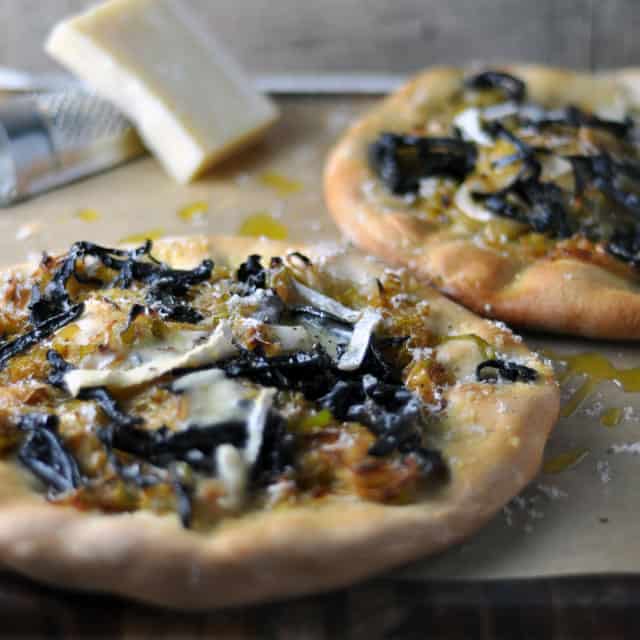 Black Trumpet, Leek, and Meyer Lemon Pizzettes
*makes four pizzettes
1/3 pound of black trumpet mushrooms, cleaned
1 1/2 cups of thinly sliced leeks
2 tablespoons of butter
triple cream cheese (we used Mt. Tam)
salt and pepper, to taste
Meyer lemon zest
splash of white wine
olive oil
Parmesan cheese
1 recipe for pizza dough (from this recipe, using 2 cups of bread flour and 1 cup whole wheat pastry flour)
1. While the pizza dough is rising, add 1 tablespoon of butter to a small saute pan and heat it over medium-high heat. Once it melts, add the leeks and cook, stirring until softened (about 8-10 minutes). Decrease the heat if necessary. Place a pizza stone on the lowest rack of the oven and heat your oven to 500 degrees F.
2. Transfer the leeks to a small bowl and deglaze the pan by adding a splash of wine and scraping up any brown bits.
3. Next, add another tablespoon of butter and let it melt over medium-high heat. Add the mushrooms, season with a bit of salt and pepper and cook for a few minutes, until softened. Transfer the mushrooms to a separate bowl.
4. Divide the pizza dough into 4 equal sized balls and then stretch them out (follow the instructions in this recipe). Transfer the pizzettes to two pieces of parchment paper. Cover with towels and allow them to rest for 15 minutes.
5. Brush the pizzettes with olive oil, then top evenly with leeks. Sprinkle with mushrooms. Transfer two of the pizzettes (on the parchment paper) to the pizza stone and bake for about 8 mins.
6. Top with slices of cheese (we used about 3-4 slices per pizzette) and bake for another minute to a minute and a half. While you prep the first two pizzettes, cook the rest.
7. Drizzle the pizzettes with olive oil, sprinkle with Meyer lemon zest and Parmesan cheese. Season with salt and pepper, to taste.
Musical Pairings: Papercuts – You Can Have What You Want + Black Trumpet, Leek, and Meyer Lemon Pizzettes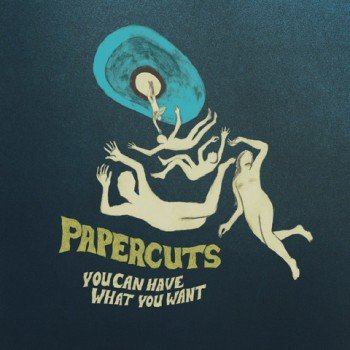 More on the turntable.