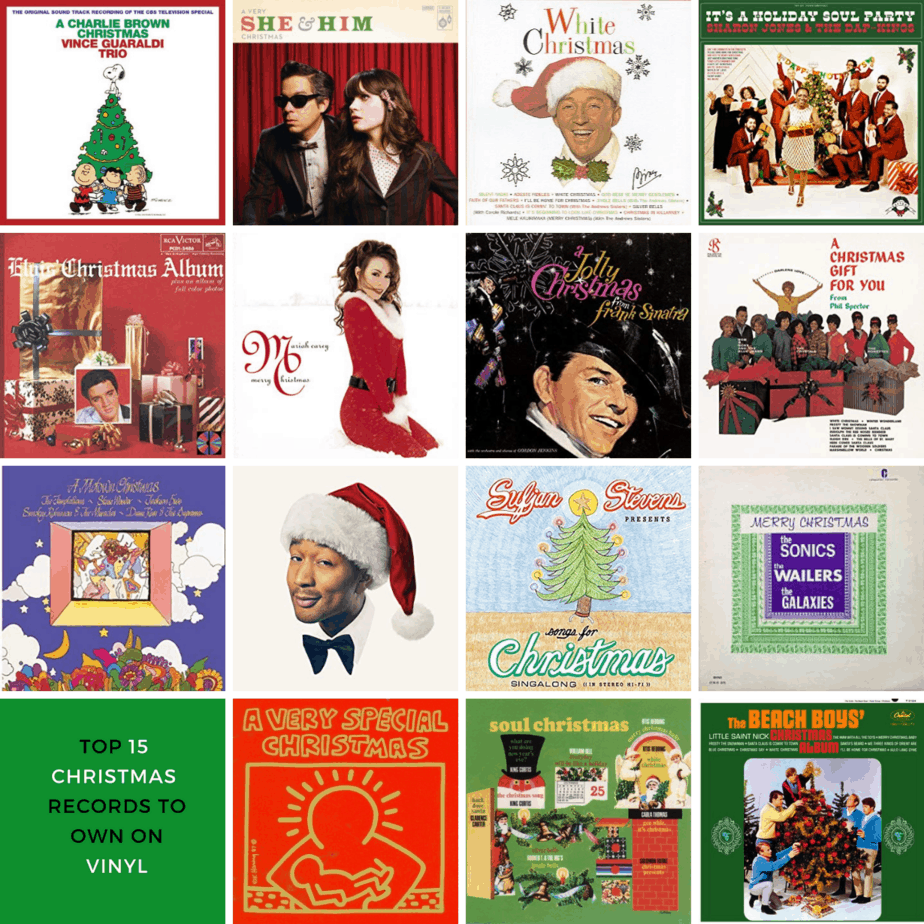 I have a bit of a love/hate relationship with Christmas music. By the time Christmas actually rolls around each year, most of us will have been assaulted with Christmas music in every public space we entered for the better part of a month.
But, despite that, I still have a soft spot in my heart for good Christmas music. I can't imagine I'll ever grow tired of Vince Guaraldi Trio's soundtrack to A Charlie Brown Christmas or the Merry Christmas compilation by The Sonics, The Wailers and The Galaxies. Indeed, it's become a tradition in our house to dig out Sufjan Stevens' Christmas box set and play each and every record in that collection at least once (and our favorite records much more than that). And, yes, on Christmas morning I definitely prefer to actually spin records while we open gifts and enjoy our coffee.
If you're looking to start a tradition of playing Christmas tunes on wax in your home, we've picked our top 15 Christmas records to own on vinyl. Let us know your favorite Christmas album in the comments!
Vince Guaraldi Trio – A Charlie Brown Christmas
Okay, so this list isn't ranked but, if it was, this would still be the first record on this list. This one is easily one of the greatest Christmas albums of all time and, in my opinion, is the Christmas album to own on vinyl. It's simply great, smooth jazz that sways gracefully like snowflakes falling in the air. In my mind, Christmas music doesn't get better than this. You can buy it on Amazon.

She & Him – A Very She & Him Christmas
I like how this one is loose and swaying but backed with some absolutely beautiful guitar licks courtesy of M Ward and some Zooey Deschanel crooning. Grab it on wax here.

Bing Crosby – White Christmas
Bing Crosby's version of the song "White Christmas" is the reason you'll buy this collection (after all, it's the best selling single of all time) but it also includes his rendition of "Silent Night" (which just so happens to be the the third best selling single of all time) and some pretty great tracks like "I'll Be Home For Christmas" and "Jingle Bells." Get it here.

Sharon Jones & The Dap-Kings – It's A Holiday Soul Party
We celebrate Sharon Jones & The Dap-Kings entire catalog around here and her Christmas album is no exception. It's soulful, vibrant and more than a little funky. Add it to your collection now.

Elvis Presley – Elvis' Christmas Album
It's Elvis singing your favorite Christmas songs. What else do you need to know? After all, the King of Rock and Roll brings the Christmas cheer every time. Get a copy from Amazon.

Frank Sinatra – A Jolly Christmas From Frank Sinatra
It's Frank Sinatra singing your favorite Christmas songs. What else do you need to know? After all, Ol' Blue Eyes brings the Christmas cheer every time. Get a copy from Amazon.

Mariah Carey – Merry Christmas
Alright, this one might surprise some of our readers (we don't normally promote Mariah Carey around here) but, as far as I'm concerned, her "All I Want For Christmas Is You" is a modern Christmas classic. Go ahead and arch your eyebrows you damn hipsters, see if I care.
You can get a copy here (don't worry, I won't tell anyone).

Various Artists – A Christmas Gift For You From Phil Spector
This one is a masterpiece. It's been flagged by Rolling Stones as one of the greatest albums of all time (the only Christmas album to make the list) and features beloved renditions of Christmas classics by the likes of The Ronettes, The Crystals, and Darlene Love. Get one from here.

Various Artists – A Motown Christmas
This collection is sweeter than Kasey's famous Christmas cinnamon rolls. With tracks by The Jackson Five, Stevie Wonder, Smokey Robinson & The Miracles, The Temptations, and Marvin Gaye – you just know it's going to be good. And it is. Buy one today.

Sufjan Stevens – Songs For Christmas
I won't pretend this collection doesn't have its misses but then it's an entire multi-album boxset of Christmas songs recorded by Sufjan Stevens (and friends). And, thankfully, the highs are way, way more common than the lows. Particularly his original Christmas tunes like "Come On! Let's Boogey To The Elf Dance" and "That Was The Worst Christmas Ever!"
You can get yours on Amazon.

John Legend – A Legendary Christmas
I can't say this one is a classic (it was just released this past October) but I love that it has a vibe that is both very contemporary but also feels like a bit of a throwback. Thanks for the yule tide cheer Mr. Legend.
Add it to your collection now.

Various Artists – A Very Special Christmas
This collection features Christmas tunes from Run D.M.C., Bruce Springsteen, U2, Madonna, The Pretenders, Bon Jovi, Stevie Nicks, The Pointer Sisters, and that's just the start. Of course, if you're like me, you'll want this for the Eurythmics bone chilling take on "Winter Wonderland." It's coocoo.
Various Artists – Merry Christmas – Sonics, Wailers, Galaxies
This is another personal favorite. This collection brings together three of the Pacific Northwest's original garage bands for a Christmas compilation that includes The Sonics' "Santa Claus", The Wailers' "Christmas Spirit??", and Galaxies psychedelic "Christmas Eve." It doesn't appear this one has seen a repress in awhile so you'll have to take your chances with Discogs.

Various Artists – Soul Christmas
This one could make the list for the pair of Otis Redding tracks alone: "White Christmas" and "Merry Christmas Baby." Thankfully, it's packed with a ton of great classics (you know from the title alone you're gonna love "Back Door Santa" in particular).
Spin that Christmas soul on vinyl by getting a copy right here.

The Beach Boys – The Beach Boys' Christmas Album
Come on. It's The Beach Boys doing Christmas Carols and, although I'm far too lazy to seek out evidence to support this theory, I suspect there is no one who loves Christmas more than Brian Wilson.
It's available on vinyl from Amazon.
David Bazan – Dark Sacred Night
Okay, this list was the 15 best but now that this has been repressed we just had to add it. Originally released in 2016, David Bazan's Dark Sacred Night just got repressed in time for Christmas 2020. It's a lush, gorgeous collection that's a little more plaintive than many Christmas collections – but that's exactly what makes it standout.
It's available on vinyl from Amazon.
Looking for a new turntable to play those Christmas records? Check out Turntable Kitchen's Ultimate Guide To Best Record Players and Turntables.