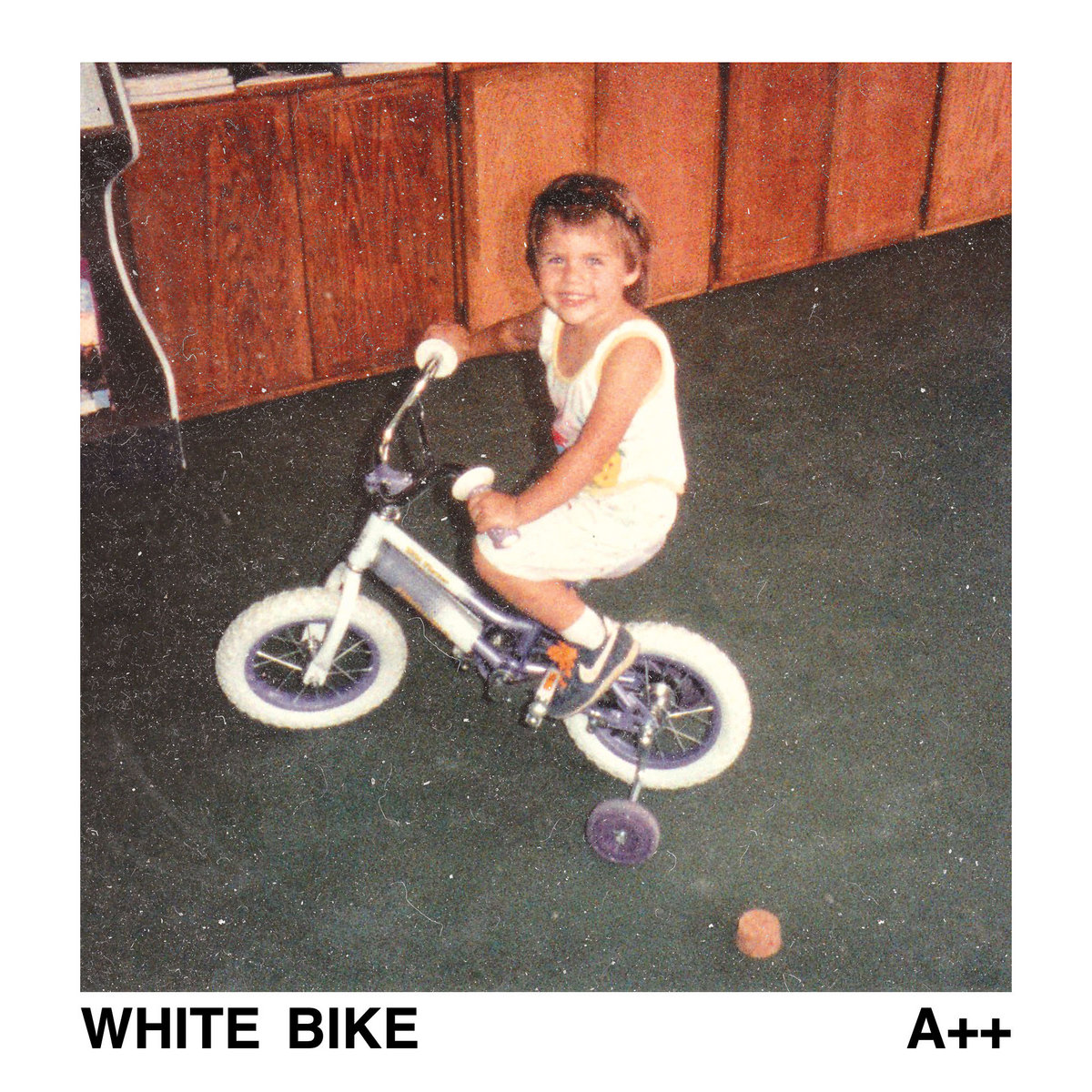 With an ear for melody and a penchant for gauzy reverb drenched rock & roll, Portland's White Bike are, in my mind, the best new band out of the PNW. And they are getting noticed. They've already racked up tons and tons of plays on KEXP; have been featured in an interview on the forever great website yvynyl; and recently toured alongside acts like Alvvays, Crumb, Built to Spill, Men I Trust, and so on at recent festivals like Seattle's Belltown Bloom and Boise's Tree Fort Fest. Today, the West Coast. Tomorrow, the world.
Born one evening around a Summer campfire, White Bike features husband and wife duo Nathan Trueb and Mirabai Carter Trueb, vocalist Arianna Rose Anchustegui, drummer Robin Levy, and keyboardist Justin Chase. We're incredibly proud to share their A++ EP with you in this latest package.
This month's vinyl kicks off with their mesmerizing and charismatic debut single "I Like You." It's propelled by a motorik beat and dreamy atmospherics as Nathan and Arianna sing in unison, "We got drunk on a Monday / we don't care what the neighbors say / cause they got kids and they ask me someday / I reply they might get in my way." When the chorus zooms in it's a simple and effective earworm consisting solely of the words, "I like you," chanted on repeat. It is SO good.
The follow up, "While You Were Away," hits a little harder with its scuzzed-up sauntering bass line to fill out Levy's tight, tense drum beat. All the while, Trueb and Anchustegui's vocals blend together into a biting croon as they sing, "while you were away / we took good care / of what you left / nobody said that it was fair." Yes, it's a swaggering gem of a cut with not one, but TWO, searing flame thrower guitar solos.
The collection closes out on the b-side with the brand new single "Paper House." It's a dense, richly textural groove with shredding guitar riffs, booming hand claps, brightly lit keys, and grungy bass lines. It fades to a close as Trueb and Anchustegui, quite fittingly, repeat the line "I can't get you out of my head." This is a song (really a whole EP) worth getting lost in.
We pressed the standard edition of this vinyl on White vinyl alongside a deluxe edition on Bone and Gold a-side/b-side vinyl for subscribers who've been with us for a year. This release is available exclusively through our Pairings Box and Coffee & Vinyl subscription services but is selling out quickly.
NOTE: The jacket for the vinyl includes two mistakes in the credits. First, a credit for "Drums, Percussion: Robin Levy" was not included on the jacket and should have been. Second, on the fourth line of the credits Mirabei's name was misspelled as Mirabel. We regret not catching these mistakes before the jacket went to print and we apologize to both Robin and Mirabei.