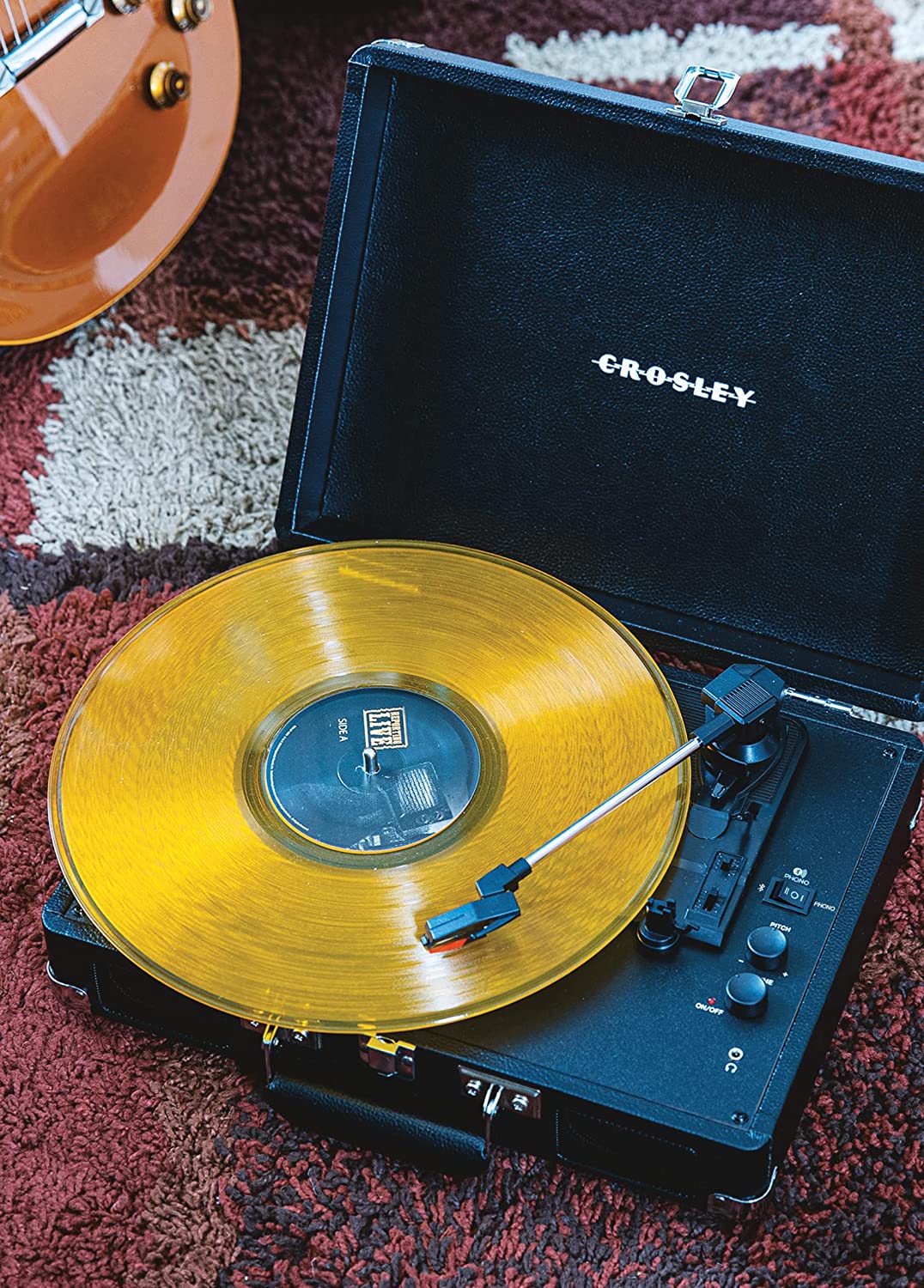 Over the years we've compiled numerous lists of our favorite turntables including guides to building your own home stereo system with a record player. Many of our past lists have covered a ton of ground ranging from high-end HI-FI systems to budget decks that look like suitcases. If you're looking for a more comprehensive list (including our best overall turntable), you'll want to check out our Top Turntables list. If you're looking for bluetooth-ready turntables, you may want to check out our Best Bluetooth Turntables guide.
But, of course, HI-FI turntables can be pretty pricey and features like bluetooth can add to the cost of a turntable. We've heard from a number of people (including my Dad) who wanted an entry level record player for under $100.
In that spirit, this list highlights a few of the turntables we consider to be the best record players you can pick up for $100 or less. And, yes, we included one turntable at the end for those willing to go just a little outside that price point. What's more, the first three record players on this list even include built-in speakers and are ready to play straight out of the box.
We've occasionally heard people claim that cheap record players will destroy your records. Although that can be true, the players on this list we believe are perfectly suitable for every day use and won't really damage your collection. We've attempted to highlight unique features of each system below although, in my opinion, the best turntable for you from this list will just depend on which one you think looks the best.
Finally, it's worth mentioning that for our guide we use the terms "record player" and "turntable" interchangeably in the post. I think most people use the words interchangeably as well although, technically, in my mind difference is that a record player is typically thought of as a standalone unit (plug and play) whereas a turntable is often a component in a larger home audio system.
The Best Turntables Under $100 of 2022
---
Ion Max Turntable ($86.33)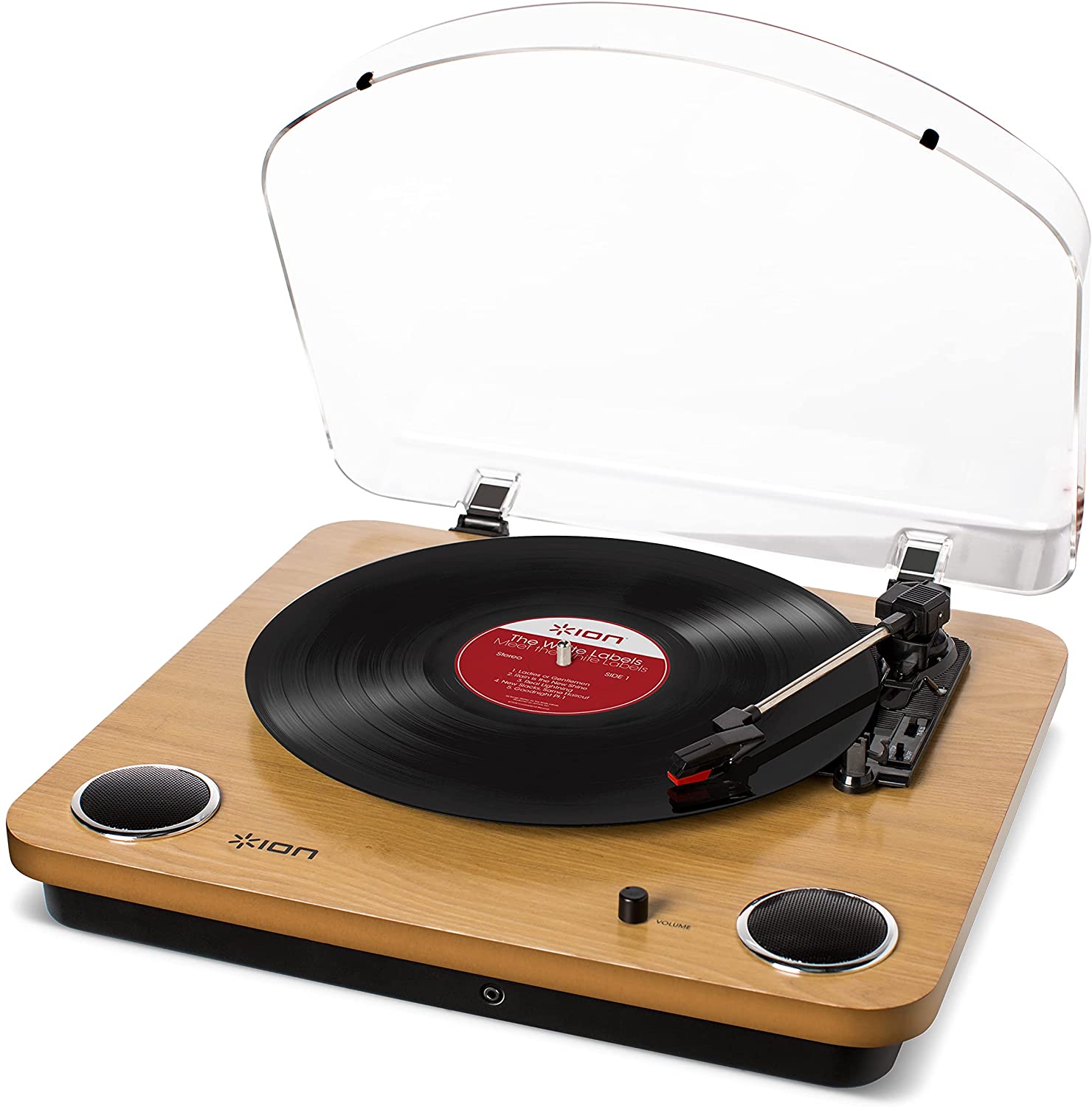 The Ion Max has been one of our favorite decks for under $100 for a few years now. The speakers aren't anything to rave about but they're not too bad all things considered and the turntable itself is great. With audio outputs and a USB output in the back, you can bypass the built-in speakers to upgrade your sound.
It doesn't have any other bells and whistles to note although the Ion Luxe is only a few dollars more and does include built-in bluetooth.
From the Top review on Amazon: "If you're looking for an inexpensive record player to play your old and favorite classic records every weekend then you can't go wrong with this turntable."
But it on Amazon: Ion Max Turntable.
---
Udreamer Turntable ($59.99)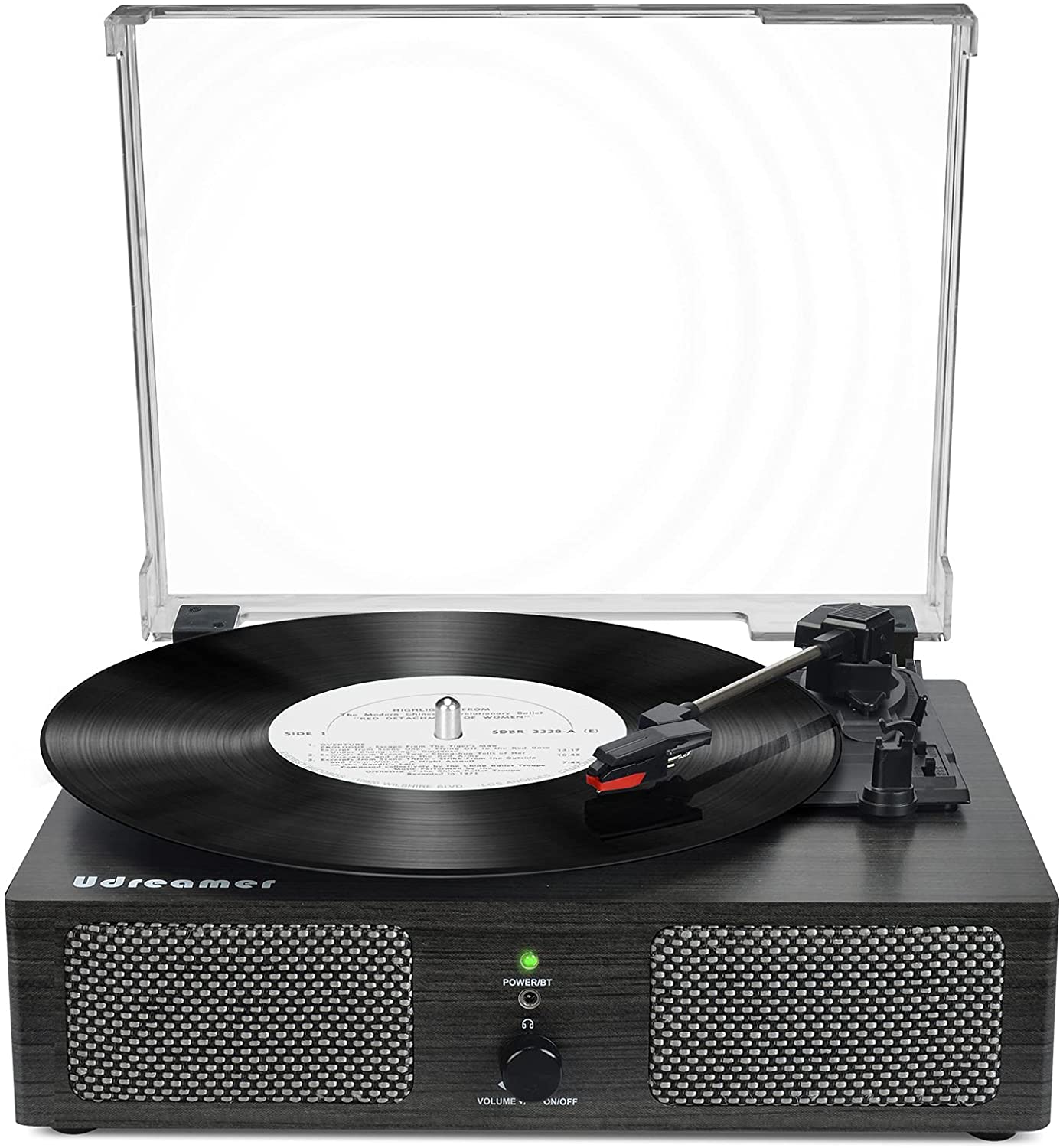 Udreamer's Turntable offer's exceptional value for a small price. It's a belt-driven turntable with built-in speakers and built-in bluetooth connectivity, as well as, USB and RCA inputs.
It's available in three colors: brown, black, and claret.
Here's what the top review from Amazon has to say: "This is the best option for a small budget record lover. I have purchased another record player for twice the amount of this one and the sound quality is 10x better on this one than the more expensive one. It is nice and crisp, doesn't muffle anything. Highly recommend. "
Buy it on Amazon: Udreamer Turntable.
---
Crosley Cruiser Deluxe Vintage Suitcase Turntable ($69.95)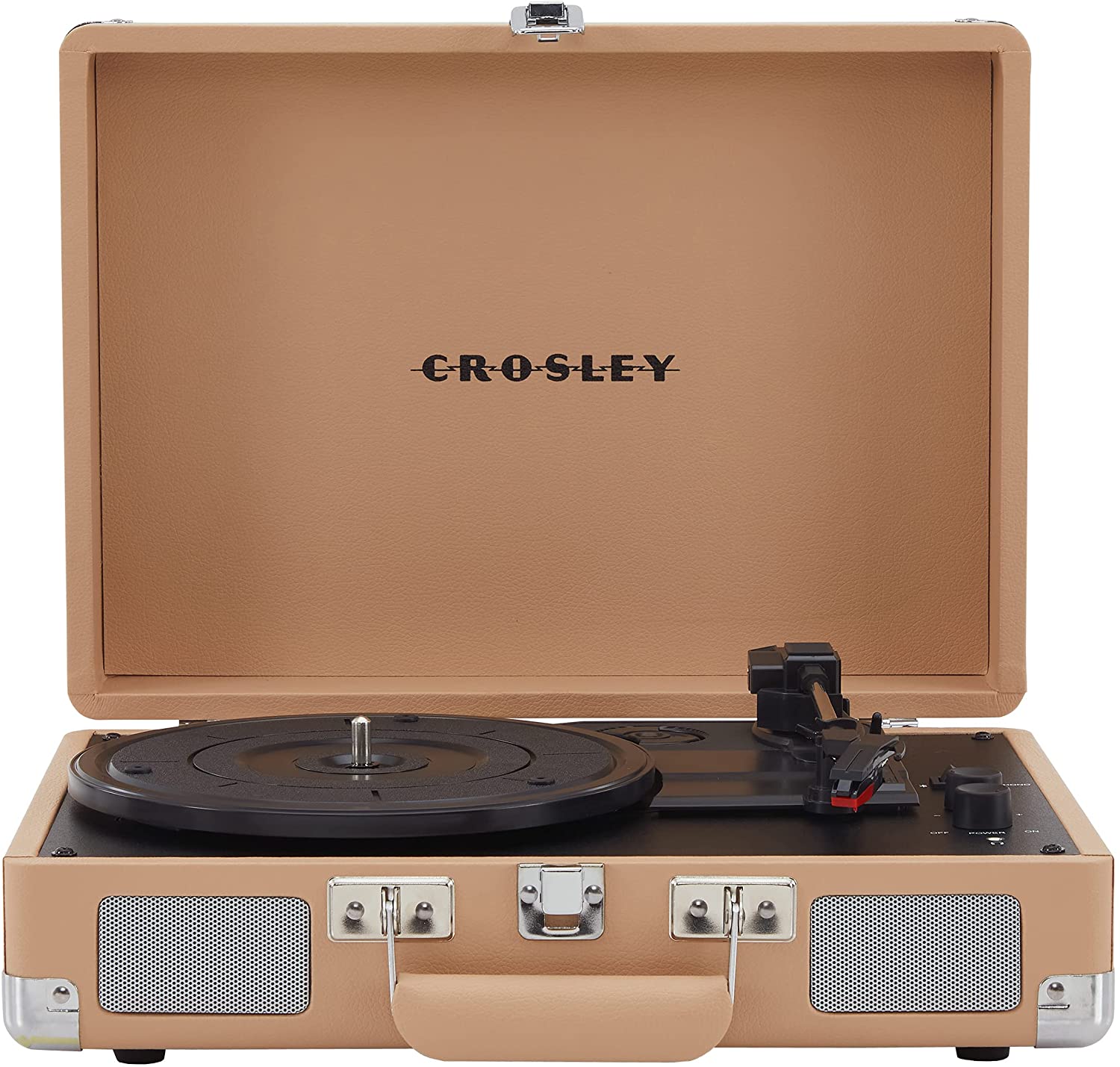 Crosley's vintage suitcase style record players are nearly iconic for their style and throwback appearance. Unfortunately, they also receive a decent amount of hate from people claiming they'll destroy your records and arguing that they offer poor sound quality.
While we're not huge fans ourselves of this style record player, we've tested this specific model ourselves and I've never found any evidence of damage to our own records and it's something we take very seriously. Naturally, you shouldn't expect high end sound quality out of a turntable at this price point but we've found the Cruiser to be a perfectly capable deck and a great option for someone who is just dipping their toe into the world of vinyl. If you're looking to squeeze a little extra juice out of it, it does include audio jacks in the back so you can hook it up to speakers with a little more punch.
At the time of writing it's available in 27 different colors/styles ranging from herringbone to tie dye indigo. It also includes built-in bluetooth connectivity as well.
Here's a top reviewer from Amazon: "I love my player and the sound quality sounds amazing. There's hookups in the back for adding a larger speaker for a party or event but for in the house relaxing the output is just enough."
Buy it from Amazon: Crosley Cruiser Deluxe Vintage Suitcase Record Player.
---
Audio-Technica AT-LP60X-GM ($139)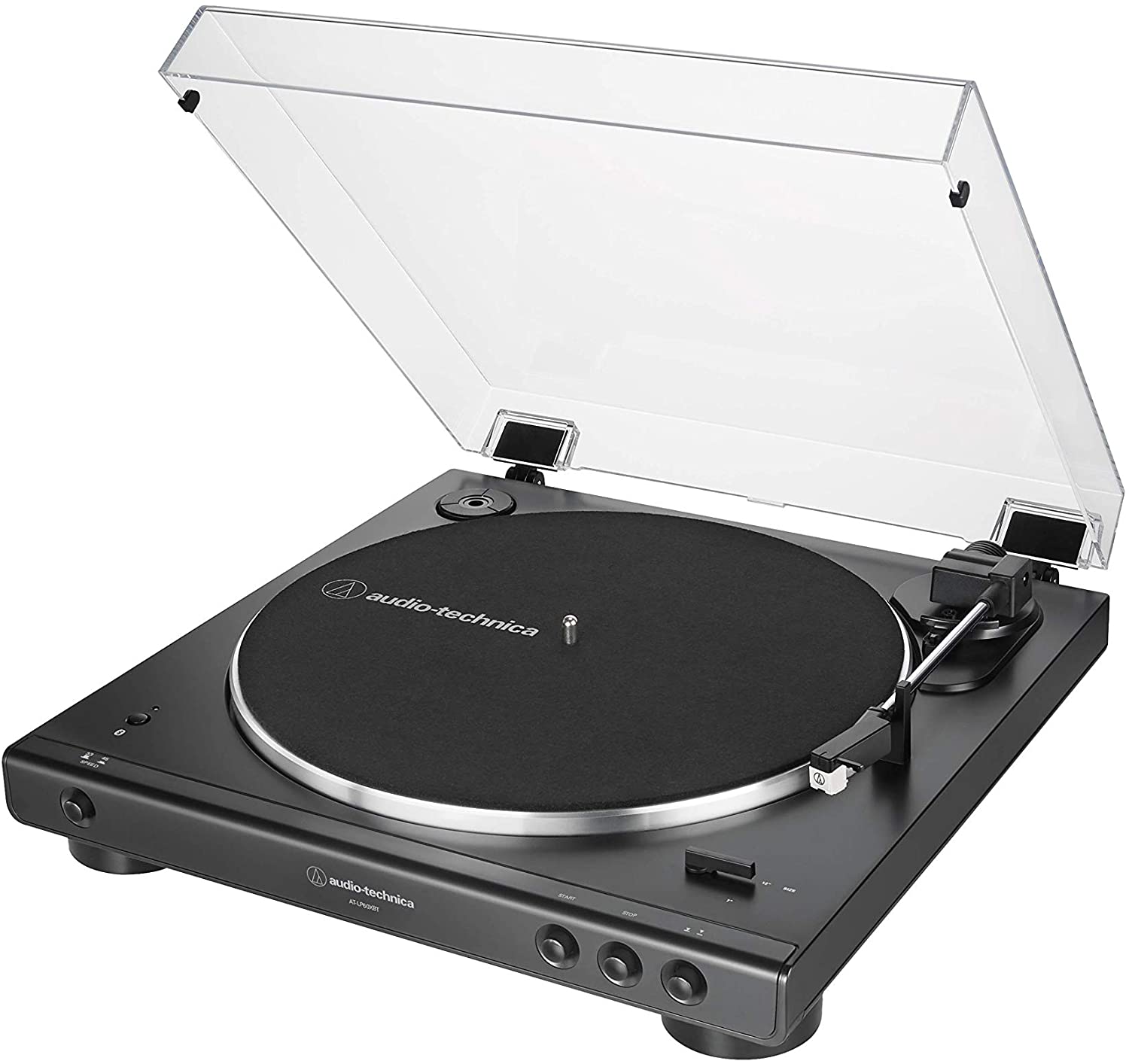 We're calling this one a "bonus pick" because it's not actually under $100. However, it's just outside that range. In fact, at the time of writing Amazon has models for as little as $119. Of all the turntables on this list, this one will definitely offer you the best sound quality. We think it's worth the extra money and included in for that reason. However, it also doesn't include built-in speakers so, unless you already have speakers, you'll have to factor a pair of active speakers into your budget as well.
A few notable features. It's fully automatic which means you can stop and start the record player with the push of a button (normally you'd have to manually lift and drop the tonearm by hand). It also has an aluminum platter and hi-fi cartridge superior to the ones included in the units above.
The standard model doesn't include built-in bluetooth but it is available as an upgrade option on the wireless model (for a little more money).
From the top review on Amazon: "WARNING: You are going to love this turntable so much that you may end up buying several new Albums! I've bought 8 so far, lol, but zero regrets!"
Buy it from Amazon: Audio-Technica ATLP60.