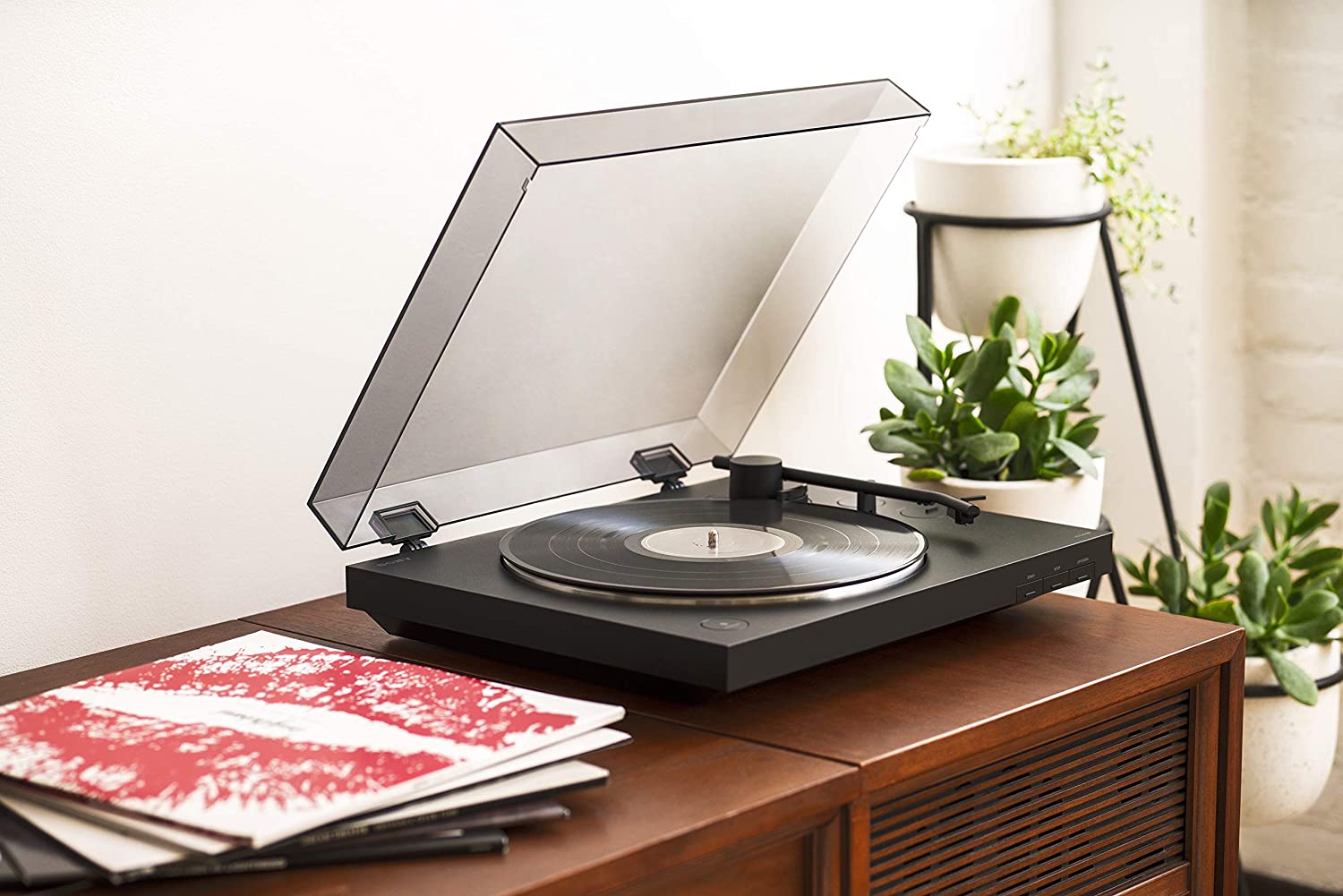 Over the years we've compiled numerous lists of our favorite turntables including guides to building your own home stereo system with a record player. Many of our past lists have covered a ton of ground ranging from high-end HI-FI systems to budget decks that look like suitcases. If you're looking for that (including our best overall turntable), you'll want to check out our Top Turntables list.
In the past few years though we've seen a ton of interest in turntables with built-in bluetooth capabilities allowing you to listen to your favorite music with bluetooth speakers or even Apple AirPods. We also receive many requests for good turntables that are ready to use straight out of the box.
In this list we've compiled a few of what we consider to be the best bluetooth record players available today. This includes a pair of decks that are ready to use straight from the box. This list isn't ranked as we consider each of the turntables on this list to be perfectly acceptable decks for someone just getting into vinyl. We've attempted to highlight unique features of each system below although, in some cases, the best turntable for you from this list may just depend on which one you think is the most attractive.
If you already have a turntable you love or don't need bluetooth to be a built-in feature you can instead simply pick up bluetooth transmitters/receivers from Amazon. If you're not selecting a turntable with built-in bluetooth from the list below, the main consideration when selecting a transmitter for your turntable should be the codec used. An efficient codec will do a better job packaging and preserving information than a less efficient codec which translates into better sound quality. With that in mind, we recommend using transmitters with an aptX codec. There are countless options available on Amazon such as the Avantree Oasis B Bluetooth 5.0 Transmitter that are well reviewed and will work great.
Finally, it's worth mentioning that for our guide we use the terms "record player" and "turntable" interchangeably in the post. I think most people use the words interchangeably as well although, technically, in my mind difference is that a record player is typically thought of as a standalone unit (plug and play) whereas a turntable is often a component in a larger home audio system.
The best bluetooth turntables of 2022
---
1 By One Bluetooth Turntable ($229)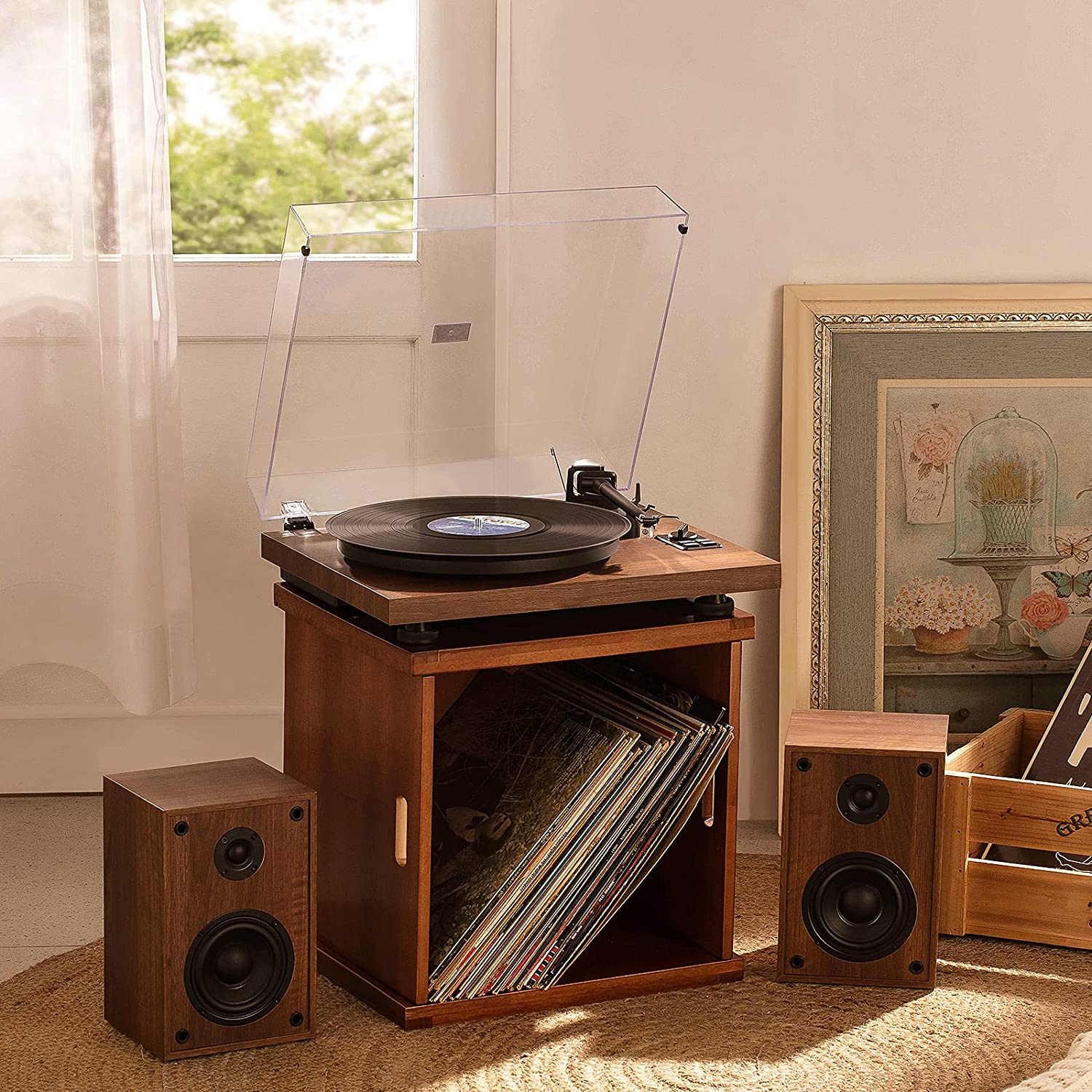 The 1 By One Bluetooth Turntable is one of the best reviewed bluetooth turntables on Amazon and it's easy to see why. It's a very attractive bluetooth turntable that includes good quality bookshelf speakers making it ready to use straight from the box. It's available at a great price point and includes numerous high end features often skipped over in comparable decks.
Although the 1 By One includes bookshelf speakers (like many of the turntables you'll see on this list), it does include dual RCA output jacks allowing you to use existing speakers or to upgrade to better ones. It comes pre-loaded with a AT-3600 moving magnet cartridge which is a nice cartridge for this price point (you'll be seeing this cartridge on several decks on this list). It also includes an anti-skate weight by default which we like.
From the Top review on Amazon: "I was really surprised by how good the sound quality actually is for this one. The 36 W book shelf speaker delivers record in amazing tone. And you can feel the bass in the air. Besides of the astonishing music quality, the record player was very well-built."
But it on Amazon: 1 By One Bluetooth Turntable.
---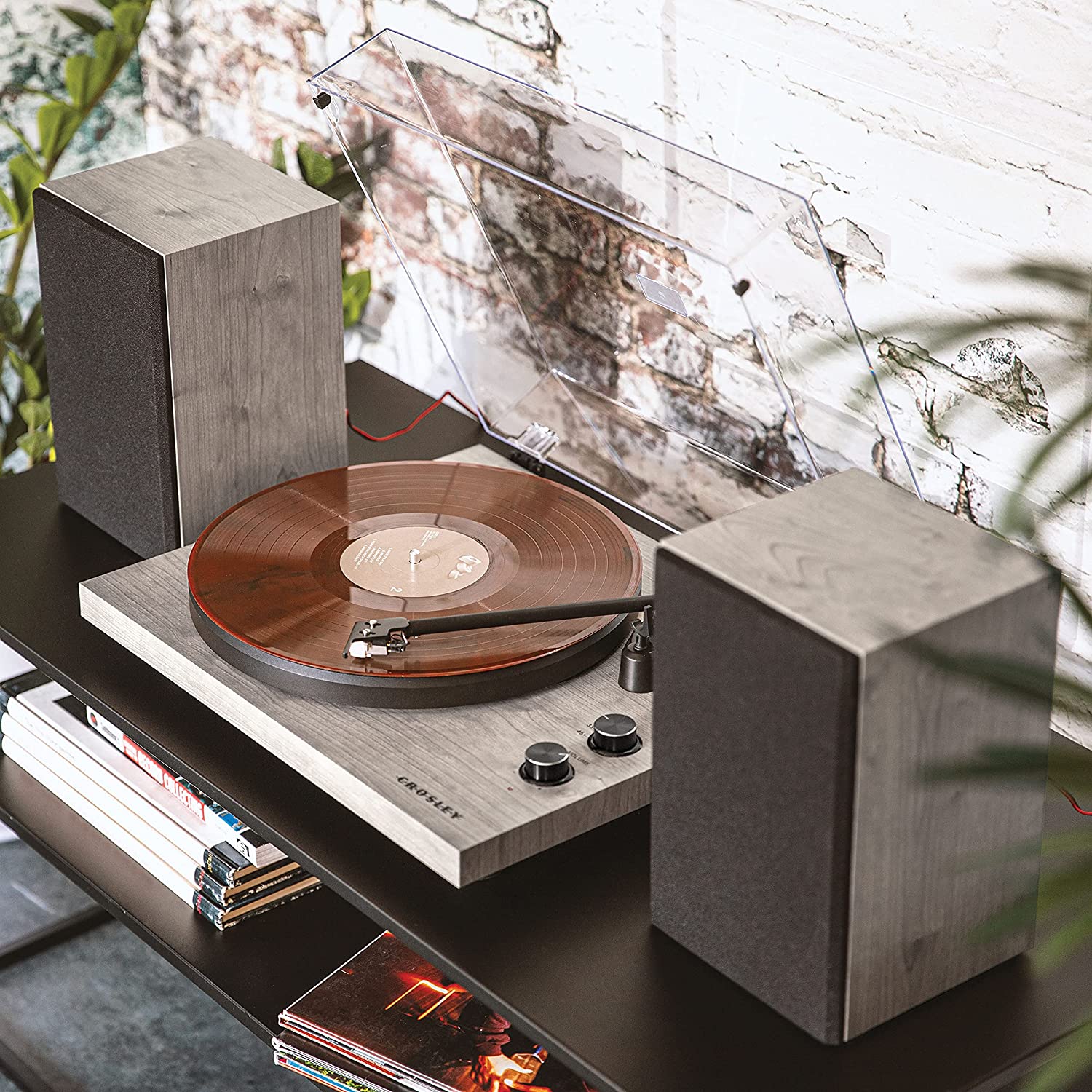 Crosley's C62 is an attractive option from a well known name in the audio-industry. Like many of the other turntables on this list it includes built-in speakers and, thanks to included speakers, is ready to use out of the box.
A few other notable features. Although the C62 includes bookshelf speakers, it also has line level RCA output jacks so you are free to upgrade to better, powered speakers if you're looking to improve the output. It comes pre-loaded with a AT-3600 moving magnet cartridge which is a nice cartridge for this price point. It's available in your choice of grey or walnut colors and with or without an optional anti-skate weight (we recommend going for the anti-skate if you want the best playback experience).
Here's what the top review from Amazon has to say: "It is very full, balanced and clear. It has plenty of bass, but not overpowering. Hooking up my iphone to bluetooth was simple, and the sound was just as good streaming music from my phone."
But it on Amazon: Crosley C62B Bluetooth Turntable.
---
Audio-Technica AT-LP60XBT-BK ($199)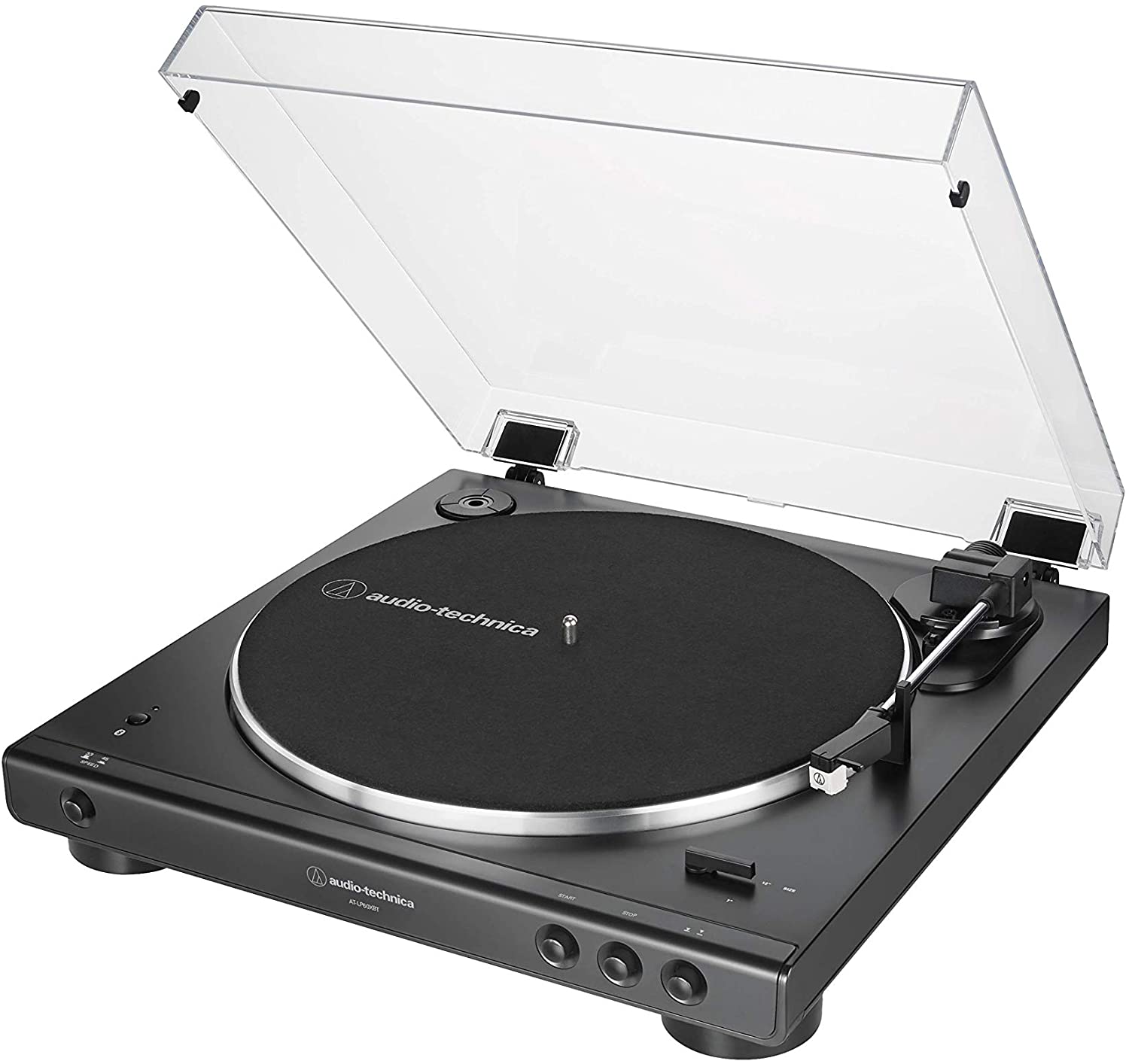 Unlike the bluetooth turntables above on this list, the Audio-Technica AT-LP60XBT-BK does not include speakers out of the box – making it the first turntable on this list that isn't ready to go straight from the box. However, it's also the only one that can wirelessly connect to other speakers via bluetooth and it's arguably the best turntable of the entire lot. If you already own good speakers – wireless or otherwise – this might be the best option for you.
A few notable features. It's a full automatic turntable which means it will queue and play the record by itself (with the push of a button) and, when the record is over, it will return the tonearm to its cradle. It includes a ATN3600L cartridge which is a nice cartridge (although you'll find people who prefer the standard AT-3600 included on some of the decks above).
Here's a top reviewer from Amazon: "The Audio Technica LP60x is a fantastic turntable, especially for anybody looking to get into collecting and playing records! At the price it's unmatched, for it not only looks great, but produces an amazing sound as well!"
Buy it from Amazon: Audio-Technica AT-LP60XBT-BK.
---
Sony PS-LX310BT Bluetooth Turntable ($248)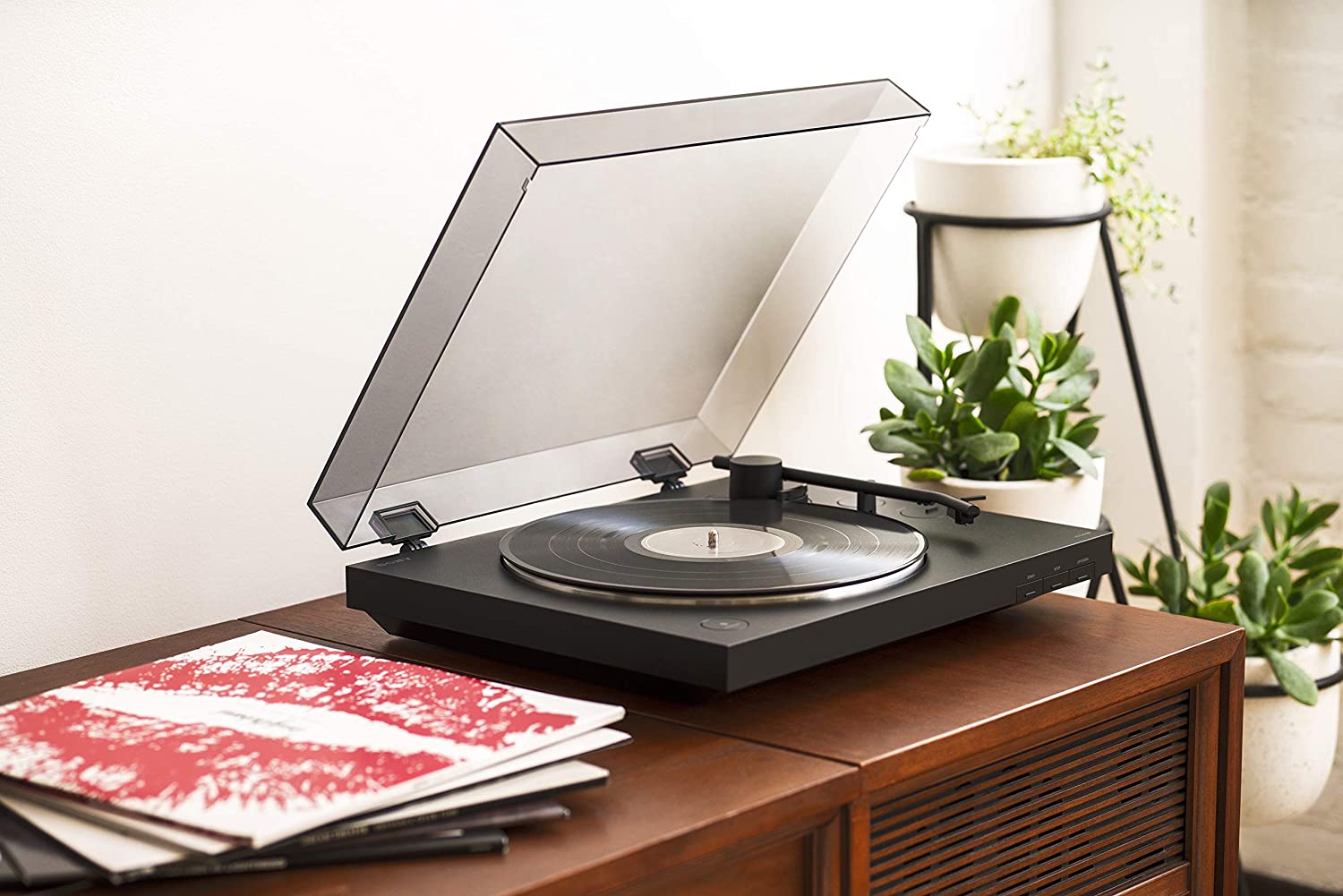 My first ever turntable was a Sony deck not so different from this one (other than mine didn't offer bluetooth) and it was a great record player. With that being said, it doesn't include speakers like the Crosley and 1 By One Turntables and isn't as nice of a record player as the Audio-Technica. It is very sleek and modern looking though and is particularly easy to use.
A few notable features. This turntable offers 3 different options for connectivity: bluetooth, RCA outputs, and USB. It's also automatic allowing you to start the record with the push of a button. It doesn't, however, include anti-skating weights, an upgradeable cartridge, and so forth.
From the top review on Amazon: "On the whole, this is a decent entry level turntable. I would recommend it to someone just starting out who wants a no fuss turntable with all the possible connections and decent sound. If you stay with the hobby, you'll probably eventually upgrade. But measured with features vs cost in this segment, this is a turntable I'd suggest checking out."
Buy it from Amazon: Sony PS-LX310BT Bluetooth Turntable.