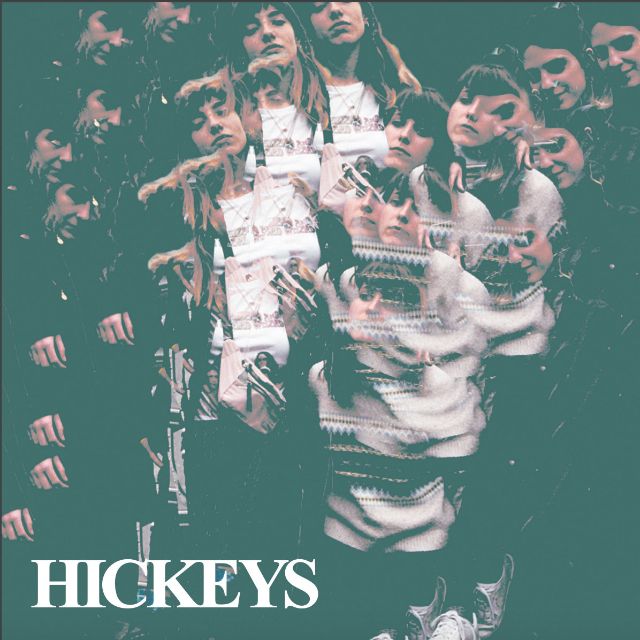 We discovered the awesomeness of this month's featured artist, Hickeys, at SXSW 2019. They were hard to miss. The self-described "Glitter-Punk" four-piece were on so many of the right showcases and, of course, we found a particularly affinity toward their band name. And what's not to love? The Madrid-based quartet, Marta Kunitsa, Ana Erice, Maite Barrena and Martina Gil, marry together elements of a particularly brash and energetic brand of lo-fi garage rock with 90's era post-punk – and it's absolutely delicious.
On this month's vinyl we are featuring four of their most popular tracks to date – collected together on wax for the first time ever.
The a-side kicks off with the single "Is Lawrence Dead?" This one unfurls with a sun-scorched, meandering melody that tumbles in and out of psychedelic mysticism and wet surf-rock inspired riffs. They sing of "melting legs" and "blurring minds" aptly describing the song as being about "summer vibes, spare time, getting rid of routines, losing sense of time-space." It's the band's first official single and a great introduction to their aesthetic.
Next up is the searing and energetic "Lights." It practically leaps open with a rubbery rhythm and steady beat before crashing and clattering from verse to verse amid punkish, snarling lyrics like, "My brain feels so sick, because it's full of futility."
The b-side opens with "Hickey Hickey Bang Bang" which tumbles forth at a deceptively laid back pace before exploding apart at the seems during the chorus with a swaggering percussive blast and fiery chants of "Hickey, hickey, bang, bang." It's a delightfully gnarly rocker that's as catchy as it is chaotic.
The collection closes out with the smooth and atmospheric groove "Solitary Lady." Warm, ringing guitar licks. Bubbling, flowing bass lines. And coolly crooned lyrics, "Oh my time is coming, is coming / With long brown hair / With black leather jacket / I won´t let them play it." Yup, this one's got it all and it's the perfect way to close out the collection.
We hope you enjoy this one as much as we do! We pressed the standard edition of this month's vinyl on pink vinyl alongside a deluxe edition on white with black and pink splatter vinyl for subscribers who've been with us for a year. This release is available exclusively through our Pairings Box and Coffee & Vinyl subscription services.