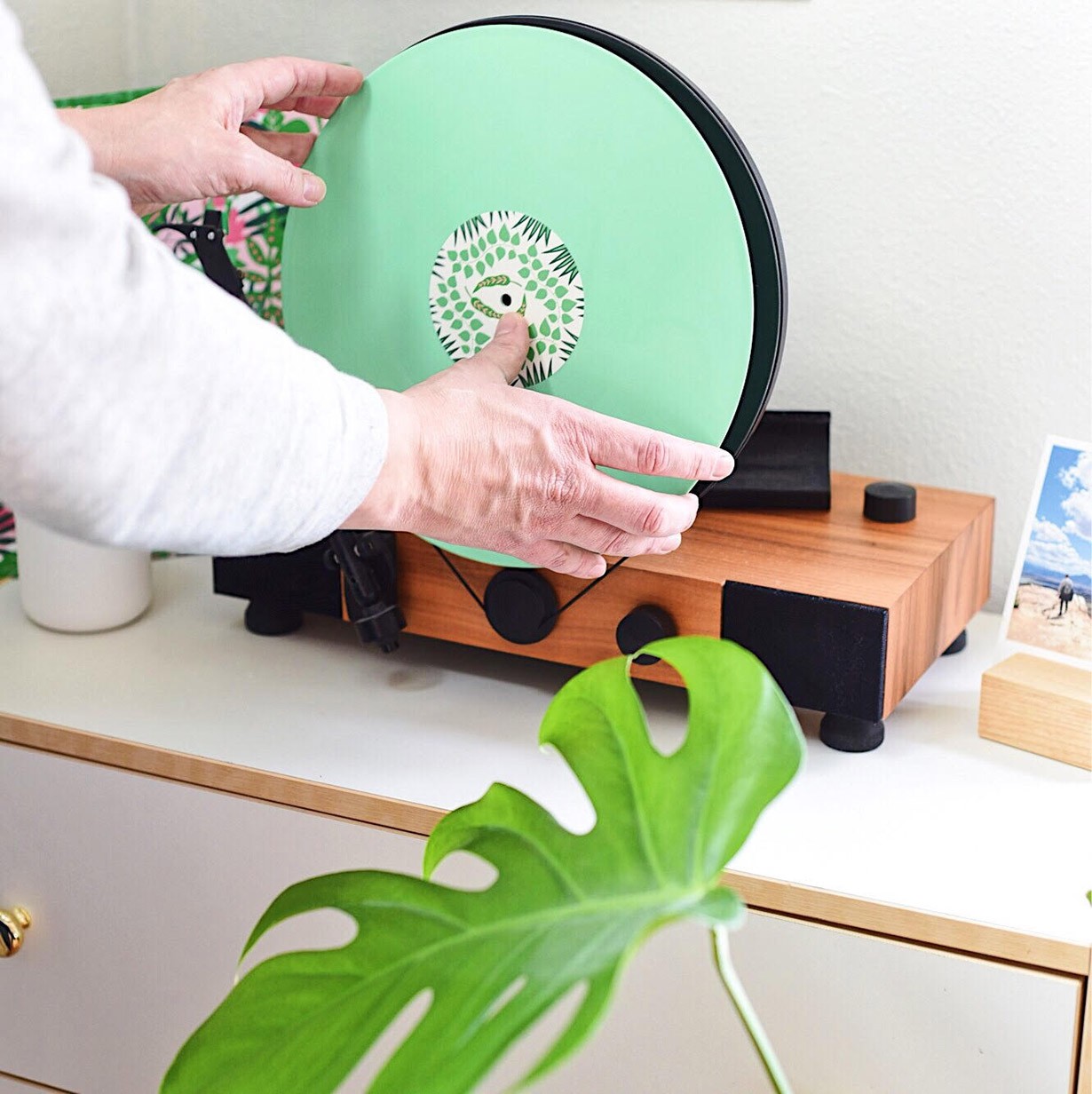 A while back we published a popular guide to selecting the best turntable for a beginner. In that guide, we discussed the differences between belt drives direct drives. We talked about built-in preamps versus stand alone preamps. Although some of the products have been discontinued or updated, a lot of the discussion itself is still relevant and is worth a read.
What hasn't changed is the popularity of vinyl and the continued development of excellent record players to play your wax. What has changed is that some of the equipment we highlighted has been replaced or upgraded. That's particularly true when it comes to the turntables themselves (a lot of the other components are still excellent choices).
For that reason we've reviewed the best record players on the market now and determined the best recommended turntables at different budgets as things are now:
The Best Audiophile Turntable Under $500
The Winner: The U-Turn Orbit Plus 
The U-Turn Orbit Plus Turntable is our top choice for the best record player under $500 – and, really, our favorite turntable on the market. In fact, we have a U-Turn turntable in our home and it quickly became our go to record player. I love the functional and stylish acrylic platter; the excellent Ortofon OM5E cartridge; and the option of selecting a built in pre-amp (which can be bypassed). It sounds gorgeous and offers crisp, warm audio playback. Aside from the great sound, I also just like the overall experience of using this turntable. Everything from the hinges on the dust cover to the tonearm feel well considered and of high quality.
As a result, we consider the Orbit Plus to be the best turntable in it's price range and it is our recommended turntable for a beginner or someone looking to upgrade from a budget turntable.
It's available in a variety of colors starting at around $300 for the basic version or $375 with a built-in preamp. Both offer the option to add on a cue lever which is not at all necessary but a nice touch if you're willing to spend a little extra.
It's also available as the U-Turn Orbit Special with a beautiful hardwood plinth (i.e. the base) in either maple or walnut plus an upgraded Ortofon 2M Red cartridge for just over $450. This is the version we have in our home and we're completely obsessed with it. Definitely worth the extra spend if you can afford it.
The Runner Up: Pro-Ject Debut Carbon
This is the very first audiophile turntable we owned and we still love it. It's warm, it's clean and it's well balanced all around. When we first got it we tested it against numerous genres and records from different eras and we quickly discovered that it makes everything sound great. In fact, the first time I played Spoon's Gimme Fiction on this deck (paired with a Cambridge Audio Integrated Amp and a pair of PSB speakers) it felt like I was hearing the record again for the first time. If you're looking for a good starting point for an audiophile system (say more than $2.5k in total) this is an excellent choice.
But why isn't this our top choice? To get the most out of this turntable I'd recommend upgrading the platter to an acrylic platter and pairing it with Pro-Ject's Speed Box (that would run you an extra $200 or more). It's also likely that, unless you already have an audiophile receiver and audiophile speakers, you won't be able tell a difference between this and the Primary or Orbit Plus. And, even if you did have all of that, it's easy to imagine some preferring the sound of the Orbit Plus/Orbit Special. Thus, in light of the $300 price difference, I think the Orbit Plus/Orbit Special is a better option for most people. Still, this is a mighty fine turntable.
It's available in a variety of colors from Amazon for $399.
The Best Turntable Under $250
I've been an admirer of Pro-Ject turntables for many years now and I've never been disappointed by anything they've released. Indeed, we've had a Project Debut Carbon in our home for years and we've never had any serious complaints. They look as good as they sound (i.e. excellent).
The Primary is the company's latest offering and it offers audiophile sound quality in an attractive deck at a great price (about $150 cheaper than the Debut Carbon). It includes the popular Ortofon OM5E cartridge and is an all around well built record player that will make your records sing. It's very warm and relaxed.
So why isn't this our top choice? It was actually a very close call. The Orbit Plus and the Primary offer the exact same cartridge and a very similar style. In general, I love the way both turntables sound and look but I prefer some of the little touches and optional upgrades on the Orbit Plus including the acrylic platter (a very nice upgrade considering the difference in price), the optional cue lever, the option to select a built-in preamp, and so forth. It also doesn't hurt that the Orbit Plus is built here in the U.S. while the Primary is built in the Czech Republic.
The Primary is, however, about $50 cheaper and an excellent all around turntable making it a nice alternative. If you do go that route, it won't disappoint. You can get one from Amazon for $249.
The Best Turntable Under $100
The Audio Technica AT-LP60 is our choice for a true budget turntable. It's a fully automatic turntable, available in silver or black, and offers a built-in preamp.
It's not the flashiest option on the market naturally but it significantly outclasses every other turntable I've tried in the under $100 price range. You'll get good sound reproduction and won't tear up your records.
It's available for $99 from Amazon or $115 for an interesting bluetooth enabled model.
The Best Turntable To Convert Vinyl To Digital 
The AT-LP120 is a nice option for someone who wants a turntable for converting vinyl to digital. Indeed, it's a turntable we've recommended in the past. Like the Orbit Plus it includes a selectable built-in preamp but unlike the Orbit Plus it offers a USB port to connect it to your computer to rip your records into digital format.
Ultimately, it's a fine choice – particularly for someone interested in the USB port included in it – although, for anyone who's not interested in that specific functionality, I'd still recommend the more stylish and functional Orbit Plus or Pro-Ject Primary. You can get one for $300 at Amazon.
The Best Turntable With Speakers
The Floating Record Vertical Turntable by Gramovox is certainly a unique piece of equipment. As the name implies, it's notable for it's upright plinth that allows you to truly display your vinyl records as art while they play.
If it seems a bit like a gimmick to make it stand out from it's competition, that's because it is, but that doesn't mean it's a bad product. In fact, we were very pleasantly surprised by the quality of the audio reproduction. It produces warm, clean audio that – although not quite to the same level as some of our top choices above – doesn't fall far behind the competition either (although there are some notable speed issues). And, of course, the vertical display is very satisfying – a nice conversation piece.
Although it's the most expensive turntable on our list at $550, it's also includes built in speakers (which can be bypassed) – making it ready to play straight out of the box. The speakers aren't anything to brag about but they're a nice little addition that makes this a versatile option for someone just starting out.
Ultimately, though, most of the other turntables on this list will offer better sound reproduction for several hundred dollars cheaper. It's available to purchase directly from Gramovox.
The Best Budget Turntable With Speakers
The ION Audio Max LP certainly isn't the Ferrari of turntables but it's quite stylish with its natural wood finish and a price tag under $100 – making it a very attractive option for casual music fans, college students, and anyone just getting into vinyl collecting. It also offers built in speakers and standard RCA outputs meaning it's ready to play right out of the box. The fact that it can convert vinyl to digital is just icing on the cake.
You can pick one up from Amazon for just $83.