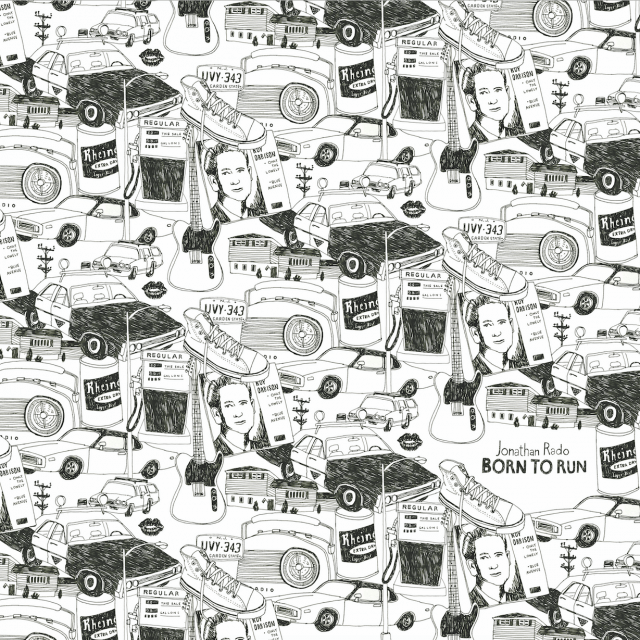 We're excited to share the first single from Jonathan Rado's full album cover of Bruce Springsteen's Born To Run for SOUNDS DELICIOUS: "Thunder Road." It's a sprawling, springy jam and we think Rado nailed it. The song premiered on Pitchfork earlier this week.
Here is what Rado had to say about covering The Boss:
"I'm recording 'Born to Run' by the Boss, one of my favorite records of all time – also one of the highest grossing records of all time. I've always wondered though, what it would sound like if Bruce had recorded this deep into his 'Nebraska' home-recording phase. Like, what would it sound like if he made 'Born to Run' at home & played all the instruments? I'm gearing up to find out (on this week's diners drive-ins and dives)."
Acclaim for SD001: Yumi Zouma's full album cover of Oasis' (What's The Story) Morning Glory? (SOLD OUT!)
This release follows Yumi Zouma's widely-praised full album cover of Oasis' (What's The Story) Morning Glory? (which is officially sold out). The record received accolades from Gorilla vs. Bear, Brooklyn Vegan, NME, and more. Here are a few of my favorite quotes about the album: (from critics and members!)
"Nailed it." — Gorilla vs. Bear
"Setting a high bar right out of the gate." — @dejeanhc
"This album is chill AF. If the rest of SD is as good as this we are in for a treat." — SOUNDS DELICIOUS member 
"This first Sounds Delicious release arrived today and has left me feeling humbled and amazed […] I just realized this made me a thousand times more excited about having backed this on Kickstarter in the first place, as I suspect there will be more nice surprises in store that hit me in ways I'd never expect." — SOUNDS DELICIOUS member
It's been such a thrill to see the records making their way into backers' and members' hands. Please continue to tag your pics #turntablekitchen and #soundsdelicious.
Listen to: "Thunder Road," re-imagined by Jonathan Rado
This release is exclusive to SOUNDS DELICIOUS and vinyl-only (although the record includes a digital download of the album) – so the only way to get a copy is by joining the club. If the Yumi Zouma (which sold out less than a week after we started shipping it) is any indication, this one will go fast.