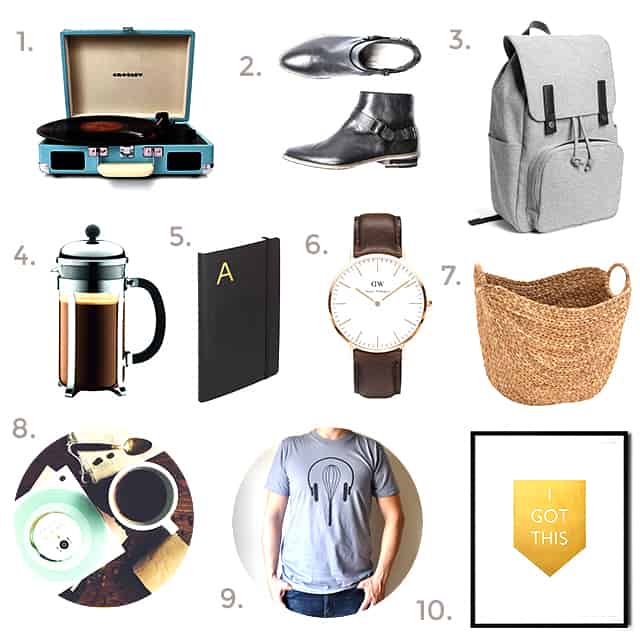 1. Crosley Radio 'Cruiser' Turntable (also available on Amazon) | 2. Freda Salvador Steer Belted Ankle Boot | 3. Everlane Modern Snap Backpack |4. Bodum Chambord French Press Coffee Maker| 5. Poppin Soft Cover Notebook with Gold Initial | 6. Daniel Wellington Watch | 7. Large Seagrass Basket | 8. Turntable Kitchen Coffee & Vinyl Pairings Subscription | 9. Turntable Kitchen Headphones + Whisk Tee | 10. I Got This Print
I'd date myself if I told you the last time I went back to school, but there's something about the energy around this time of year that makes me really miss it all. Packing up for the dorms and picking out my bedding, splurging on one pair of shoes that I'd wear to the ground, and stocking up on the key necessities. Even if you're not headed back to school, consider some of these items as potential gifts for relatives and friends who are.
A portable turntable. We have plenty of recommendations for creating a great sound system at home but when it comes to school, cheap, simple, and compact will serve you well. The Crosley Radio 'Cruiser' comes in tons of fun colors and is totally affordable.
A killer pair of boots. I don't know about you, but I lived in flip flops in college (I went to school in San Diego!). But now that I live in a city with a chillier climate, I can't imagine a more versatile pair of street shoes than low-to-the-ground ankle boots. These will last a lifetime.
A modern backpack. Backpacks have come back in style big time (I carry this one from Baggu around all the time for city outings). This one will transition well from school to a professional job, too.
A French Press. I developed my coffee habit in college but I wasn't so cool as to own a French Press. As long as you have access to hot water, you can save money by making your own brew (not to mention, drink tastier coffee than the stuff they serve in the dorms).
A monogrammed notebook. I know, these days notebooks are so passe because everyone has a laptop. But I still find that having one small, classy notebook is a must. Even if it's to jot down ideas or grocery lists.
A basic, unisex watch. Truth be told, I didn't start consistently wearing a watch until after college but now I find that it's my go-to accessory. Not only is it functional, but it's the ultimate piece of jewelery. Whenever I wear a menswear-inspired watch, I feel more confident to take on the world.
A seagrass basket. I'm in love with the basket trend — I want baskets in every room for everything! I think it's an affordable way to add a homey feel to any small space. Use it to store spare towels for guests, throws, and other knick knacks.
Turntable Kitchen's Coffee & Vinyl Pairings Subscription. There's nothing better than mail in college and this is a gift that keeps on giving. A fresh 12 ounce bag of coffee for your French Press, plus a limited edition 7″ in every shipment. Send it to yourself or someone else.
Turntable Kitchen's Headphones & Whisk Tee.

Use code tees30 to get 30% off all tees in the TK Market

because let's be real: you can never have enough cool t-shirts in college.
I Got This print. College can be overwhelming, especially if it's your first year. Hang this print above your desk for a little self-affirmation every morning and every night.