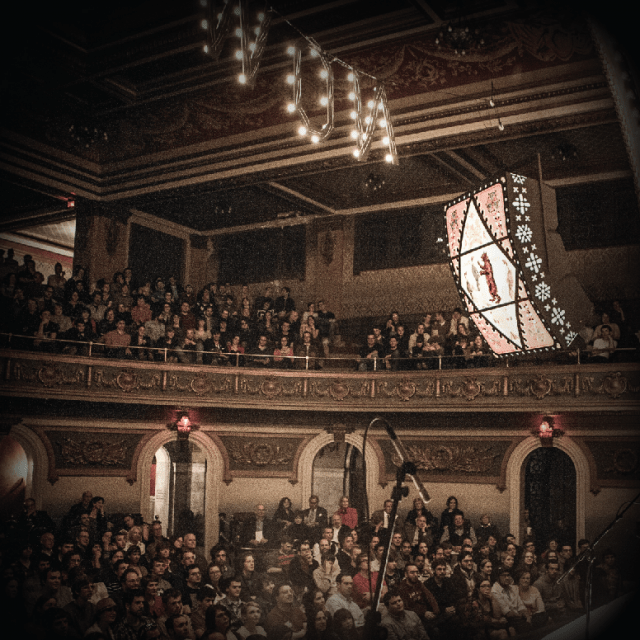 Originally founded in 2006, MusicNOW is a one-of-a-kind music festival founded by The National's Bryce Dessner held each year in Cincinnati, Ohio with a unique emphasis on musical experimentation and collaboration. Specifically, MusicNOW is dedicated to being an intimate music festival that serves as a creative refuge for the artists that participate in it—presenting new collaborations, new commissions and detailed music of all kinds regardless of genre or popularity.
Over the years, this one-of-a-kind music festival has included live sets by St. Vincent, Fleet Foxes' Robin Pecknold, Sufjan Stevens, Grizzly Bear, The Books, Clogs, Owen Pallett, Radiohead's Johnny Greenwood, The National with the Cincinnati Symphony Orchestra, Bonnie 'Prince' Billy, Dirty Projectors, Andrew Bird, and many, many more exceptional artists and rare collaborations.
Thanks to the folks at Brassland and MusicNOW, we've been honored with an opportunity to highlight a collection of rare recordings and collaborations from over the festival's first 10 years in this month's Pairings Box. Before now, these recordings have never enjoyed a release on vinyl. So, yeah, this is a very special edition of the Pairings Box.
The a-side of the record features one-off indie super group Sounds of the South, a collaborative project featuring Bon Iver's Justin Vernon, Sharon Van Etten, Megafaun, and the Matthew E. White led ensemble Fight the Big Bull, performing the evocative American gospel-bluegrass ballad "Trials, Troubles, Tribulations" which was written and originally recorded by Estil C. Ball in 1959. Their take on the tune is bluesy, soulful, and soaring, highlighting vocals from Justin Vernon and Sharon Van Etten. It's the only officially released recording from Sounds of the South.
Meanwhile, the b-side kicks off with Bonnie "Prince" Billy performing a stripped down, solo version of "Love Comes To Me" (the album opener and highlight from his 2006 LP The Letting Go). It's a stunning and plaintive tune that has long proven to be a fan favorite and which translates particularly well to live performance.
It's followed by a unique collaboration performance from Dessner's instrumental project Clogs and The Books doing "Classy Penguin" (a rare non-album cut from The Books). Bright, lovingly textured, and cerebral, this is a personal favorite of ours from the collection.
We've pressed 400 standard copies on black vinyl alongside a special edition of 175 copies on bone and bronze a-side/b-side vinyl exclusively for gold club members. I'm expecting these to sell out with an unusual quickness. It's exclusively available in the Pairings Box recipes and vinyl subscription service or our coffee and vinyl subscription service. Net proceeds for this release will benefit MusicNOW, a 501(c)(3) organization founded in Cincinnati, Ohio by Bryce Dessner to fund production and education opportunities related to the MusicNOW Festival.
If you like what you hear, MusicNOW: 10 Years is available digitally and on CD from Brassland (including several additional recordings by artists such as Robin Pecknold, Sufjan Stevens, and more). You can learn more about the MusicNOW Festival here.