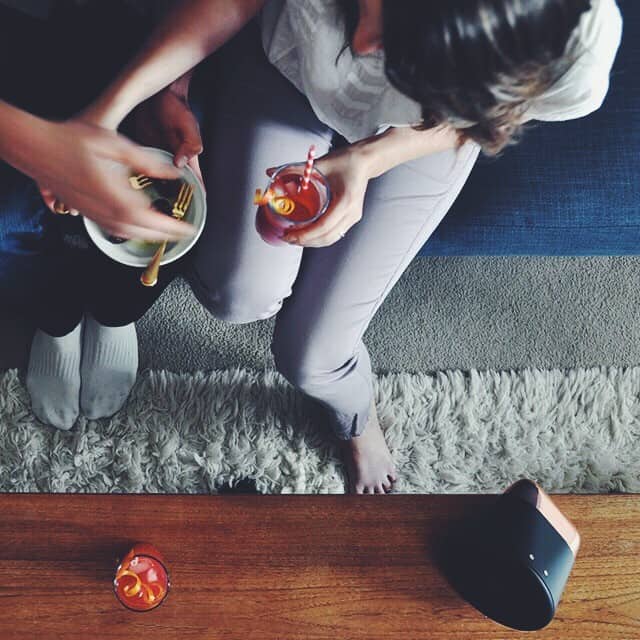 Update: Congratulations Kerianne Taves! You're the random winner of the Aether Cone! Please contact us ([email protected]) to receive your prize 🙂
When I first saw the recipe for hot dates in my friend Ashley's new book (which she's promoting in San Francisco this week, woohoo!) I knew there was a time and a place for them and guys, this is the time and the place. With Valentine's Day just around the corner, we thought we'd share a few ideas with you for planning and enjoying a hot date — get it? Even though Valentine's Day is one of those made up Hallmark holidays, I'm still a sucker for it. I appreciate a bundle of flowers (hint hint) and some chocolates, too. But I'm weary of marked up restaurant fixe prix menus so for the last few years, we've tended to spend the holiday at home.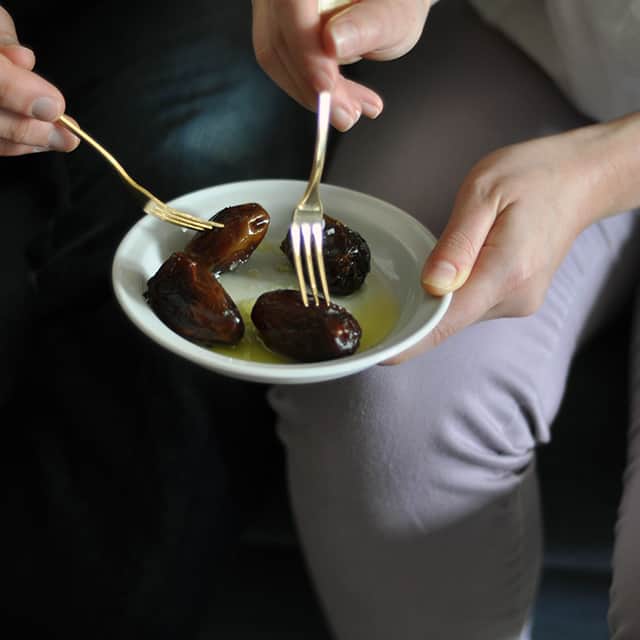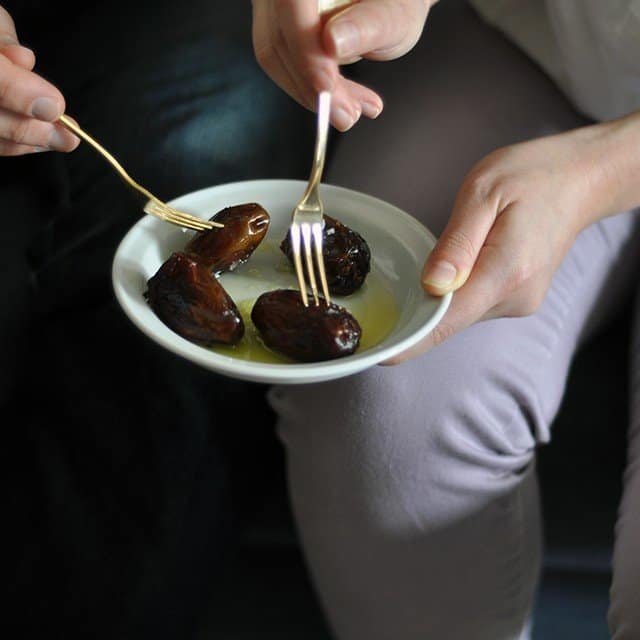 When you already cook a lot at home, it can be hard to carve out a night that feels different and romantic (especially if you have a kid!) but inspired by (again) my friend Ashley and her book Date Night In, I wanted to share a few ideas for a Valentine's Day at home that can feel as intimate and fun — maybe even more so — than a night out on the town.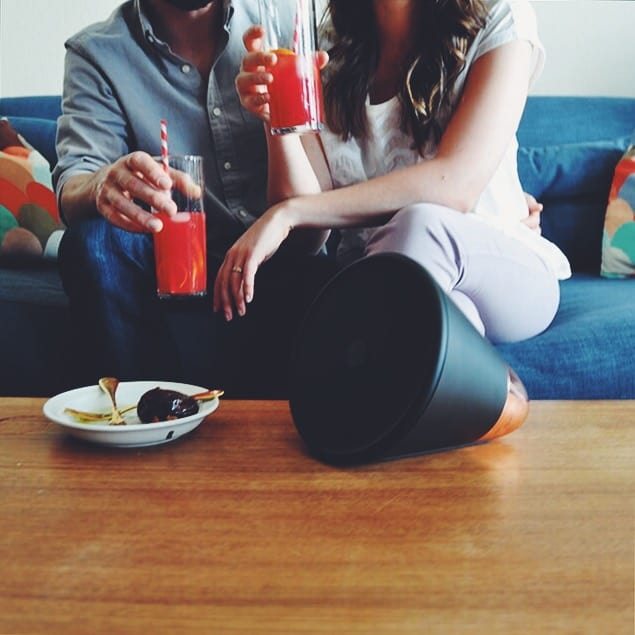 The playlist, the appetizers, and the cocktails
First thing's first — you'll need a playlist. This week, we've been enjoying trying out the Aether Cone, a thinking music player that learns your tastes over time. It's a striking object of beauty that's portable, so it's perfect for moving from the kitchen to the coffee table. It comes with an Rdio account so you can say "play Miles Davis" and it'll actually start playing Miles Davis. Beyond its elegant shape, it's actually fun (even our daughter got into it — it's so simple to use). As you may have gathered from reading this site, music is a pretty important element for a successful night in so we've set you up for your hot date with a special playlist, created by Matt and I. You can find it here.
Next, the food and drink. Personally, I find Valentine's Day to be an ideal excuse for cooking a simple yet decadent meal. I'm talking pasta carbonara or pasta all'arrabiata. Pan seared filet mignon with roasted potatoes. Nothing beats a crab leg appetizer with some warm melted butter, or a sexy spread of charcuterie and cheese. But here's how to really start your night.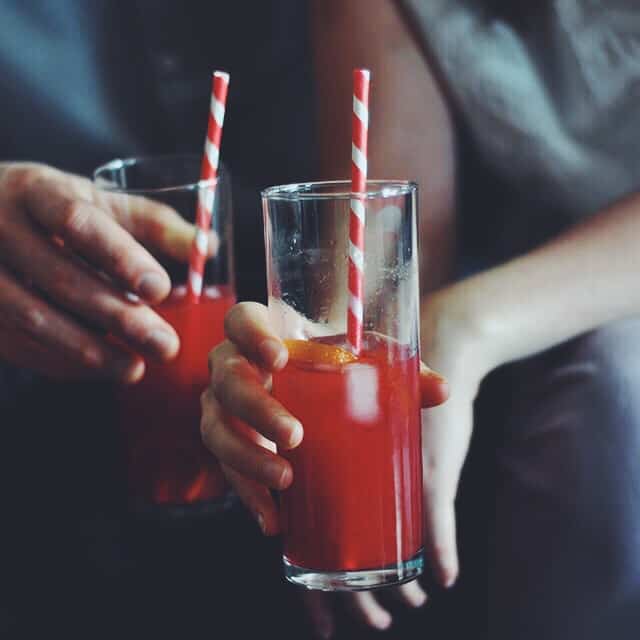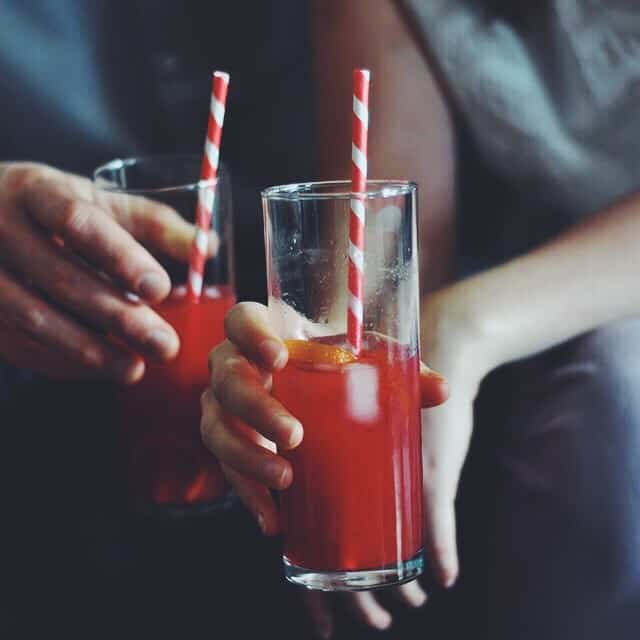 Hot dates. You heard correctly. This is possibly the simplest appetizer/dessert/snack you can make but it is absolutely delicious. And these blood orange screwdrivers (made with mezcal instead of vodka) are sure to warm you up for some good conversation. For your game plan, I recommend prepping the orange juice ahead of time, then mixing up your cocktails, then making the dates. You can also save the dates for an after-dinner dessert.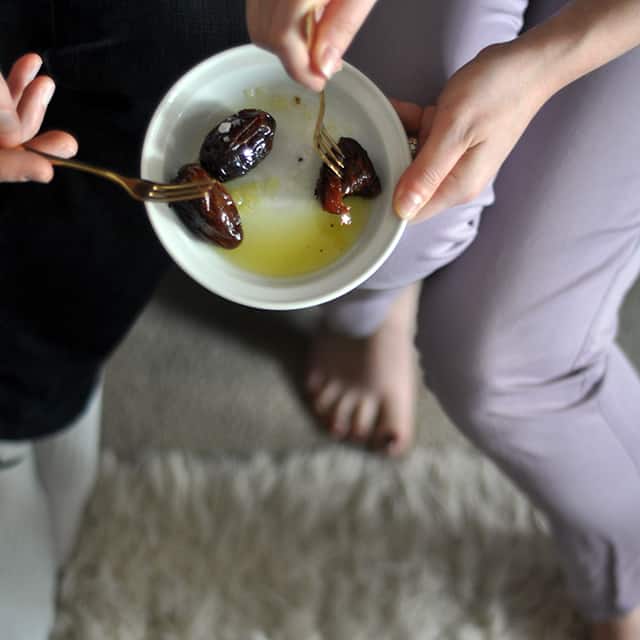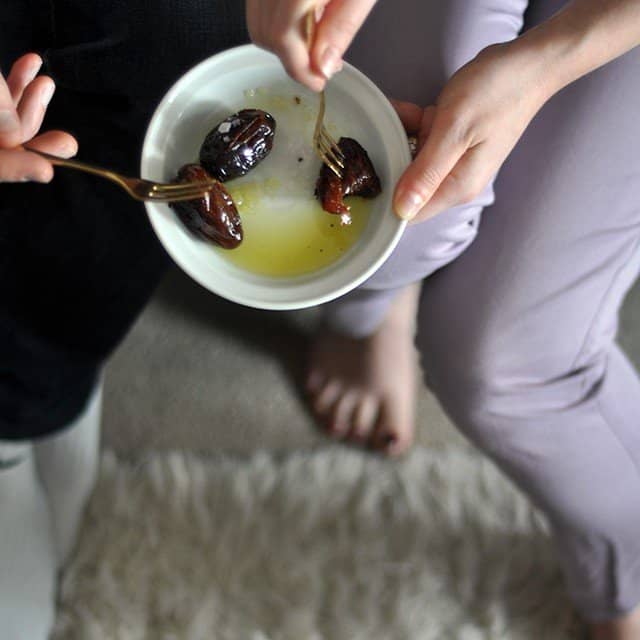 Lastly, any good date (in my opinion) should feel like you're invested in the other person. Try actually turning your phone off and putting away your computer. If you and your date live together or co-habitate frequently, try switching up your regular routine. Put more care into setting the table (bring out the 'nice' plates and napkins). Put some champagne on ice. Dress up! But leave your feet bare. Pour some fizzy water with lemon slices in a glass. One thing I've come to appreciate about romantic nights at home is the opportunity to be entirely in your comfort zone — meaning you CAN dance like no one is watching.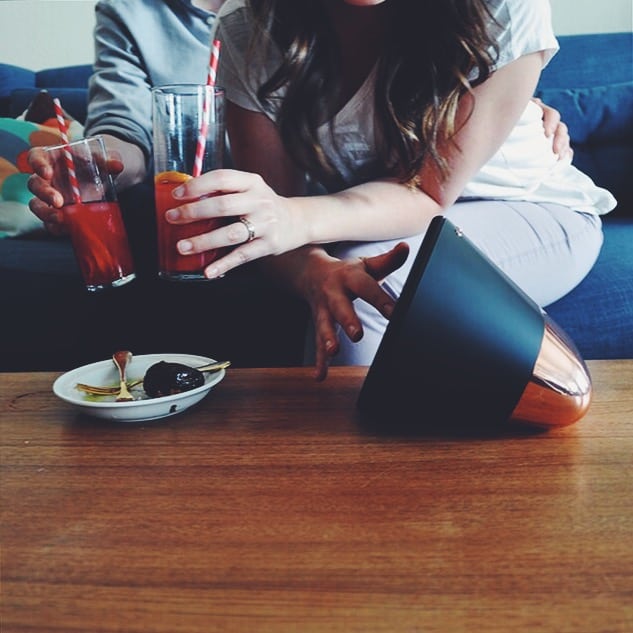 Hot Dates with Olive Oil and Sea Salt
adapted from Date Night In
4-6 large Medjool dates
1 tablespoon of good quality extra virgin olive oil
flaky sea salt (like Maldon)
Pour olive oil into a small saute pan and heat over medium. Add the dates, stirring to coat them, and continue stirring them around the pan for a few minutes so as not to burn them (they should blister and get soft). Transfer the warm, blistered dates to a plate and pour the hot oil over them. Sprinkle with salt and eat warm.
Blood Orange Screwdrivers
adapted from Date Night In
4 ounces of vodka or mezcal* (the latter makes for an awesome, smoky cocktail)
10 ounces of fresh-squeezed blood orange juice (from about 4 oranges)
orange peel, for garnish
ice
Divide the ingredients among two highball glasses. Stir and top with ice. Finish with orange peel.
*Our talented cocktail contributor Jeffrey Levy recommended this switch and we loved it.
Let's do this: win an Aether Cone (approx. value $400)
We promised you a big giveaway on Instagram, and you may have guessed by now, Aether is generously giving away an Aether Cone to one lucky winner (it comes with a $30 Rdio subscription to boot). To enter to win, follow @aether on Instagram, then leave a comment here telling us where you'd set up your Aether Cone. Please include your Instagram handle in your comment, and be sure to share the giveaway using the hashtag #aethercone (we'll count social media shares on Facebook, Twitter, and Instagram as additional opportunities to win). We'll choose a lucky (random) winner by 12 pm PST on Friday so check back here to see if you've won. Good luck!
This post was generously sponsored by Aether Cone. Thanks for supporting the wonderful brands that help keep us running.