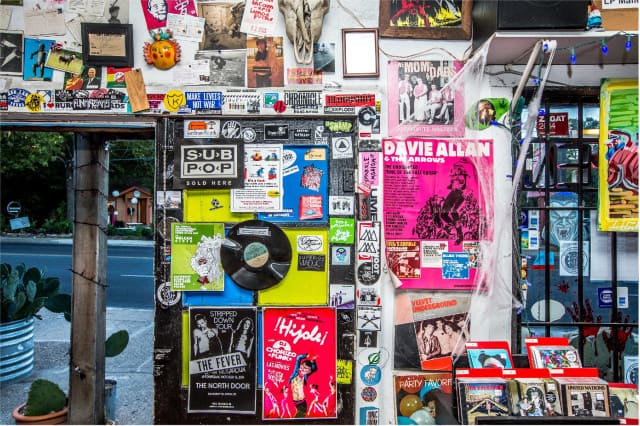 Today's interview is with Dan Plunkett, co-owner of End of An Ear. If you've ever found yourself in the midst of the legendary South By Southwest that takes place every year in Austin, Texas then you've probably stumbled into End Of An Ear. End of An Ear is an (almost) decade old record shop that features the best of new and old music in the form of records, cds, tapes, and audio equipment. They put on in-store performances and host ticket giveaways for customers. Next time you find yourself in Austin, make sure to carve out some time to grab a taco and wander into this legendary record shop; it's in a bright blue building and should not be missed!
Let's start at the beginning. Where do you work and what is your role?
Co-owner of End of an Ear in Austin, TX. Blake Carlise is the other owner and half. He deals with the stereo, drums, and most of the used stock in the store, and more. We sort of split up the duties to make it easier.
When did End of an Ear open? Can you tell us a little bit about the shop?
We opened in mid 2005. We wanted to open a shop in South Austin near where we lived. We both dreamed of having a store that would have deep catalog of reggae, psych, world, jazz, rock etc and other music. Basically we wanted to create a store that would floor us if we shopped there.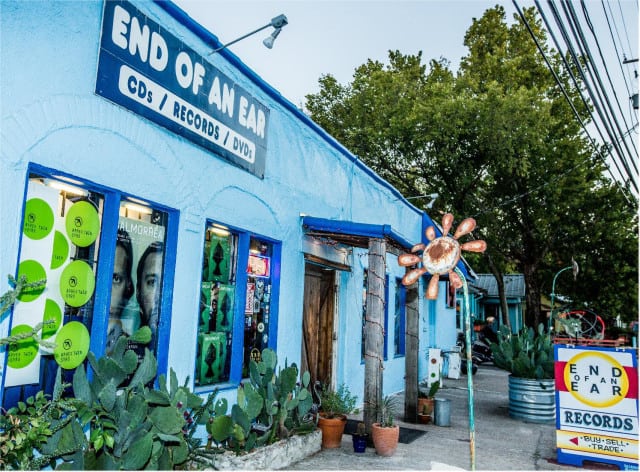 How did you come into starting a record store? What was the concept behind it?
I had run another store for a number of years called 33 Degrees and Blake had shopped there as well as working at a book store. We just talked about what our dream store would be, and what it would be – and went from there.
What is your favorite aspect of your job?
Discovering music I've never heard of before, new and old and then sharing that with people.  And probably after that is just meeting folks.
Who are some of the most interesting people to come into the shop?
Probably the most famous was when Robert Plant lived in Austin and he came by a few times.
Why Austin for your shop? Do you feel that the Austin music scene has changed at all since you started?
I moved to Austin in 1981 (so you know, old as dirt) so home to me. There have always been a strong music community and history since I moved here. Just so much bigger now and there is a strong series of festival year round too SXSW, ACL, Fun Fun Fun, Pachanga, Psych Fest, and more.
What is the most played vinyl in your collection and why?
In my vinyl collection it would probably be Kraftwerk or Neu. Been playing those records since I was in High School, and they still sound fresh to me.