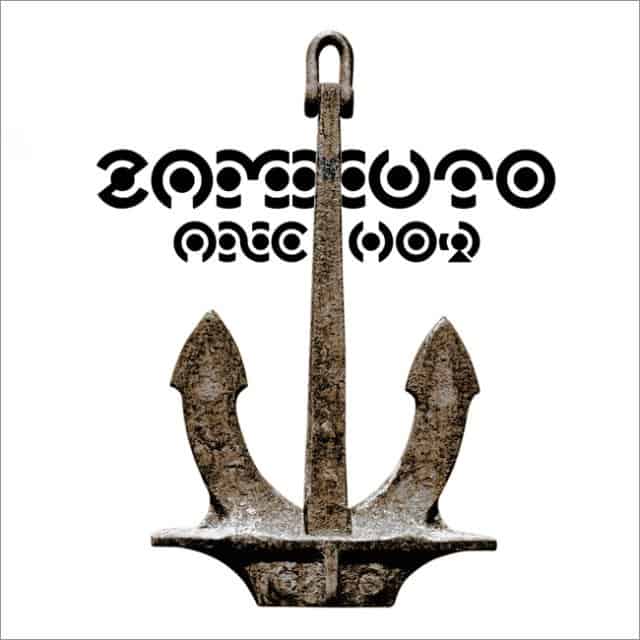 If you ever took an advanced art class, you probably had one person in your class who was lightyears ahead of everyone else in terms of both innate talent and creativity. This was the person who had the most insane/ambitious ideas for projects and somehow always – always – executed them flawlessly. I have a suspicion that Nick Zammuto, the frontman for the band Zammuto and formerly of The Books, was that insanely talented kid in any art class he ever took. After all, everything about Zammuto's new record Anchor is a demonstration of restless creativity and talent.
Zammuto's sophomore album began as an Indiegogo campaign last July. In addition to the usual rewards (i.e. limited edition copies of the record with cover art silkscreened by Zammuto) you could also get homemade "bass projectors" (sculptures that channel "sympathetic vibrations of bass frequencies through a flexible mirror which, using lasers, projects an image of the sound waves onto a wall or ceiling") and "spoonboxes" (sculptures "based on dancing spoons controlled by puffs of air generated by miniature subwoofers behind plexiglass and zinc plates") – all of which were designed and built by Nick Zammuto himself. Meanwhile, the record was recorded in a home studio he and his family designed and the album's first official music video features a large trebuchet (a cross between a slingshot and a catapult) that, once again, he designed and constructed.
And, somehow, in between building bass projectors, spoonboxes, and trebuchets, Zammuto (along with his band) found the time to record the most compelling and engaging album of his career. Indeed, Anchor showcases Zammuto's love for experimental production and recording techniques while simultaneously embracing more conventional songwriting.
For example, the album opens with the atmospheric love song "Good Graces." It's centered around a slinking bassline, jazzy percussion, a moody Moon Safari-like melody, and copious amounts of electronic tweaking to accompany Zammuto as he sings, "when I first saw my love / she had her shoes in her hands / bare feet on the floor / oh, yeah / I've got to get inside her world."
Similarly, "Great Equator" – which seems to employ a rhythm crafted partially by rhythmically scratching into the dead wax of a vinyl record – could be easily mistaken for a Postal Service cut in both demeanor and sentiment ("oh my love / it's been more than fun / we've been around the sun") – with only its experimental construction suggesting otherwise.
Likewise, the uniquely composed "Hegemony" is particularly ambitious with it's single-word chorus and shifting time signature (courtesy of drummer Sean Dixon), but, I'm happy to report, it's enjoyable even without regard for it's technical merits. Along those same lines, tracks like "Need Some Sun" and "Io" are layered and beautifully textured, but also upbeat and fun.
And, that is exactly why the album is a success. Despite Zammuto's experiments and, at times, almost academic approach to recording – Anchor is not cold and distant. Zammuto approach every aspect of the process with life, energy, and joy. As a result, Anchor must be a part of the conversation when we consider the year's best releases at year's end.
We're pairing this one with Kasey's recipe for Balsamic Eggs with Peaches and Prosciutto. The recipe, like the album, relies on the freshest ingredients and offers bold and surprising flavors. Whether you're a foodie or a fan of good music, I'm sure you'll equally enjoy both.
You can still order the limited edition version of this record that is packaged with a beautiful silk-screened cover from Zammuto's web store.