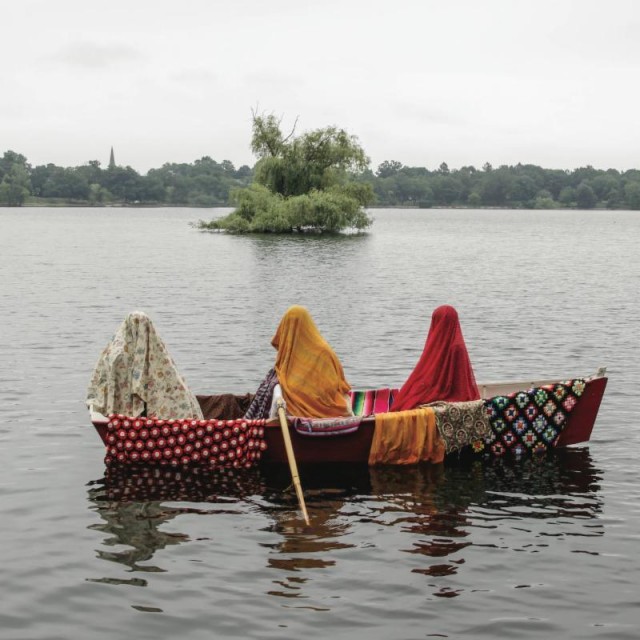 Boston's Quilt (Anna Fox Rochinski, Shane Butler and John Andrews) have long demonstrated a knack for thoughtfully constructed psych-folk jams built from wide-open structures and hazy, billowing melodies. Indeed, their 2012 self-titled LP was heavy on reverb drenched riffs, quasi-mystic sentimentality, and grooves that swirled in beautifully loose, irregular circulars. On Quilt it always appeared that the journey was as (maybe even more) important than the destination.
For the most part, all of that is true of their latest effort Held In Splendor. It's a kaleidoscopic and free-wheeling tapestry of dusty, lushly textured psych folk. Nonetheless, the material here typically follows a more linear path than anything on its predecessor. For example, with the exception of "The World Is Flat" everything here unfurls along a relatively straight-forward progression. The jams are tighter, the melodies more pop-oriented, and the orchestration, although more intricately composed, is more to the point. And, thanks in part to their access to Mexican Summer's recording studio, it's also a more polished and more fastidiously produced product. Put another way, Quilt has grown as songwriters since we last heard from them.
Album opener "Arctic Shark" is a bright, jaunty jam built from cooing harmonies and spindly, psychedelic guitar riffs to accompany vocalist Rochinski as she sings, "All your heavy hearts are simply illusory / They will find an open shell in which to grow and set you free." The springy, Summer of Love vibe naturally devolves into a trippy, ambient haze anchored by a distant, sparkling piano roll. Before long, the smoke clears and the swirling cut "Saturday Bride" emerges with a crisp, ratatat rhythm, multi-layered vocals, and a flowing middle eighth.
We're pairing this one with Kasey's recipe for Banana and Macadamia Nut Muffins. Like the album, the muffins are springy, flavorful and warm. What's more, both will leave you feeling contented and upbeat. Together they might just be the best lazy Sunday you've yet to experience.
You'll find this on vinyl over at Insound. In the Kitchen, you can find Kasey's recipe for those Banana and Macadamia Nut Muffins.