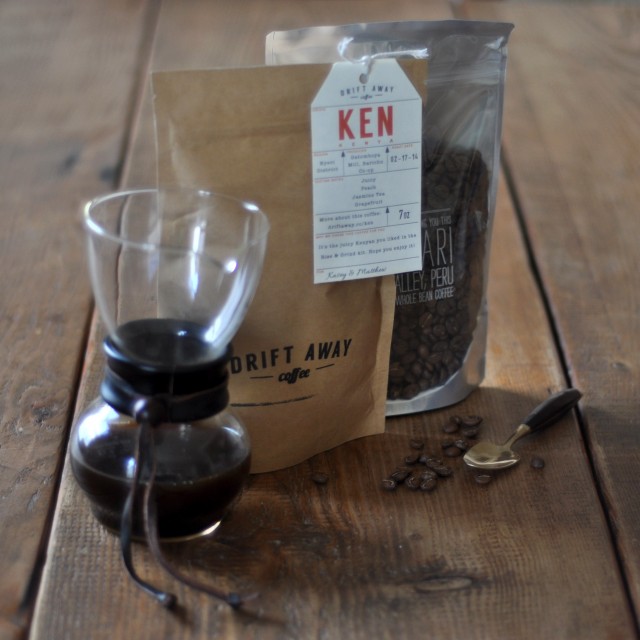 There are so many great methods for home brewing delicious coffee. For example, you can use a V60 dripper, a Chemex, a Woodneck Drip Pot, an Ibrik, and so forth. However, the most important step in brewing delicious coffee isn't the process – it's the coffee itself.
The best coffee is freshly roasted, ground immediately before use, and selected and roasted with love. In San Francisco we're blessed with a wealth of craft coffee roasters. As a result, finding delicious single-origin coffee is incredibly easy. But even with all of the great options, Kasey and I seem to run out of coffee at the worst possible times (i.e. Saturday/Sunday morning).
That's where coffee subscriptions services come in handy. They always seem to arrive in our mailbox just when you need them. Not only that, even if you're not in San Francisco, you can enjoy great craft coffee no matter how far you are from the nearest artisan roaster. Below you'll find comparisons and reviews of our favorite coffee subscription boxes.
Yes, Turntable Kitchen now offers a coffee & vinyl subscription box! Our coffee subscription service is unique because we pair freshly roasted beans from San Francisco's Sightglass Coffee with our own exclusive 7″ vinyl records and free digital MP3 mixtapes. It's like a craft coffee of the month club plus a vinyl record subscription service all rolled into one.
With our coffee and vinyl subscription service you'll receive the latest 7″ vinyl release in our Pairings Box record and recipe subscription service which has previously featured Local Natives, Typhoon, Mikal Cronin, GEMS, Tei Shi, and many more awesome artists. The digital mixtape features MP3 downloads of over an hour's worth of the best new music we've discovered that month.
And the coffee itself? Well, Sightglass Coffee serves up beans from exclusive micro-lots originating in various regions around the world. Every coffee we've tried has been excellent and they've brewed up some of the best coffee to ever touch our lips. It's why we decided to partner with them.
You can subscribe to our recurring subscription here or sign up for a 1-3 month test run here. It's $25 a month which means that for only a few dollars more than other coffee subscription services you can also score some rare vinyl and hot new MP3s.
Based in Brooklyn, Drift Away Coffee is run by a husband and wife duo with a shared passion for coffee. What makes their service notable is their unique and personalized approach. Specifically, the first shipment provides subscribers with 2.5 oz sample of four unique coffees. You pick your favorite from those selections and future installments are tailored to match your preferences.
For the most part, the other coffee subscription services just send you the default "coffee of the month." Often that's fine. If it's a good roaster, you'll probably receive a great coffee. Nonetheless, Drift Away takes it a step further by aiming to send you a coffee that you will love. It's the perfect service for the coffee lover who loves their morning cup of coffee but isn't yet familiar with the difference between an arabica and a robusta. When our first shipment arrived we pulled out the V60 and started cupping each of the four offerings to find our favorite.
Drift Away coffees are thoughtfully roasted and shipped fresh (they ship within 48 hours of roasting). They also offer the best value of the services we've tried. They charge $11 every two weeks for a 7 oz subscription or $14 every two weeks for an 11 oz subscription. You can subscribe here
3. Tonx
Update: Tonx was acquired by Blue Bottle (below) so no longer exists as a separate coffee of the month club.
Run by a small group of self-professed coffee geeks, Tonx is potentially the most well known coffee subscription service. They've received high praise from the New York Times and many other well respected publications. And, from our experience, it's well deserved praise.
Kasey bought me a gift subscription and we've received four shipments so far. They've all been single-origin, beautifully-roasted, and high quality (yes, a coffee subscription gift is a welcome present for any coffee snob). One of the most unique features of their service is that they offer a free 2 oz trial so you can taste before you commit. After that, a 6 oz subscription is $12 every other week or $19 for a 12 oz subscription. You can sign up here.
San Francisco has a long and impressive history selling and roasting coffee (James Folger opened his first coffee roasting plant in San Francisco in 1872). That tradition continues today, as San Francisco is home to many high-end artisan coffee roasters. For example, a few of the most popular craft coffee roasters in the city include Blue Bottle, Sight Glass, Four Barrel, Philz, and Ritual. It's a close call, but Sight Glass might be the favorite in our home.
A subscription to Sight Glass' service provides you with access to beans from exclusive micro-lots originating in various regions around the world. As we've noted above, every coffee we've tried has been excellent. A 12 oz subscription costs $19 per installment and you can select the frequency of shipments which range from weekly to monthly. You can sign up here.
Soundtracked by vinyl records, decorated with reclaimed wood, and offering front-door bicycle parking in the Mission District, Four Barrel enjoys a reputation as the most hipster friendly cafe in San Francisco. But it's not just their decor that makes Four Barrel stand out – they also make really great coffee. In fact, the best coffees I've ever tried have been from here. Unfortunately, they also roasted some of the most disappointing cups I've tried from any of the popular Bay Area roasters. Thankfully, the hits are far more common than the rare miss.
Unfortunately, their coffee subscription service also requires a little more commitment that the other services. For $175 one-time payment you receive two 4 oz bags of single-origin coffees every two weeks for twenty-four weeks. That breaks down to about $14.50 per 8 oz shipment. You can subscribe here.
Don't be surprised when your corner Starbucks is replaced by a Blue Bottle Coffee in the years to come (I'm half serious). What began as a small cart at the San Francisco Ferry Building Farmers Market has now spread to numerous locations throughout New York and the Bay Area. They've raised nearly $45 million in funding and are apparently eyeing expansion to Tokyo. They've even partnered with James Murphy of LCD Soundsystem for an exclusive blend. And there is good reason for their success. They make great coffee.
What I like about their subscription service is that it's customizable. Their website provides recommendations based on your preferred brewing method (i.e. Chemex, Ceramic Dripper, French Press, and so on) and rate of consumption. From there, you select which coffee you want to sign up for. It's pretty cool.
What I don't like about their subscription service is that it doesn't include any of their excellent single origin offerings, instead highlighting their less impressive blends. For some people, that alone might be a deal breaker. Nonetheless, their blends are quite good – and it is Blue Bottle.
The price varies depending on which coffee you choose, but they begin at $17 for a 12 oz bag delivered at the frequency you select. You can subscribe here.