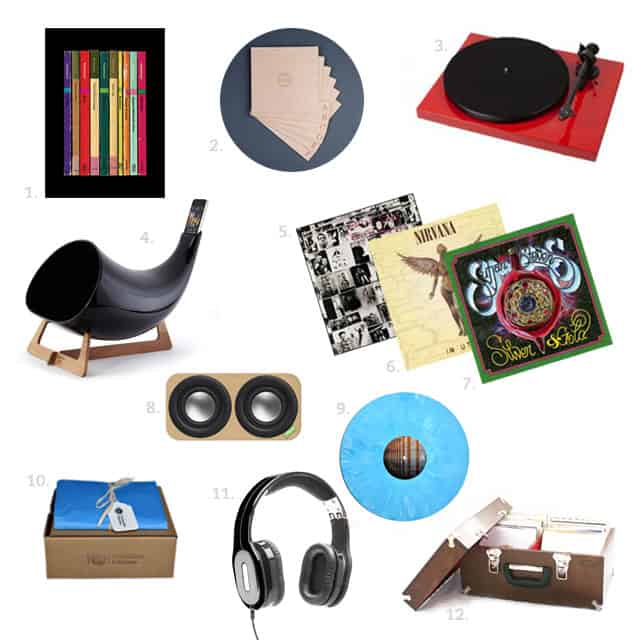 It can be hard to buy the perfect gift for your music-loving friends. After all, the market is flooded with crappy headphones, poorly-made turntables, overrated albums, and piles of kitchy music-related junk. No worries though, we've got you covered. Our expert (that's me) picked some of the coolest stuff he's found for the music lover in your life. From the highest rated headphones to audiophile quality turntables, I've got you covered. If that's not enough, you can check out our Vinyl Lover's Gift Guide which includes a mountain of great releases and other gadgets for the music obsessive in your life.
01. Radiohead As Books Poster. These posters of Radiohead albums as books are pretty much undeniably cool. They're printed on premium archival paper and, since they're printed by a small printer in London, chances are your Radiohead super-fan doesn't already one. Full disclosure, we bought one to hang above our record player. Get one here. (15GBP – or about $24.50 US).
02. Laser Cut Wood Record Dividers. This is a great gift for any record collector with a medium-to-large sized vinyl collection. The dividers are made to order by a small San Francisco-based team of craftsmen. You can even select between Futura and Mrs Eaves fonts. Get 'em here. ($350-410 US).
03. Pro-Ject Carbon Audiophile Turntable. Let's just say that this is the turntable that we've loved and used heavily for the past several years. It's beautifully minimalist, easy to use, and (most importantly) makes your music sound fantastic. The perfect gift for those who've been especially naughty… er, nice this year. Get one from Amazon. ($399 US).
04. Megaphone iPhone Amplifier. I swear not everything on our list will be in the $400 price range, but I think we can all agree that everyone on your list needs a ceramic passive iPhone amplifier for Christmas, right? Fab has 'em with 30% off. ($399 US).
05. Rollings Stones – Exile On Main Street. One of the greatest albums ever made has been reissued and remastered. It's a must for any music fan. Available from Amazon. ($26.70).
06. Nirvana – In Utero (20th Anniversary 3xLP Edition). Yet another one of the greatest albums ever made in a deluxe super awesome-sauce edition that includes b-sides, bonus tracks and alternate mixes. Highly recommended. Buy it from Amazon. ($49.99 US).
07. Sufjan Stevens – Silver & Gold (6xLP Christmas Collection). Sufjan Stevens tackles all of your favorite Christmas tunes (plus a few of his originals) with the help of his friends including The National, My Brightest Diamond, and more. We've already broke out our copy to help ring in the holidays in our home. From Amazon ($129).
08. Vers 2Q Bluetooth Speaker. You have no idea how handy it is to own a great sounding bluetooth speaker until you own one. It's perfect for listening to your favorite music when traveling or chilling with friends at a picnic or in the park. It's the gift they didn't know they wanted. We use ours all the time. Get one here. ($154 US).
09. Turtle Giant – All Hidden Places EP. Yeah, I know we're biased, but we think the Turtle Giant All Hidden Places EP is an awesome gift for an indie-rock loving record collector. Not only does it sound great, but since it's pressed on marbled blue-and-white vinyl, it's one of the prettiest records in your collection too. This one is exclusive to the TK Market. ($15.99)
10. Turntable Kitchen Pairings Box Subscription. Available in 1-month and 3-month gifts. Every month we'll ship the recipient a care package in the mail including an exclusive, limited-edition vinyl record; a digital mixtape; a collection of original recipes; and a premium ingredient that can be used to make one or more of the recipes. You can sign up a friend or a loved one in the TK Market. ($27.12 US).
11. PSB M4U 1 Headphones. I've reviewed and tried out a LOT of headphones in my time, and these are easily some of the best over-ear headphones on the market. Beautiful base response with clear sounding music reproduction. These are the headphones I use for reviewing albums and I highly recommend them. You can get a pair here. ($299 US).
12. Wooden 45rpm Record Case. If you really, really love the music content on Turntable Kitchen and want to show your appreciation, this is the gift you can send my way. Otherwise, you could consider this hand-crafted, velvet-lined, wooden record crate from Barcelona as a gift for any record collectors with a large and unwieldly collection of 7″ vinyl singles. It's just so pretty. From Etsy naturally. ($253.06 US).
(Not pictured)
13. Mexican Summer: Five Years Book and 10″ Vinyl Record. This beautiful hard-cover book and vinyl record is limited to 1000 copies and has been released to celebrate Mexican Summer's five year anniversary. The book "includes unique and unseen art and ephemera, photos and written contributions from a host of Mexican Summer artists" and the record features exclusive collaborations from a number of Mexican Summer's artists. Get it from Insound with that FALLWINTER2013 coupon. ($85.99 US).
14. Father/Daughter Holidaze Digital Bundle. All 78 tracks ever released by Father/Daughter records including awesomeness by Levek, Pure Bathing Culture, Running In The Fog, Leapling, Body Parts, and more. It's only $20.13 and it's hours and hours of amazing music. This one is a no brainer. Get it now from the good folks at Father/Daughter Records. ($20.13 US).
15. The Small Plates Records DIY Crack Pack. 2 Full length LPs, 1 EP, and 3 7″ singles of your choosing from the good gentlemen at Small Plates Records. That's a lot of rad limited edition vinyl for any growing record collection. Get it from Small Plates Records (naturally). ($50 US).