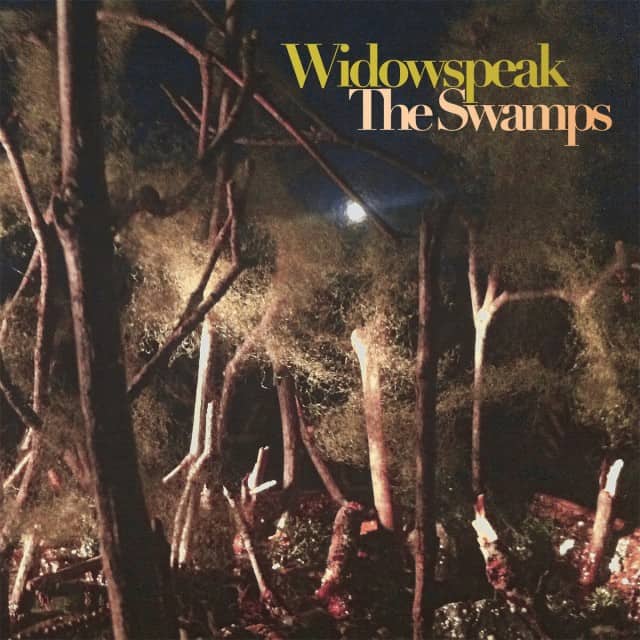 Languorous and sultry, at its heart all of Widowspeak's output to date can be characterized as warm, sensual and comforting. That's why their choice to tackle the oft-covered Chris Isaak track "Wicked Game" was perfect. On a conceptual level, it served as a concise thesis statement for their music. And although their sound has evolved over the course of two full-lengths and a brand new EP, their music has continued to retain those central virtues even as they explore new ground.
Their latest release, The Swamps EP, is intended to serve as a transitional record bridging their sophomore release Almanac and their yet-to-be recorded third LP. Fittingly, it was inspired, in part, by the literal exploration of new territory, specifically the band's first experiences visiting the swamps of the Southeast while on tour with the Vivian Girls. In fact, guitarist Robert Earl Thomas explained in an interview that the duo felt that the swamps were a good reference point for their music, "the sort of oppressive feeling of all that humidity and haze, and wading through the water, was sort of a cool translation for our music."
Thus, the EP opens with the muggy and languid instrumental "Theme From The Swamps." Its slowly treading but somewhat springy guitar riff serves as the melodic foundation for much of the material on the EP. For example, it appears in the gliding, almost dreamy melody of the album's second single "Calico" and it's explored at length throughout the soothing closer "The Swamp."
For some travelers, the humid and lazy heat of the swamp might be a foreboding and unpleasant place. For Widowspeak it's clearly an invitation to slow down, take it easy, and daydream in the shade. On the album's first single "True Believer" vocalist Molly Hamilton sings drowsily, almost as if in a trance, "We ride life hypnotized. Wild eyes / nights so long / speak in tongues." She's accompanied by a ringing, gauzy ambiance and a light, shuffling guitar riff that gives the tune a dreamy, lackadaisical feeling. Meanwhile, "Calico" bends the EP's motif into a dusty Western with plucked acoustic guitar and a tambourine-tinged rhythm like the spurs on a pair of cowboy boots. But whichever direction they take it, it's always warm and comforting.
Most comfort food – french fries, mac n cheese, fried chicken – isn't particularly good for you. But it doesn't need to be a heart attack waiting to happen in order to taste good. The baked fries recipe Kasey posted today in the Kitchen is the proof. They're baked, not fried, and yet only your arteries will know the difference. As a result, you can enjoy them with accompanying malt vinegar aioli recipe mostly guilt free for a comforting snack. Baked, comforting, and rich, the recipe is a good Musical Pairings for The Swamps.
You can buy The Swamps on limited-edition yellow vinyl from Captured Tracks. Before you go, stop by the Kitchen to read Kasey's recipe for Baked Fries with Malt Vinegar Aioli.