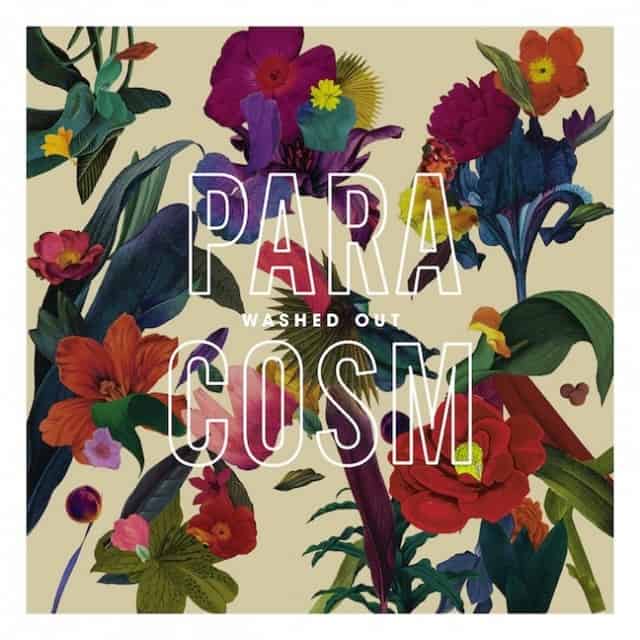 According to Wikipedia, a paracosm is "a detailed imaginary world, or fantasy world, involving humans and/or animals, or perhaps even fantasy or alien creations." In other words, it's an imaginary place where one goes to escape from the challenges of daily life. With that in mind, Paracosm is an apt title then for Ernest Greene's most recent full-length as Washed Out which is simply dripping with half-whispered escape plans and sunny, dream-like locales. Indeed, both lyrically and sonically, the album dishes out the promise of a better time and place.
For example, the sonically lush opening track "It All Feels Right" is built from spacey, effervescent synths, a bounding bass line, and strummed, springy guitar riffs to compliment Greene's hushed croon as he suggests, "Leaving heading eastbound. Weekends almost here now. It's getting warmer outside. It all feels right." It's blissed-out Technicolor pop at it's finest.
Meanwhile, the warmly buzzing "Don't Give Up" pairs laser-sharp synths against an Afro-Caribbean groove, like the soundtrack to some half-remembered daydream set on a tropical island. For all the backlash leveled against chillwave, Paracosm expounds up the genre and acts as a glorious affirmation of what it could be.
So, yes, it's a comforting, life-affirming album built from hazy synths and sunny hooks. If there was ever any question about the theme of the album, Greene is incredibly straight-forward in his lyrics. On, the title-track, for example, he sings, "You're safe. The curtain's drawn, and we're all alone. Inside, in our special place. Where we can get away. Escape it all tonight."
Of course, escapism implies that there's something to escape from. In other words, there's typically a darker side to an imaginary world. And, at times, Greene lets us glimpse what it is that he was running from. Indeed, I presume that Paracosm is also, at least in part, a breakup record. It's about pretending everything is alright when deep down you know it's anything but. For example, on what proves to be both the album's most lyrically poignant and instrumentally upbeat tune, "All I Know," Greene wistfully sings, "You act like there's nothing wrong. You laugh when I call on the phone. Say it's time that I try to move on. That the life that we had is now gone."
These melancholy moments don't detract from the album's otherwise upbeat tone. If anything, it just makes the dreams feel bigger and grander. After all, Greene chooses again and again to embrace the upbeat and fantastical instead of letting his problems drag him down. As a result, like M83's Hurry Up, We're Dreaming, Paracosm is a sunny and atmospheric album, one that is as suitable for soundtracking a lively get together with friends as to serving a destination worth exploring quietly on your own.
As easy as it is to lose yourself in music, it's just as easy to let food transport you to somewhere else. And, for me anyways, dessert is the perfect choice for an escape. That's why Paracosm pairs perfectly with Kasey's recipe for Peanut Butter and Chocolate Chunk Ice Cream Sandwiches.
If you get your copy of Paracosm from Insound it ships with a bonus 7″ single featuring two non-album tracks (the single also came with pre-orders from SubPop and Washed Out's site, but the 7″ is no longer available from those places as far as I can tell). Afterwards, head to the Kitchen to read Kasey's recipe for Peanut Butter and Chocolate Chunk Ice Cream Sandwiches.