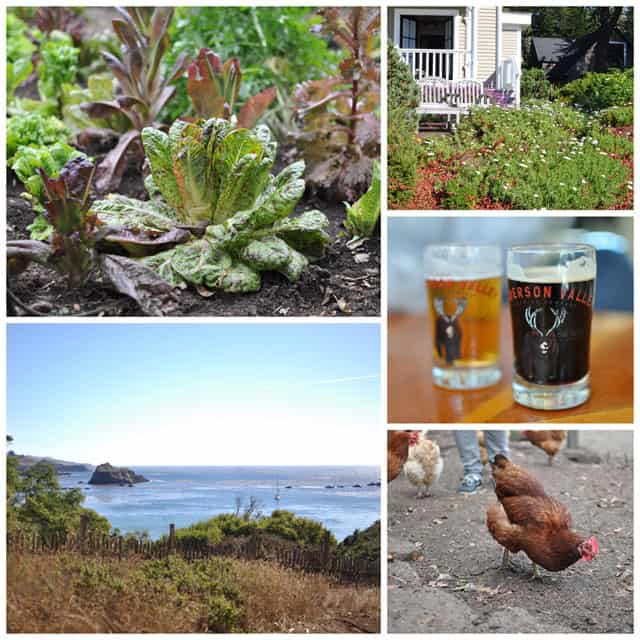 One of my favorite things about living in the Bay Area is being only a few hours' drive away from some truly magical places. Getting away for a long weekend isn't quite as easy with a baby (though we certainly aren't cutting travel out of our lives; we've just accepted that it's a little more complicated). Before Neko joined our world, we decided to go on a little escape — a 'babymoon' as we decided to call it — to Mendocino, California. It's an artsy, ocean-side town that's quite picturesque and I would imagine a good place to write a novel or work on your painting.
I treated Matt to a birthday getaway to nearby Sea Ranch a few years ago, and we thought that the area was the perfect destination for a lazy, relaxing weekend before our life as a family of two would be a memory. Since Neko was due in the winter and I knew the last month or two weren't ideal for travel, we decided to head up there in the Fall. I took Friday off from work, we packed up the car and headed North, making a stop in Geyserville and having lunch at one of our favorite places, Diavola Pizzeria.
Mendocino is located right on the ocean, but the drive in (if you're heading up from San Francisco) takes you through some beautiful Redwood forests. As you make your way towards the charming town, you pass a bevy of wineries and a few small towns that make the drive feel like a part of the adventure. We got a room at the Glendeven Inn, and made few plans other than making sure we got a reservation for one of their popular farm-to-table dinners. We each brought a book that we could read on our porch as we watched the sun set over the Pacific Ocean, Scrabble for nights by the fire, and some walking shoes. Since I was pretty heavily pregnant, we kept our walks/hikes pretty low-key, and instead chose to spend our time reminiscing about life pre-baby and our hopes and dreams for the future.
We made our way into downtown Mendocino for dinner and a few picnic provisions (including a loaf of incredible bread from Cafe Beaujolais that we picked up at the local supermarket) and otherwise enjoyed the Glendeven Inn property, a few coastal walks, and glasses of wine at Glendeven's Wine Bar[n] (DRY soda for me!).
As expected, the weekend was refreshing and rejuvenating. If you're visiting San Francisco, or live in the Bay Area and have never checked out Mendocino and surrounding areas, I would highly recommend making a weekend of it and taking some detours along the way. Below is my list of recommendations. I hope you enjoy them! If you have any to add, please leave them in the comments. I look forward to my next trip to Mendocino.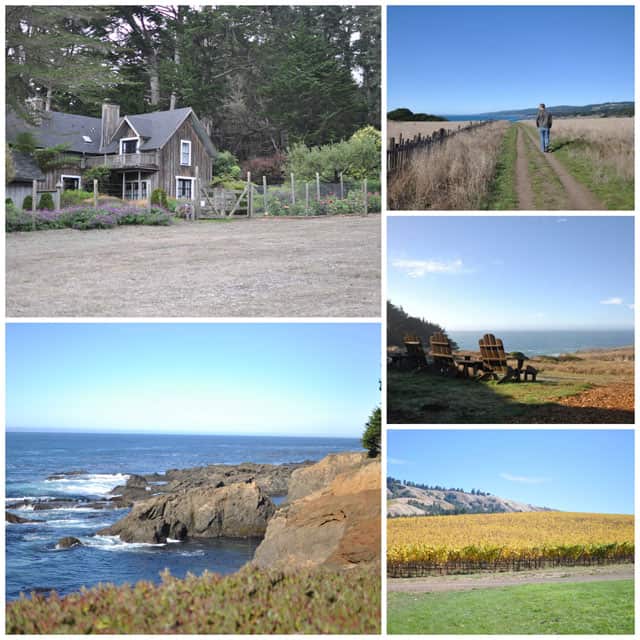 Stay
Sea Ranch Lodge: A beautiful hotel right on the coast. There are some well-paved trails leading from its property that weave along the coastline. Rooms are modern and cozy. For a real splurge, get an ocean view room.
Glendeven Inn: We were so happy to discover this hotel after reading this old New York Times article on Mendocino. From the incredibly cozy rooms to the delicious breakfast and dinner, this is definitely the place to stop if you're into the whole farm-to-table thing. Walk through the property garden and enjoy pre-dinner drinks at the wine bar. The llamas and chickens that live on the property add bonus charm (you even get chicken feed in your room so you can feed the chickens).
Eat
Cafe Beaujolais: A real special-occasion restaurant in downtown Mendocino. Make a reservation here for a celebratory dinner. Be sure to enjoy the bread, which you can also purchase at the local market (we bought several loaves to enjoy back in our hotel and on our drive home).
Mendocino Cafe: A casual spot in downtown Mendocino that's great for dinner or lunch and has a lovely outdoor patio for when the weather's nice.
Detours
Anderesen Valley Brewing Company: If you're driving South from Mendocino and enjoy craft beers, you may consider stopping at this popular, casual brewery.
Diavola Pizzeria: If you're driving North from San Francisco, Geyserville is a worthwhile stop. This little town's strip is nothing more than a fabulous tasting room and a few noteworthy restaurants. Among them, this pizza place is a true gem. I'd venture to say it makes the best pizza in the Bay. I recommend getting their house-made sausage on your pie, and trying the charcuterie plate.
Navarro Vineyards: On your way to Mendocino or on the drive home, you may want to check out this family-owned winery. With plenty of picnic tables and sprawling views, it's a great place for a picnic. They also serve non-alcoholic Gewürztraminer, a fabulous option for non-drinkers and kids.